'Wheel of Fortune': Did Vanna White Get to Keep the Dresses She Wore on the Show?
When you think of U.S. game shows, one of the first ones that come to mind is probably Wheel of Fortune. This show has entertained people for decades now, and many families all around the country sit down together every night to play along and guess the words on the board.
While the show is hosted by Pat Sajak, longtime fans know that the real superstar of Wheel of Fortune is Vanna White, the woman who has so elegantly turned letters on the show since 1982. White gracefully walks across the stage in heels and a beautiful dress every time a contestant guesses a correct letter, but fans everywhere want to know: does she get to keep all those gorgeous dresses she wears on the show?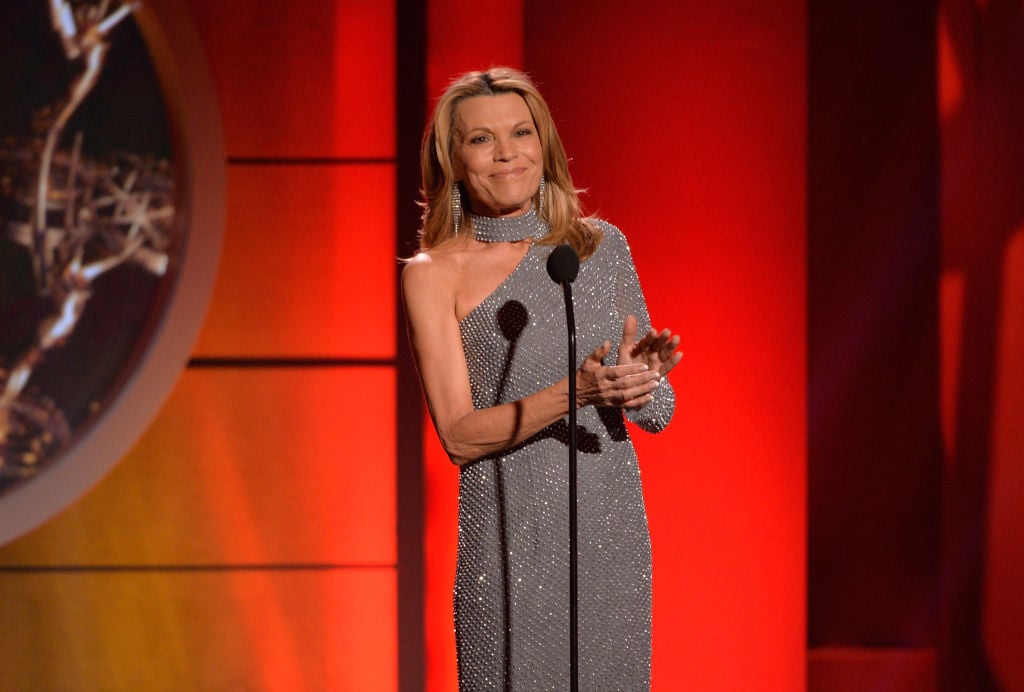 Vanna White is Wheel of Fortune's star
Wheel of Fortune first aired, unbelievably, over 40 years ago in 1975 – and although she didn't come onto the show until 1982, White has been flipping letters since they were actual letter boards she needed to literally flip (the letters became computerized in 1997). She has over 7,000 episodes of Wheel of Fortune under her belt!
White is famous for gliding across the stage week after week, always graceful in high heels and sparkling dresses. It's hard to believe that she has been doing this job for over 30 years because she looks almost exactly the same as when the show first aired. Although she's over 60 years old now, that's impossible to believe when you see her in her gorgeous dresses!
How does White stay looking so beautiful in those designer dresses? Well, she works really hard to stay in shape and looking as beautiful as she did in her 30s. She exercises a lot and has very healthy eating habits that include a lot of vegetables. "I have a salad at the beginning of a meal. Fresh vegetables always aid proper digestion. I love all kinds of vegetables. There's not too much I don't like," she was once quoted as saying.
White has never worn the same dress twice
With over 7,000 episodes, you'd think there'd be some outfit repeats for White at least once in 30+ years. We certainly wouldn't notice! However, White has shocked fans by revealing that she has never worn the same dress twice on an episode of Wheel of Fortune, according to Good Housekeeping. That's over 7,000 dresses worn!
Apparently, she has a fitting every month or so in which she tries an impressive 50 to 60 designer dresses, and picks her favorite from the bunch. What a lucky woman! She's clearly known for rocking elegant ball gowns, but she's also changed it up quite often in her many years on the show. "I've gone through all the big styles, [including] the big shoulder pads. You name it, I've done it," she once said. 
Does White get to keep those beautiful designer dresses?
Fashion fanatics everywhere have the same question: if White has worn over 7,000 designer dresses during her time at Wheel of Fortune, is her personal closet now filled with these beautiful dresses that she got to keep? Unfortunately not, she's shared.
"They have to go back to the designer, but I certainly enjoy wearing them," she shared with Fox News. Even if she got to keep them, she might not wear them anyway; White has shared that some of those designer dresses can be pretty uncomfortable! "My favorite dresses happen to be the comfortable ones," she once shared. "A lot of them are so skin tight and don't budge. I feel like I'm wearing a corset and I'm walking for 30 minutes in five-inch heels. It looks great, but it can be uncomfortable. I still do it, it's part of my job. But if I had the choice, I would prefer stretchy gowns."
We don't blame her, but we still think a closet full of 7,000 designer dresses would be legendary!