'Wheel of Fortune' Host Pat Sajak and Vanna White Adorably Coordinate Outfits On the Show
Find out how Vanna White and Pat Sajak stay in sync through fashion.
Wheel of Fortune has provided the backdrop for many lazy weekend mornings for generations of viewers. The iconic game show has been on television for decades, and it seems as though it has only grown more popular over the years.
From the music to the exciting atmosphere, Wheel of Fortune seems to have something for everyone. Most popular of all are the show's hosts, Pat Sajak and Vanna White. Their chemistry is undeniable, and fans love learning everything that they can about the fun pair. 
When did 'Wheel of Fortune' debut?
In 1975, Wheel of Fortune first made its television debut. In the early years of the show, many fans likely wouldn't recognize the series, as it has gone through several formats and host switches.
Still, by 1981, with the hiring of Pat Sajak, Wheel of Fortune became the iconic television show that many know and love. 
These days, Wheel of Fortune remains the longest-running game show in the United States, and certainly one of the most-watched. It has spawned a wide variety of supplementary materials, including word search books, casino games, and television specials.
Although the format is undoubtedly one reason for the show's overwhelming success, it seems likely that the hosts have a great deal to do with the enduring popularity of Wheel of Fortune. 
Pat Sajak is one of television's most beloved hosts
Pat Sajak spent his early years as a radio DJ and television weatherman. His first big hosting gig was in 1981 when he was hired as the host for Wheel of Fortune. Fortunately for Sajak, his first big break was also the one that made his fortune. He has remained as the host of the show ever since, and these days holds the title as the longest-running game show host for the same show.
Vanna White is the co-host for 'Wheel of Fortune'
While Sajak might be intensely popular as the host of Wheel of Fortune, Vanna White, his co-host is equally beloved by viewers.
White began her career as a model and actress before she turned her attention to the game show world. She was hired on Wheel of Fortune in 1982, only one year after Sajak, and has remained as a constant presence on the show ever since. 
White has shown that she has the skills necessary to helm the show on her own if necessary, as she proved in late 2019 when she was called upon to step in for Sajak when he had to have emergency surgery.
Still, fans love the show best when both Sajak and White are both on board, interacting with contestants, and doing what they do best. 
Pat Sajak and Vanna White coordinate their outfits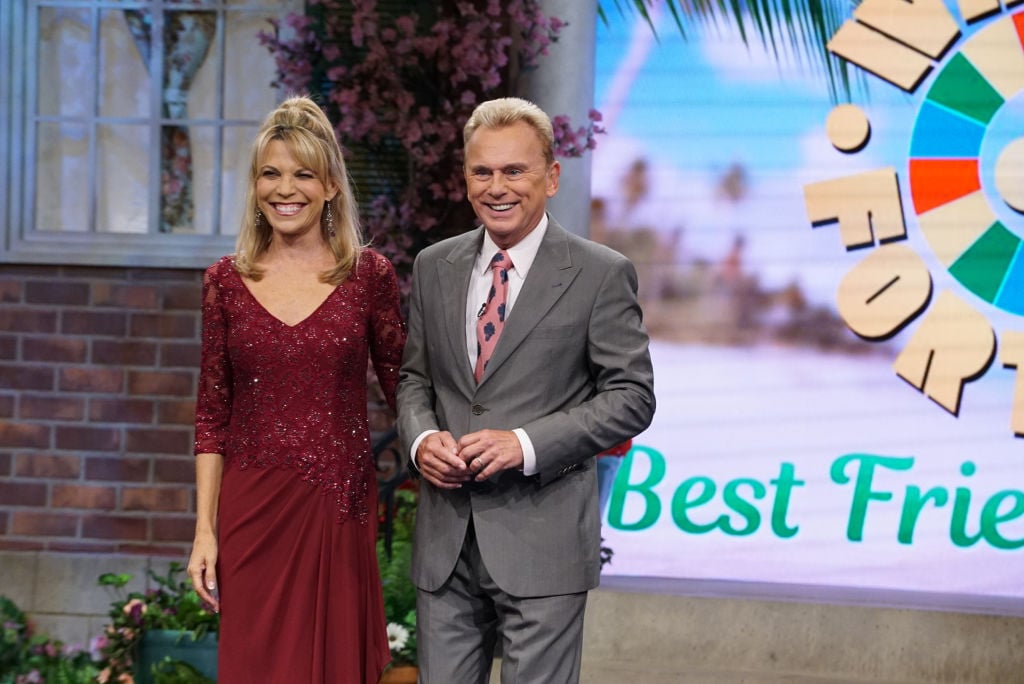 Sajak and White have been working together for decades now. While there have been tabloid rumors about potential romance, all signs point to the fact that White and Sajak are actually very good friends. In fact, it seems as though the two have a lot of fun while filming.
A 2016 report claims that White and Sajak enjoy working together so much that Sajak actually coordinates his ties to match White's wardrobe of glamorous dresses. White's wardrobe is notoriously popular with fans, and there have been many trivia games and contests based on her extravagant looks. 
Hopefully, viewers will be able to look forward to many more years of White and Sajak on their televisions. Stay tuned to Showbiz Cheat Sheet for all the latest Wheel of Fortune news!