'Wheel of Fortune': Vanna White Loves to Crochet and Wants You to Give It a Spin
When she isn't turning letters on the game show juggernaut Wheel of Fortune, Vanna White is passionate about her foremost hobby: crocheting.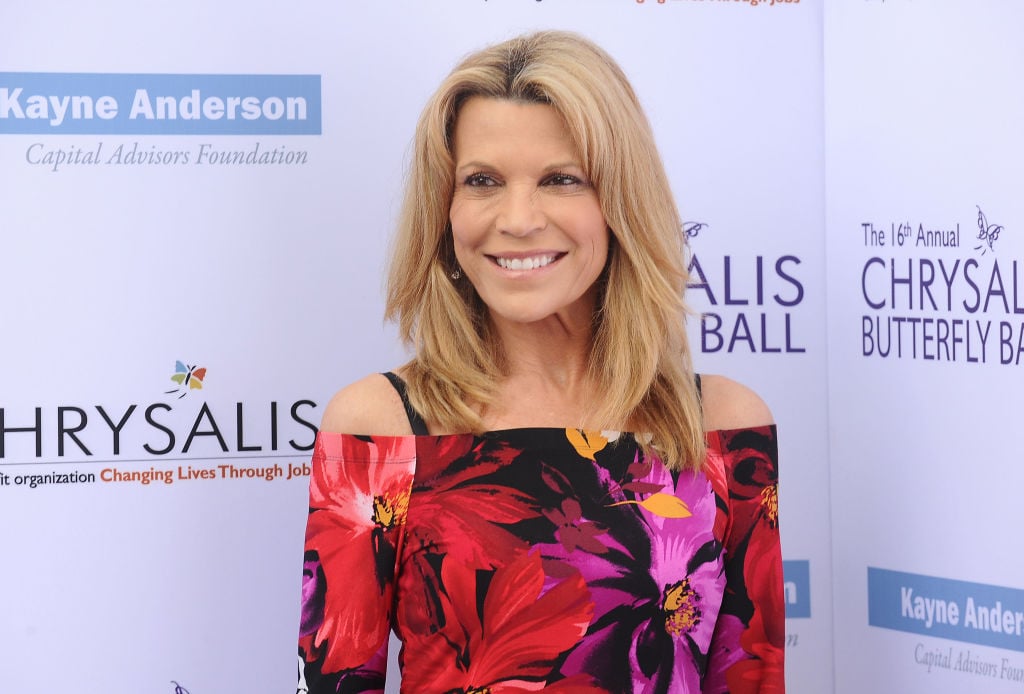 Find out how she became such an avid crocheter, about her creations, and maybe you'll get inspired to give crocheting a try.
How Vanna White started crocheting
White loves crocheting so much, she has her own line of "Vanna's Choice" Lion Brand yarn on the market. She spoke with Etsy in 2008 about how her interest in the craft went from a sometime hobby to an enormous and enjoyable part of her life.
"I learned from my grandmother when I was five but I came back to it twenty-five years ago when my hair dresser encouraged me to crochet on the set of Wheel of Fortune. Whenever I have downtime on the set, I crochet."
The mother of two explained that not only is it fun, it's a form of stress relief. And in the end, she has a scarf or a blanket after her time spent seated or waiting.
"I find it very relaxing and I have something to show for the time I've spent doing it. I connected with Lion Brand Yarn when I spoke about my love of crochet on the The Tonight Show with Johnny Carson . . . They contacted me and it's been a great friendship ever since."
Vanna White's yarn line and the organization close to her heart
The 63-year-old game show fixture told Etsy of her pride in the yarns bearing her name through the Lion Brand. They include Vanna's Choice, Vanna's Style, Vanna's Complement, Vanna's Glamour, Vanna's Tapestry, and Vanna's Choice Baby.
And what gives White even more satisfaction is that a portion of the proceeds from the sale of her yarns goes to St. Jude Children's Research Hospital, for which White's yarns have raised almost $2 million.
"I donate half of my proceeds from yarn sales to St. Jude," she wrote on their website in 2016. "To date, we've donated more than $1.7 million to the hospital. It warms my heart to be able to do that."
"There are many reasons why I like St. Jude. Even though it's huge, it has a small, hometown feel—like a happy family. Having grown up in the South, it reminds me of my roots. It's also a first-class organization that does remarkable work."
"My mother passed away from cancer, and many of my family members have had cancer. I'm fortunate to have two healthy kids. And I'm happy to do my part to help St. Jude help children get healthy."
Homemade gifts are treasured and remembered
Once you start looking at and touching the yarns in White's Lion Brand collection, you'll want to start crocheting, too. In her conversation with Etsy, she explained that her yarn has "an incredibly soft feel . . . Once we found the right fiber and texture, we developed a color palette that has beautiful colors that are in the same range tonally so whatever colors you put together will match."
And the South Carolina-born White emphasizes the beauty of a homemade gift: making someone a scarf or blanket, even if they're not perfect, says so much.
"I think that handmade gifts are so meaningful and more valuable to people than the most expensive store bought product. I love the look on people's faces when I give them a blanket for a new baby or an afghan for their home."
"I have this one friend who has a thirteen-year-old and I made a blanket for him when he was a baby. After thirteen years, she tells me that he still loves it. That means everything to me."