Where Are Bernie Sanders' Inauguration Day Mittens From?
Bernie Sanders is known to many in the political system as the senator from Vermont. However, in recent days, Sanders has been making waves for the hilariously cozy outfit that he wore at Joe Biden's inauguration.
Sanders, who is a proponent of many progressive policies, is beloved by many for his no-nonsense attitude and put-upon facial expressions. The image of Sanders at the chilly inauguration day festivities has everyone talking, in particular, the large, fuzzy-looking mittens that Sanders rocked. 
Bernie Sanders is a longtime politician
Sanders was born in 1941. He entered politics in the sixties, after working as an activist all throughout his college years.
Sanders has had a long, successful political career, and served as a U.S. Representative for 16 years before being elected to the U.S. Senate in 2006. Sanders has served as the junior United States senator from Vermont since 2007, and the longest-serving independent in U.S. congressional history. 
He has run for presidential office twice, in 2016 and 2020. While his campaigns didn't ultimately result in a nomination, Sanders earned many supporters, especially among high-profile Hollywood celebs.
Following the 2020 presidential campaign, Sanders returned to his usual political duties, remaining a vocal supporter of causes such as healthcare for all, affordable college tuition, and equal rights for women and minorities. While Sanders has been keeping a lower profile in recent months, his appearance at the January 20th inauguration of President Joe Biden soon got everyone talking. 
Bernie Sanders' inauguration day look made waves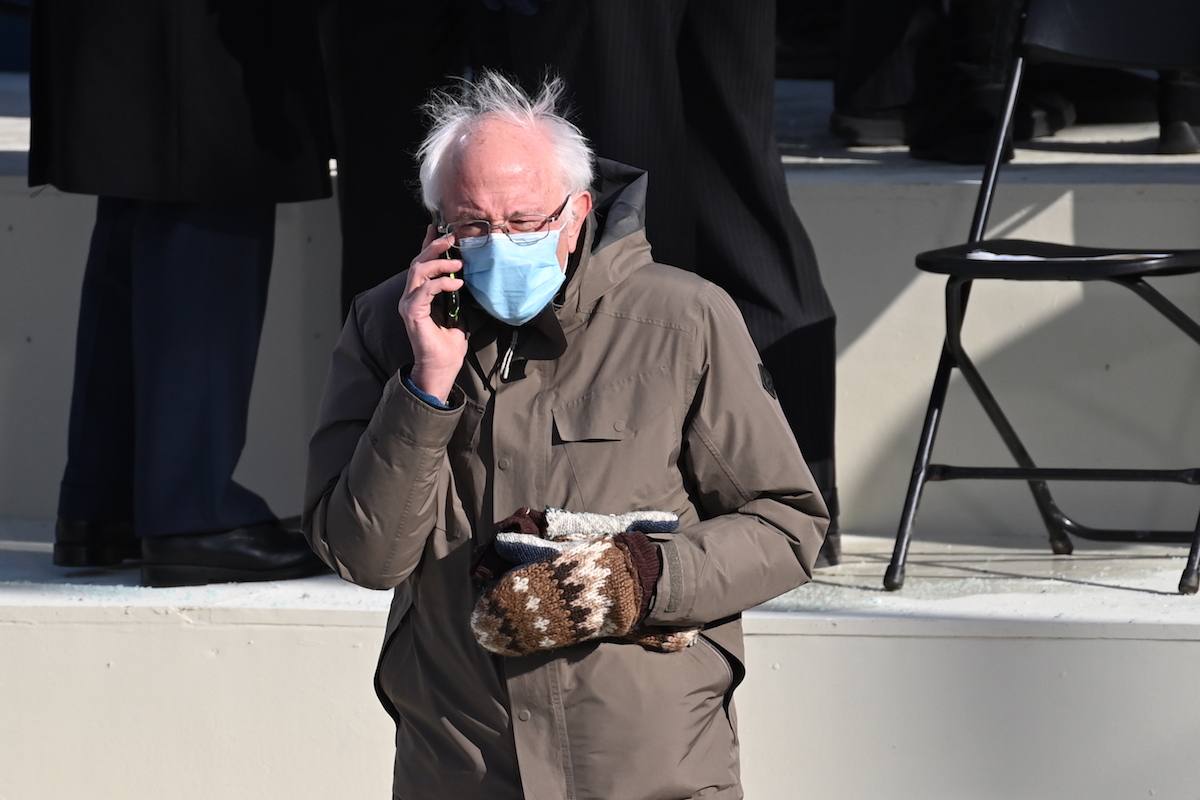 The presidential inauguration on January 20th, 2021, was full of high-profile celebrities and political figures. Everyone from Lady Gaga to former presidents like Bill Clinton made appearances, and thousands of viewers tuned in to watch history being made.
Still, out of everyone who showed up to the inauguration, it was Senator Sanders who was the runaway star of the day.
While few viewers spotted Sanders during the initial broadcast, a picture of the senator at the inauguration soon began making the rounds online. In the picture, Sanders can be seen sitting in a chair some distance away from the other celebrants at the event. He is wrapped up in layers of warm clothing, his face covered with a protective mask, and a stern expression on his face.
The crowning jewel of the picture, and likely what made the picture go viral, were the huge, fuzzy-looking gloves on the senator's hands. The image not only went viral, but it took over social media as a meme in short order. 
Where are Bernie Sanders' inauguration day mittens from?
In the days following the viral photo, people everywhere are sharing the Bernie Sanders meme on social media. Sanders himself isn't phased too much by the popularity of the photo, telling CBS that "in Vermont, we dress warm — we know something about the cold, and we're not so concerned about good fashion. We want to keep warm, and that's what I did."
The mittens that Sanders wore at the inauguration have been receiving the lion's share of the attention. There's a sweet story behind those mittens, which are a subtle brown and cream color and have a classic Fair Isle pattern.
According to Vanity Fair, Sanders was gifted the mittens by Jen Ellis, a teacher from Vermont. The mittens themselves are made from repurposed sweater wool and are fleece-lined, with fleece made from recycled plastic bottles. For the veteran senator with a passion for environmental issues, the mittens clearly made the perfect statement.