Where Is the 'Breaking Bad' Cast Now?
Starring in an iconic TV show can define an actor's career, but it can also make it challenging for them to step into other parts when a long-running and popular series comes to an end. The cast of Breaking Bad took on their parts on the edgy series back in 2008, and they spent five seasons turning the series into a roaring success.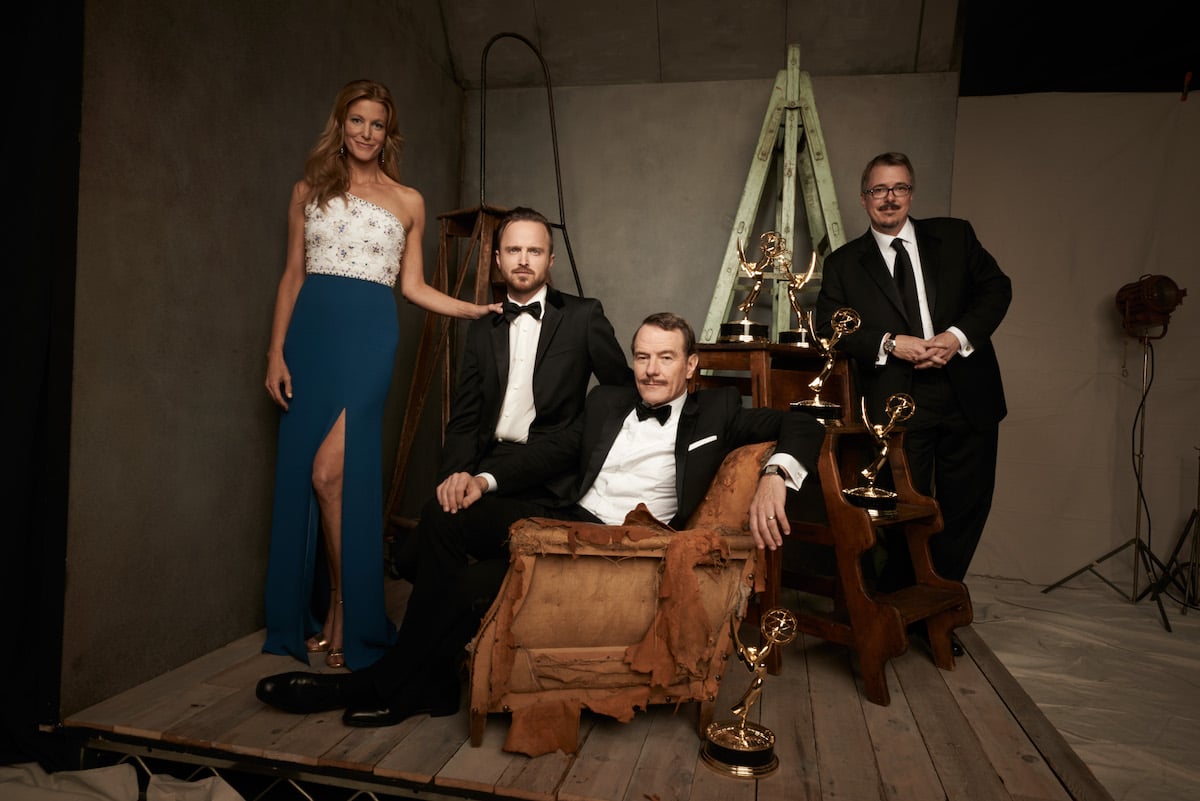 Breaking Bad concluded in 2013, and it has now been nearly a decade since the final episode aired. What have the cast members been up to?
Bryan Cranston has continued to receive accolades
Bryan Cranston portrayed Walter White, the science teacher who turns to producing methamphetamine to deal with the costs of a cancer diagnosis. In the beginning, White is a sympathetic character, but by the end, he has turned into power-hungry "Heisenberg."  Cranston called the script for Breaking Bad the best he had ever read, and he received multiple Emmy awards for his portrayal of the complex character who has been called one of TV's greatest anti-heroes.
In the years following Breaking Bad, Cranston has continued to wow as an actor — both on the theatrical stage and on the small-screen. As Us Weekly reports, Cranston went on to portray Lyndon B. Johnson in the Broadway production of All the Way and then continued in the role for the television miniseries adaptation of the play. He earned a Tony award for both that role and for 2019's Broadway performance of Network. 
Anna Gunn has landed film and TV roles
Anna Gunn portrayed Skyler White, Walter's wife on Breaking Bad. Her character was often a kind of foil for Walter's spiral into degradation, and fans sometimes fumed against her as they sided with the antagonist.
Since Breaking Bad concluded, Gunn has stayed busy with roles of various types. In 2014, she had a starring role in the miniseries Gracepoint, where she portrayed Detective Ellie Miller alongside David Tennant. In 2016, she had a part in the Tom Hanks-led biopic Sully. In 2019, she took on a role for the movie follow-up to Deadwood. In 2021, she appeared in the political satire Land of Dreams.
Aaron Paul has seen his career skyrocket
Getting cast as Jesse Pinkman on Breaking Bad was a real game-changer for Aaron Paul. Though Paul started acting way back in 1998, most of his roles had been guest spots or small parts leading up to his famed portrayal of Jesse. In the years since the series concluded, Paul has ridden the wave of his increased fame into a wide range of roles. 
He took on a leading role in the 2014 dramatic comedy Long Way Down, a part that had him starring alongside Pierce Brosnan. In 2015, he stepped into a part for the dramatic film Eye in the Sky alongside Helen Mirren and Alan Rickman. He has also returned to recurring roles on the small-screen including parts in Westworld and Truth Be Told. 
Betsy Brandt has remained active on TV
Betsy Brandt portrayed Breaking Bad's Marie Schrader, Skyler White's sister and a complicated character sitting at the dramatic intersection of her husband's DEA career and her brother-in-law's criminal status. When her husband is eventually killed while trying to bring "Heisenberg" down, Marie is heartbroken.
Since the series wrapped, Brandt has remained most firmly rooted in TV work. While she has had a few film appearances, her most notable roles continue to be on the small-screen. In 2014, she had a recurring role on Masters of Sex. She then portrayed Sandy on Parenthood. More recent TV roles include The Unicorn and Love, Victor. 
RELATED: 'Breaking Bad': Despite Her Character's Fate, Krysten Ritter Remained 'Team Walter White'