Where Can You View Bob Ross' Beloved Paintings?
Before YouTube DIYs, many people tuned into PBS to learn to paint with Bob Ross. Ross hosted the series Joy of Painting from 1983-1994.
Although many still stream or watch reruns of his TV show today, making Ross a sensation in pop culture. His baritone voice, iconic big round hairstyle, bright outlook on life, and gentle humor inspired viewers to paint their own "happy little trees" for beautiful art pieces. 
As one of the most notable TV painters, you would expect his artwork to be displayed proudly. However, it is more difficult to find his forest scenes and landscape paintings than one might think. We'll reveal the top places to view Ross's beloved paintings for your happy accident fix. 
How much is a Bob Ross painting worth?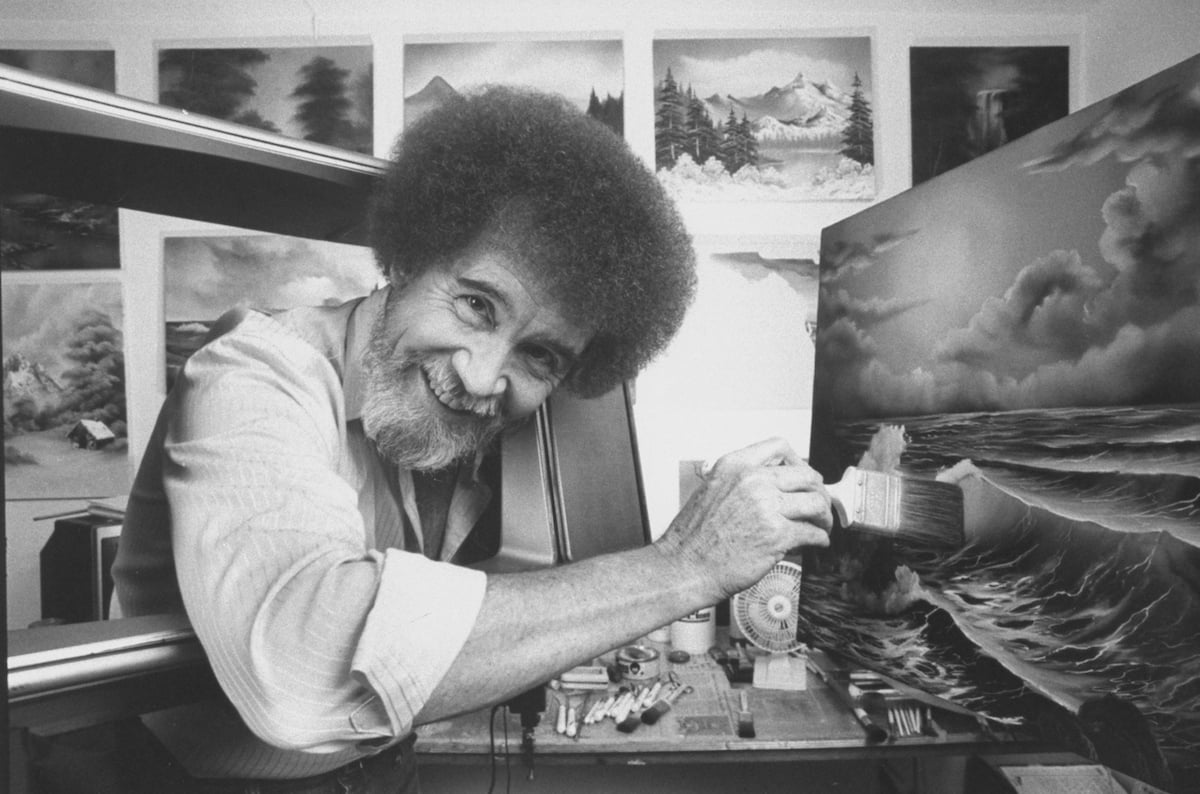 Bob Ross, Inc. headquarters have a majority of his paintings from the Joy of Painting in storage. President Joan Kowalski said that they "never even thought about selling them because Ross created them purely to showcase his technique and as a means of marketing for his painting supplies."
You can find many Bob Ross-inspired and licensed items and SWAG for sale online, but something nearly impossible to find is his artwork. On the rare occasion that an original painting pops up for sale on your favorite online marketplace, it will cost you over $10,000, according to a recent article from twoinchbrush.com.
You can find Bob Ross-inspired paintings for sale often, so to verify that you purchase an original Bob Ross painting, email [email protected] and ask them to verify that it was painted by Ross himself. 
What is Bob Ross' most popular painting/s?
RELATED: How Did The Bob Ross Revival Start?
During his TV series, Ross often described himself as a "tree and mountain type person." Therefore, it is not surprising that his most popular paintings were landscapes focused around the great outdoors.
In some episodes, he was even joined by his pet squirrel as he painted peaceful outdoor scenes. The serenity of his stunning paintings paired with his soothing voice is still a much-needed half-hour escape for some from their busy lives, making the Joy of Painting a widely watched show over 25 years after the air date of Ross' final episode. 
Where are all of Bob Ross' paintings, and where can you view them?
Ross painted thousands of canvases during the run of his TV show. According to President of Bob Ross Inc, Joan Kowalski, Ross painted three versions of each painting for each show. However, many of these paintings were donated to PBS stations across the country, who auctioned them at fundraisers.
For the others, Kowalski revealed that several thousand of Ross' paintings are "stored in ordinary cardboard boxes in a storage room" in their office building at their headquarters in Virginia. Bob Ross, Inc. donated four of his paintings to the Smithsonian, which became part of its permanent collection.
However, according to "The Bob Ross Story" on bobross.com, the best place to view originals is visiting the Bob Ross Workshop in New Smyrna Beach, Florida. The workshop houses a collection of 54 original paintings, offers Bob Ross method painting classes for aspiring artists, and provides training to become a certified Bob Ross instructor in landscape, florals, and wildlife painting.
Another public location to view originals is Minnetrista's Bob Ross Experience in Muncie, Indiana, which has 27 paintings, according to The Hustle. 
Whether you aspire to join the thousands of instructors to teach the world about the beauty in happy accidents or just enjoy watching and painting along with the late talented and inspirational painter himself in reruns of the Joy of Painting, there are plenty of opportunities to experience Ross' work.