Where Do Chrissy Teigen and John Legend Live, and What Does Their Home Look Like?
John Legend and Chrissy Teigen are famous as individuals, but together, they are unstoppable. The power couple is known across the globe for their rock-solid relationship, regular professions of love for one another, and playful banter.
The pair, who wed in 2013, are currently the parents of two children. Luna was born in 2016 and Miles joined the family in May of 2018. The pair has an epic love story, and no love story would be complete without a place to call home. So, where exactly do John and Chrissy lay their heads down at night? After all, they have a relentless travel schedule, hectic family life, and a bevy of budding businesses, so they surely need somewhere truly special to relax.
John and Chrissy lay down roots in Beverly Hills
Chrissy shares candid shots of her family and friends on her Instagram regularly, leaving many fans to wonder exactly where the couple's home base is. Many of the photos shared are taken in the family's expansive home, giving fans a glimpse into their home life and decorating style. Right now, John and Chrissy are calling Beverly Hills home.
Perched on the top of a mountain that overlooks California's sweeping vistas, John Legend and Chrissy Teigen have laid down their family's roots in a mansion that once belonged to Rihanna. The couple left the confines of a one-bedroom apartment in New York for the warmer West Coast weather in 2016, just before the birth of their first child, Luna.
The home, with a modern exterior, still has touches of warmth inside its 8,500 square feet footprint. With weathered wood flooring, wooden furniture, and a fully-outfitted chef's kitchen, the family has plenty of room to spread out but still feel cozy. The home has eight bedrooms and an open concept first floor that allows Chrissy to keep watch over her youngsters while growing her food empire. The couple paid over $14 million for the pad, nearly double the price that Rihanna laid down to call the mountaintop mansion home. Rihanna sold the house in 2011.
John and Chrissy also have a home away from home in New York City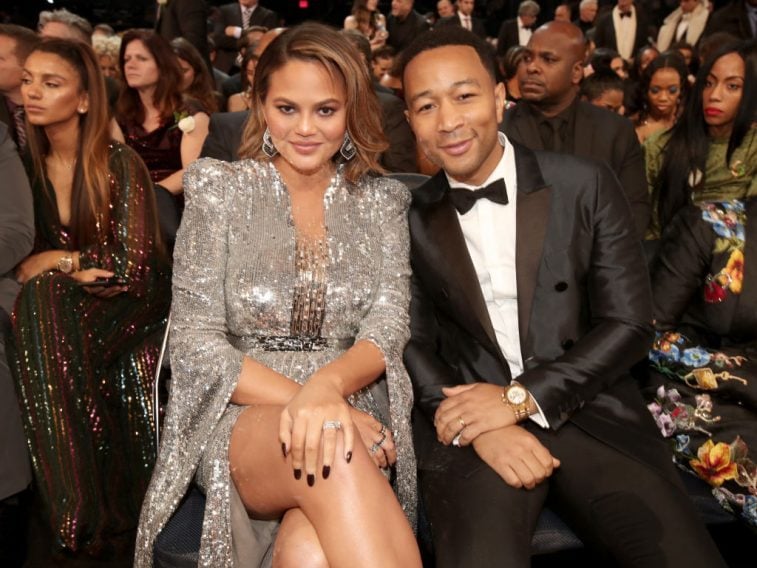 In May of 2018, John and Chrissy added to their real estate holdings by purchasing a New York City apartment. The pair laid down a cool $9 million for a penthouse with sweeping views of the city's skyline. The pied-e-terre is 2,600 square feet of living space, with a large rooftop terrace that will allow the young family to take advantage of the summer and spring weather.
The three bedroom, three bathroom penthouse has a modern aesthetic, although the apartment is housed in a building dating back to the 19th century. The 13-foot ceilings make space feel expansive. A top-of-the-line kitchen that is open to a large living room is perfect for entertaining. A staircase leads up to a massive rooftop terrace that includes a small garden.
Prior to their move to the West Coast in 2016, Chrissy and John called New York home, but their previous digs were far less impressive than their new NYC pad. The pair shared a small one-bedroom apartment on a lower level of a building. Chrissy faced a brick wall while looking out of their kitchen window. The apartment was dark and cave-like but offered warmth and coziness that can only be found in New York's unique old buildings. The pair purchased their original New York pad in 2013, shortly before their wedding. Located between Nolita and Little Italy, it offered a moody feel that the couple found enticing. They have since sold the unit.