Where Is Demi Lovato From and How Did She Become Famous?
Demi Lovato is a world-renowned actress and singer. The 26-year-old star has had to deal with her fair share of controversies and demons throughout her career. In 2010, while she was at the height of her career, she was hospitalized for "emotional and physical issues."
There were many rumors going around at the time that were insinuating that there may be more to her hospitalization than she was letting on and it was eventually revealed that she had been struggling with an eating disorder and bipolar disorder.
Since then, Demi Lovato has been hospitalized again due to a substance abuse problem and people can't help but wonder if maybe she has fallen victim to the destructive path that many child stars have taken over the years.
So, just how old exactly was Demi Lovato when she decided to enter into the world of show business and how did she become so famous so quickly. Here is a quick recap of Demi Lovato's rise to stardom.
The early life of Demi Lovato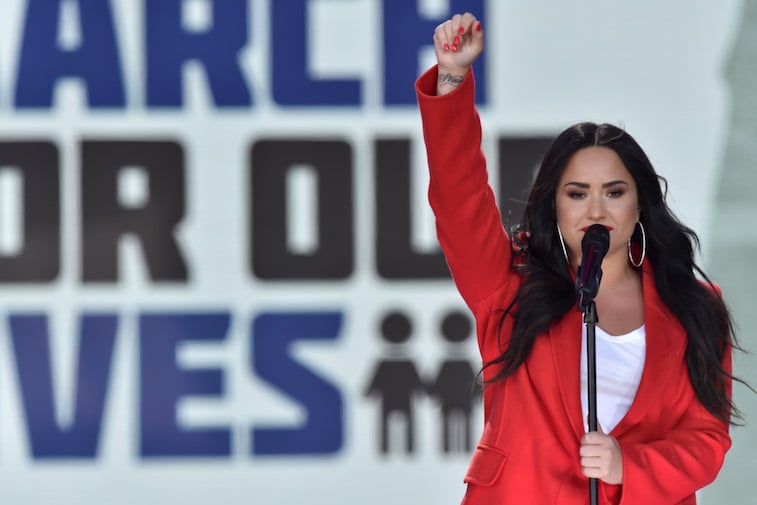 Demi Lovato was born in Albuquerque, New Mexico on August 20, 1992. Because her mother, Diana De La Garza, was a singer and Dallas Cowboys cheerleader, many people believe that being a performer has always been something that has been in Lovato's blood.
Early on, she seemed to have a nice for entertaining people and had actually participated in many talents shows when she was a young child.
When she was just 10 years old, she got her first TV role on the popular kids' television show Barney and Friends. This is where she met Selena Gomez who was also on the show at the time. The director of Barney and Friends, Fred Holmes, had said that Lovato and Gomez immediately hit it off.
"From very early on, you could just tell, they clicked. Certain kids got along with other kids and they were just two of those that really clicked," Holmes had said.
Lovato's big break
After her time on Barney and Friends, Demi was able to snag a few small roles here and there but it wasn't until 2007 that she finally got her big break when she was hired by the Disney Channel.
In 2007, she starred alongside the Jonas Brothers in the hit Disney movie, Camp Rock. The next year, she and her BFF Selena Gomez starred in Disney's Princess Protection Program, and then in 2009, she was the star of the Disney series Sonny with a Chance that stayed on the air for two more years and quickly became one Disney Channel's most popular TV shows.
Moving in a new direction
While Lovato was creating a name for herself as an actress, she was also pursuing a career in music. She worked with the Jonas Brothers on the Camp Rock soundtrack and had sung a song for the entitled "That's How You Know" from the movie Enchanted.
In 2008, Lovato came out with her first album, Don't Forget, which had quickly made its way to the top of the Billboard charts. After that, her career had skyrocketed to unimaginable heights. She came out with several award-winning songs, including "Skyscraper," "Sorry Not Sorry," and "Heart Attack," which only helped her popularity grow even more.
Then, in 2012, when Demi was only 19 years old, she set a Guinness World Record for being the youngest judge ever on The X Factor. Demi served as an X factor judge for the show's second and third season before announcing that she would not be returning to the show because she was starting her Neon Lights tour which kicked off in early 2014.
Battling sobriety
In 2010, Demi entered into a treatment facility to help her with her eating disorder and her bipolar disorder. Since that time, there had many rumors that Demi was battling with substance addiction problems.
However, Demi was adamant about the fact that she had not touched any drugs or alcohol since 2012. Then, in June of 2018, Lovato came out with a song called "Sober." In the song, she had apologized to her friends, family, and fans for not being able to stay sober.
After hearing the song, fans were instantly worried that Lovato was still using drugs and alcohol. Their suspicions were confirmed the next month when Demi was hospitalized for a drug overdose. She reportedly stayed in the hospital for 12 days where she then entered into another treatment program for the next three months.
Today, Demi is still working on her sobriety, but so far, it doesn't look as if she has had a relapse since she was released from the hospital last year.
We can only imagine how hard it must be for Demi to have to continuously fight her addictions, but we definitely wish her the best as she continues on her road to recovery and sobriety.