Where Is Netflix's 'The Umbrella Academy' Filmed?
The Umbrella Academy returns with a new season on July 31. The Netflix series is centered around seven superhero siblings who are raised in a palatial mansion by their adoptive billionaire father. The show's dark city backdrop is a character in itself, and it has viewers wondering where the series is actually filmed.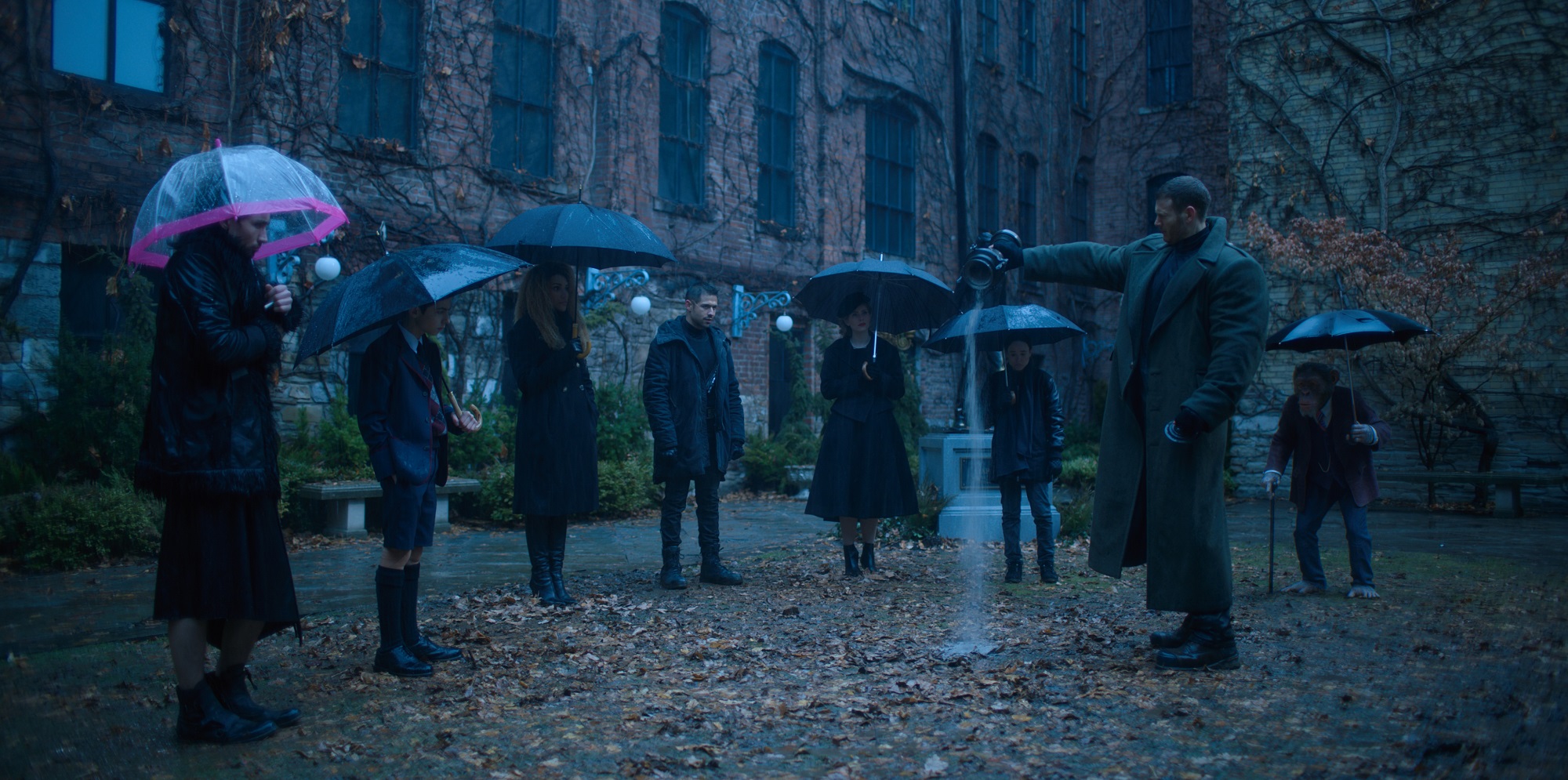 Season 1 of 'The Umbrella Academy' starts out in Harvgreeve's mansion
Much of the first season of The Umbrella Academy takes place in Sir Reginald Hargreeve's (Colm Feore) mansion. This is where the seven Hargreeve siblings — Vanya (Ellen Page), Luther (Tom Hopper),  Diego (David Castañeda), Allison (Emmy Raver-Lampman), Klaus (Robert Sheehan), Ben (Justin H. Min), and Five (Aidan Gallagher) —  grow up. And it's also where they reconnect after their father's murder. 
The setting of the mansion is not mentioned in the series. But the mansion exteriors were filmed in and around Toronto. The front of the house is a building in the city of Hamilton, in Ontario, Canada. And the mansion's courtyard is actually Toronto's Joey & Toby Tanenbaum Opera Centre.
Many of the other outdoor scenes shown in The Umbrella Academy were filmed in parts of Ontario, Canada. The skyline seen in Season 1 is an altered shot of Port Lands in Toronto. And most of the interior shots were filmed in studios in the city.
Season 2 was also filmed in Toronto
The Umbrella Academy Season 2 may be taking the Hargreeve superheroes to different places and timelines, but the production remained in Toronto. And after working there for two seasons, it looks like the cast has grown to really love the city.
"And just like that, Ben and I are headed home," series' star Justin Min wrote in an Instagram post. "A huge thank you to our cast and crew, who've become a second family to me the last six months; I'll miss seeing your beautiful faces every day. And Toronto, I fall more in love with you every year — especially when I can run away right before winter gets bad. I can't wait for you guys to see what we've been working on. Season 2 is gonna be wild."
Why 'The Umbrella Academy' keeps changing its settings 
Just like Season 1, it looks like Season 2 of The Umbrella Academy will feature new settings and surroundings for its characters' storylines. And according to illustrator and executive producer Gabriel Bá, he and co-creator Gerard Way diversified the story's settings to reflect its dynamic characters.  
 "I always tried to see this comic as an opportunity to mix influences and different styles, because the story is so open that it allows all these specific motifs to work together," Bá told CBR in a 2019 interview. "We have an amazing and diverse cast of characters, and the settings for the story should be as varied to show readers that there's not one way to draw things, one single world where everyone looks the same, where every place is the same. I think that given Gerard's sensibility, and the fact that he has traveled the world so much touring with the band – I did my share of traveling as well – and that I come from a different country and different culture, helped us bring more plurality to this comic. That is seen in the story, on the characters and on the places we show in the comic."

CBR
Season 1 of The Umbrella Academy is currently streaming on Netflix. Season 2 hits the streamer on July 31.