Where Is the Cast of 'Mrs. Doubtfire' Now?
If it wasn't for Jurassic Park, the biggest movie of 1993 would have been Mrs. Doubtfire. The comedy — which follows a father who turns to cross-dressing to clandestinely spend time with his children — earned more than $441 million worldwide.
And it remains a beloved movie for many fans who grew up with the Chris Columbus-directed blockbuster. But nearly three decades later, what has become of the cast of Mrs. Doubtfire? Let's take a look at where the film's stars are and what they've been up to since its release.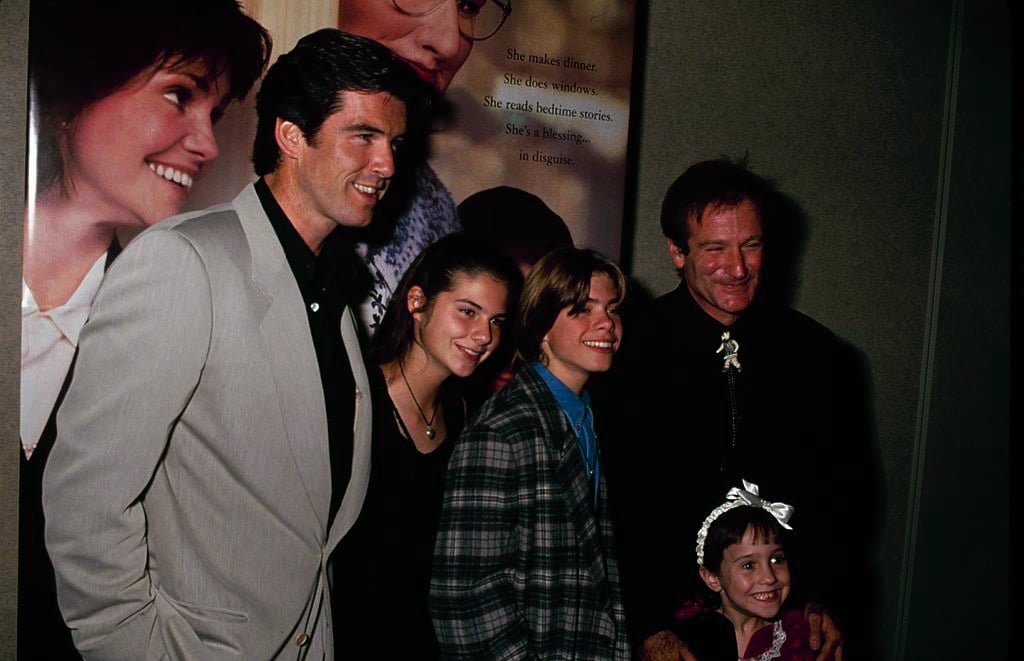 Robin Williams passed away in 2014
Of course, Mrs. Doubtfire centers on a tour-de-force performance from Robin Williams. After winning a Golden Globe for Mrs. Doubtfire, he went on to star in hits like Jumanji, The Birdcage, and the Night at the Museum movies. Williams also delivered an Oscar-winning performance in 1997's Good Will Hunting. Sadly, the actor passed away in 2014.
Williams isn't the only Mrs. Doubtfire star to no longer be with us. Anne Haney — who plays social worker Mrs Sellner in one of the film's most memorable sequences — died in 2001 at 67 years old. Meanwhile, Robert Prosky — who plays Mr. Lundy, the CEO of the TV station where Williams' character works — passed away in 2008 at the age of 77.
Sally Field and Pierce Brosnan are still working in the business
Sally Field was already an Oscar winner before starring as Williams' wife in Mrs. Doubtfire. And the actress — a veteran of the business since the 1960s — is as busy as ever. In recent years, Field has balanced TV, theater, and movies.
She starred on ABC drama Brothers & Sisters, acted onstage in The Glass Menagerie, and even landed an Academy Award nod for Lincoln. Most recently, Field stars on Dispatches from Elsewhere, an AMC series that premiered in 2020.
Meanwhile, Pierce Brosnan hadn't yet experienced his career highlight when he starred in Mrs. Doubtfire. Just two years later, Brosnan would begin a four-movie run as James Bond with Goldeneye. He also appeared in Mamma Mia! and its sequel. Brosnan has several more projects in the works, including a new Cinderella starring Camila Cabello due out in 2021.
Two of the three kids have essentially retired from acting
The crux of Mrs. Doubtfire's story hinges on a family on the verge of collapse. So the young actors who play Williams' children are critical to selling that relationship. Lisa Jakub — who plays the oldest Hillard child, Lydia — went on to appear in Independence Day and a few other films before walking away from show business in 2000.
Likewise, Mara Wilson — who played the youngest Hillard, Natalie — headlined a Miracle on 34th Street remake and Matilda before also exiting the spotlight. She does make television appearances once in a while. But mostly Wilson focuses on her writing career and doing voice work on shows like BoJack Horseman.
Matthew Lawrence is the only one of the three child actors who has stayed consistently active. Lawrence starred on the sitcoms Brotherly Love and Boy Meets World in the 1990s. His more recent credits include shows like Workaholics, Girls Meets World, and Hawaii Five-0.