Which Braxton Sister Has the Highest Net Worth?
Toni Braxton isn't the only famous and talented one in her family. Through the joys and pains of fame, she's stood the test of time. The sultry songstress is the oldest of five girls and their family dynamics have been documented on their WE TV reality series, Braxton Family Values, since the show debuted in 2011. Toni, Traci, Towanda, Trina, and Tamar Braxton have become reality tv gold, with music, spin-off shows and other business deals to make their family dynasty one of the top in the business.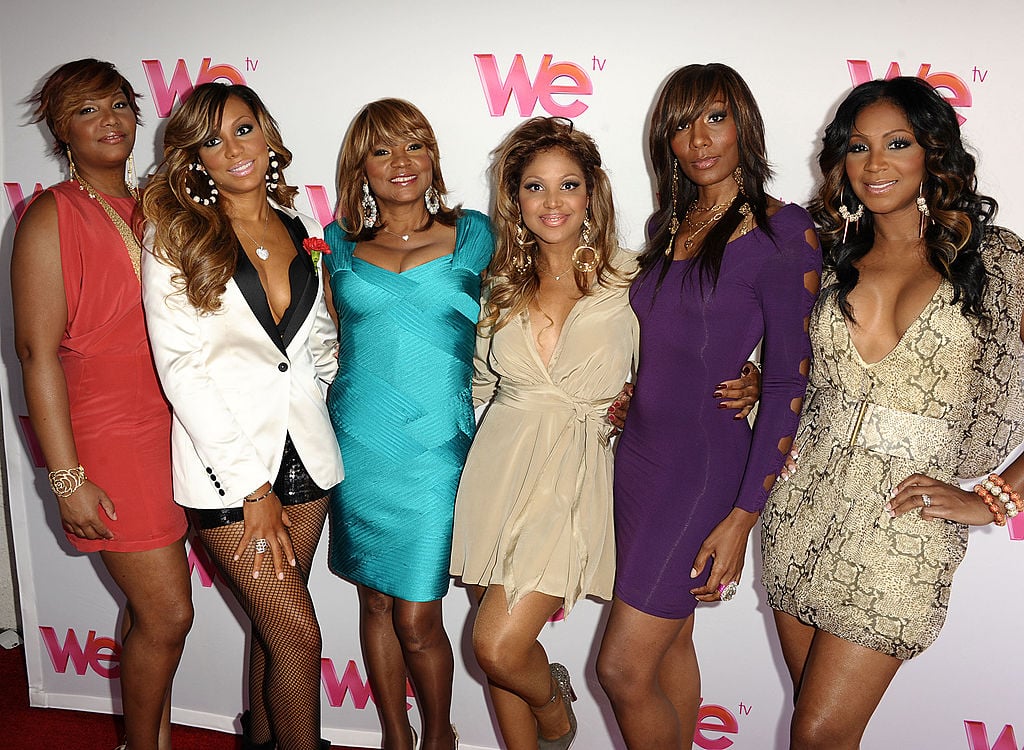 The baby of the Braxton clan, Tamar, proved to be a breakout star of the show, producing top-selling albums, touring worldwide, and appearing on other reality shows, setting herself apart from the rest of the family. Toni and Tamar appear to be the most successful but that doesn't mean the other Braxton sisters aren't giving them a run for their money. Which Braxton sister has the highest net worth?
Toni Braxton net worth
Toni has been killing it since her first single, "Love Should Have Brought You Home," climbed the R&B charts in 1992. Nine studio albums, seven Grammys, three stints on broadway, and 67 million records sold worldwide, Toni is a living legend. She experienced the highs and lows of fame as most would live to tell, including two bankruptcies and health concerns, revealing she has the autoimmune disease, Lupus. Despite the ups and downs, Toni is here to stay. Celebrity Net Worth estimates Toni's net worth to be around $10 million. Not bad for the financial struggles the singer has had to endure. 
Traci Braxton net worth
Unlike the rest of her sisters, Traci did not experience the music industry at its fullest until much later in life. Though she signed a deal with her sisters as a group in 1989, Traci was forced to choose between family and career when she became pregnant with her son, Kevin. She chose family and stepped away from the music businesses for over 20 years, working in the social services field and raising her family in the Braxton's native state of Maryland. When the reality show debuted in 2011, Traci had her second shot at her musical dreams. Since the show began, Traci has released two studio albums, recorded and toured with her sisters, started a whiskey line, Black Cowboy, and has appeared in several film and television roles. Traci's net worth is an estimated $800,000, by Celebrity Net Worth.
Towanda Braxton net worth
The middle sister of the Braxton girls, Towanda is known as the peacemaker and glue of the family. She sang with her sisters in a group for a number of years before transitioning into the role of Toni's executive assistant. Towanda also sang backup for Toni up until a few years ago, a job she held on and off since the beginning of Toni's career. With her experience as an executive assistant, Towanda started a personal assistant training school to place hopefuls with high powered celebrities. Towanda is currently pursuing her dream of being an actress, appearing in the stage play, Two Can Play That Game, and a few other television series. Like her big sister Toni, Towanda recently filed for bankruptcy after divorcing her husband for over a decade, where she was the primary breadwinner in their marriage. Luckily, Towanda has the show to keep her afloat during tough times. With her currently bankruptcy status, Celebrity Net Worth estimates that Towanda is in the red -$300,000.
Trina Braxton net worth
Known as the Braxton family party girl, Trina is the fun one of the bunch. She was a member of the family group, The Braxtons, before the group disbanded in the mid-90s. Alongside Towanda and Tamar, she sang backup with Toni on and off for over 20 years while chasing her dreams along the way. Trina appeared in the Tyler Perry stage play, Meet the Browns, and performed with a cover band before releasing two solo pop singles throughout the course of her family reality show. She now owns a lounge in the suburbs of Atlanta, Bar Chix, and is the co-host of the TV One talk show, Sister Circle. Celebrity Net Worth estimates Trina's net worth to be $1 million.
Tamar Braxton net worth
The most outspoken and sassiest Braxton sister happens to be the youngest. Tamar always felt the need to fight to be heard and apparently still does with the way fans see her arguing with her sisters. She was the standout of the Braxton Family Values first season and has continued to be a fan favorite, with her fan nation known as the "tamartians." Tamar released her self-titled debut album in 2001 but it didn't chart as expected. In between recording on different soundtracks and trying to get her career off the ground, she sang backup for Toni until 2011 before demanding that she be known as the solo star she felt she was. After five failed record deals, she finally landed at Epic Records in 2012 under the management of her former husband and released four additional successful studio albums. She had her own spinoff show, Tamar & Vince, for five seasons and is currently filming her own reality series outside of the one she shares with her sisters. Tamar was also a co-host of the FOX daytime talk show, The Real, for two seasons; and, she made history as the first African-American winner of the reality competition series, Celebrity Big Brother. Her estimated net worth is $3 million, according to Celebrity Net Worth. 
The Braxton girls have definitely shown that they are stars!