Which 'Sex Education' Cast Members Are Returning for Season 3?
Season three of the Netflix comedy-drama Sex Education is finally upon us after a year and a half long hiatus. The new season is set to be released on September 17, 2021. With the new season set to be released soon, it's time to look back at the first two seasons of Sex Education and the fabulous cast of characters. Read on to learn more about what to expect from season three of Sex Educationand to discover which cast members are set to return for the new season.
Meet the characters of 'Sex Education'
The hit Netflix original Sex Education features an interesting and diverse cast of characters. According to Fandom, the main protagonist of the series is Otis Milburn, played by Asa Butterfield. Otis is an awkward, insecure teen boy who lives with his mother, Jean, played by Gillian Anderson. Jean is a sex therapist who often meets patients at her home. The relationship between Otis and Jean is unique, to say the least, and hilarity often ensues with each of their interactions.
Along with Otis, the series also follows his classmates at Moordale Secondary School. This includes Eric Effiong, played by Ncuti Gatwa, Otis's gay best friend who struggles with gaining the approval of his religious Ghanaian-Nigerian immigrant parents. Maeve Wiley, played by Emma Mackey, is another key character in Sex Education as she is one of Otis Milburn's close friends and later love interest. Along with Otis, Eric, and Maeve, other prominent characters of Moordale Secondary include Adam Groff, Jackson Marchetti, Ruby Matthews, Aimee Gibbs, Lily Iglehart, Ola Nyman, and Headmaster Groff.
Are any 'Sex Education' characters not returning for the new season?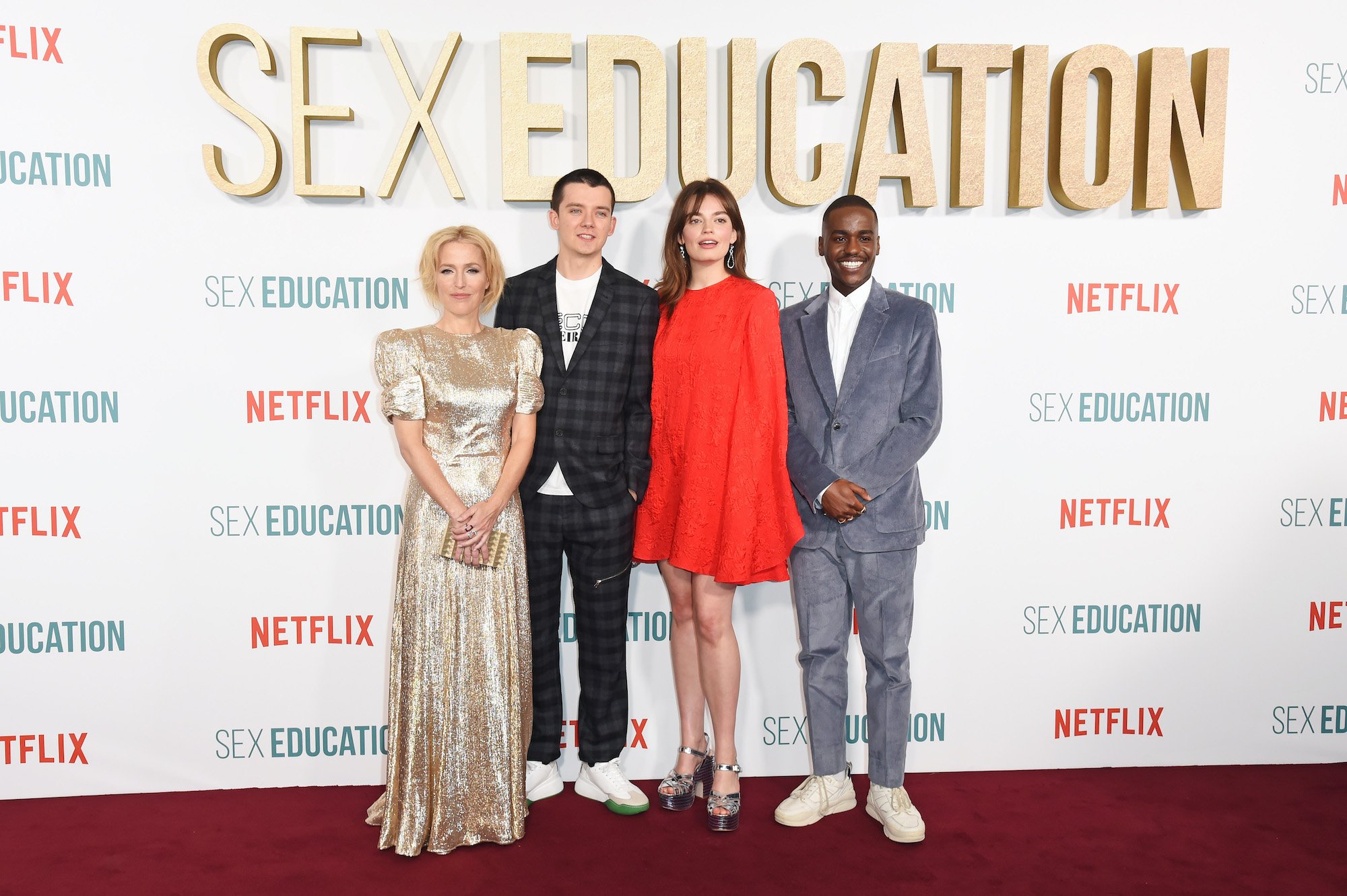 Fans of Sex Educationshould be happy to hear that all original characters of the series are set to make a return for season three. With the full cast returning, fans should be hopeful that cliffhangers from season two will finally be answered, especially cliffhanger surrounding the relationship status between Maeve and Otis.
Along with finally finding out how things unfold between Maeve and Otis, fans will be able to see how Moordale students are able to get along now that Headmaster Groff is gone and Headmistress Haddon, played by Jemima Kirke, has taken over the school. Headmistress Haddon isn't the only new character set to join Sex Education for season three either. According to Screenrant, Peter Groff, Headmaster's Groff brother and Adam's uncle, is set to join the cast of characters for the new season. Another new face will be Cal, played by Dua Saleh. The scoop is that Cal is non-binary and is set to have a very confrontational relationship with the new Headmistress.
How many seasons will 'Sex Education' last?
With Sex Education following the lives of characters in high school, it brings the question that all teen dramas do, "How long will the series be able to last?" When The Guardianinterviewed Sex Education writer and creator Laurie Nunn, they asked her just that. So, what will happen to the beloved Sex Education characters as they begin to age out of Moordale Secondary School?
According to Nunn, this is a question that gets discussed quite a lot already in the writing room. Nunn revealed, "Each season is technically a term, sometimes two terms. So in-between seasons two and three, there's been a little break, and the characters are in sixth form. They are definitely working towards the end, but still very much in school. They are not of university age yet. "But you don't want to be like, these characters are 45 and still in high school!" Well, it sounds like a fourth season could definitely be in the works for Sex Education. However, as the characters progress, the show will either have to take a new approach or reach its final ending.
Related: When Does 'Sex Education' Season 3 Premiere? How Many Episodes Is It?