'The White Lotus': Sydney Sweeney Called for Help When She 'Freaked out' Over Connie Britton
Sydney Sweeney said she was "freaking out" on 'The White Lotus' set when she saw her onscreen mom, Connie Britton. She was so "speechless" that she called someone to help her remember how to use words.
Actors Connie Britton and Sydney Sweeney played mother and daughter on The White Lotus. And Sweeney was so beside herself when she first encountered the Nashville star that she had to call for help finding her words. To whom did she reach out to share her excitement and why did she think they'd understand? And what does Sweeney think about returning to the role for the show's second season?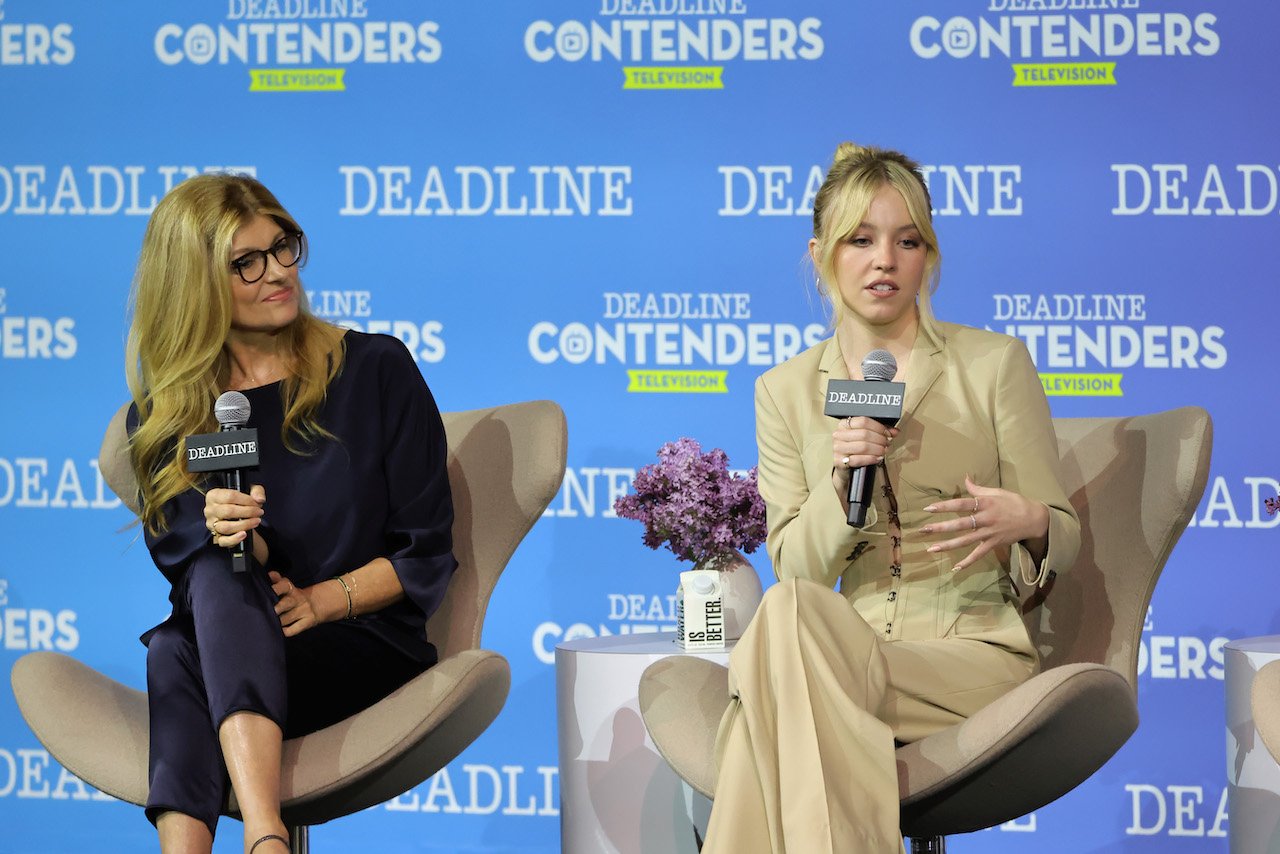 Sydney Sweeney was left 'speechless' by Connie Britton on 'The White Lotus'
Sweeney told Kelly Clarkson on The Kelly Clarkson Show that she was "freaking out" about working on The White Lotus with so many big names. But when she first saw Britton, her onscreen mom, she called her real-life mom.
According to Sweeney, she was left "speechless" by Britton and she joked she had momentarily forgotten the English language. So, she called her mom to help her find the words she wanted to speak to the Friday Night Lights star.
Sweeney and Clarkson agreed they love Britton, especially in her role on the show Nashville. Notably, Sweeney said she and her mom "binged" that series together. So, naturally, that's who she called to share her excitement over encountering the star.
Notably, he shared even more details about their first encounter with WhoWhatWear. "… When I first saw [Britton], I turned around, and she's standing there in all her glory. Her hair looks beautiful. She's wearing this big hat with a big brim, and she's in this beautiful Hawaiian outfit for her character," she described.
"I was like, 'Oh my god, I have to call my mom,'" she added. "And we just hit it off from there."
Sydney Sweeney learned by watching her co-stars on 'The White Lotus'
While speaking with The Guardian about her co-stars, including Britton, Molly Shannon, and Jennifer Coolidge, she said she learned a lot from working with them.
"I don't think there's one particular word of advice that has been spoken to me, but it's more just like watching them all and learning from them," she explained.
"Every word of Jennifer Coolidge or Molly Shannon's mouth is just pure comedy gold," she shared. "I'm like, where is this coming from? How did this come out of your brain so quickly?"
Sydney Sweeney played coy about returning for 'The White Lotus' season 2
When asked by Entertainment Tonight about the possibility of returning for another season of The White Lotus, maybe even as Olivia again, she coyly shrugged and said, "I don't know."
"I'm, of course, open it to it," she added. She also confirmed there are "conversations happening on that front."
Furthermore, Sweeney said if she had her choice to come back as Olivia, as opposed to a new character, she would. "She's a blast!" she declared. "She's so far from myself, so it's so fun to just … dive into this. And I'm so terrified of Olivia."
She concluded, "It's really fun playing a character that you're scared of."
But she also confessed the role had given some people the wrong idea about her. She read comments that said Olivia was so scary some viewers weren't sure if they wanted to meet the Sharp Objects actor in real life. But, in the end, it still wouldn't make her hesitate to play her.