Whitney Houston and Mariah Carey Refused To Sing in the Morning
Whitney Houston and Mariah Carey are two of the most iconic singers ever to live. However, because they were popular around the same time, and their music genres often overlapped, the media loved to pit them against one another in the '90s.
However, it appears that the singers had much more in common than most people thought, including why they refused to sing in the morning.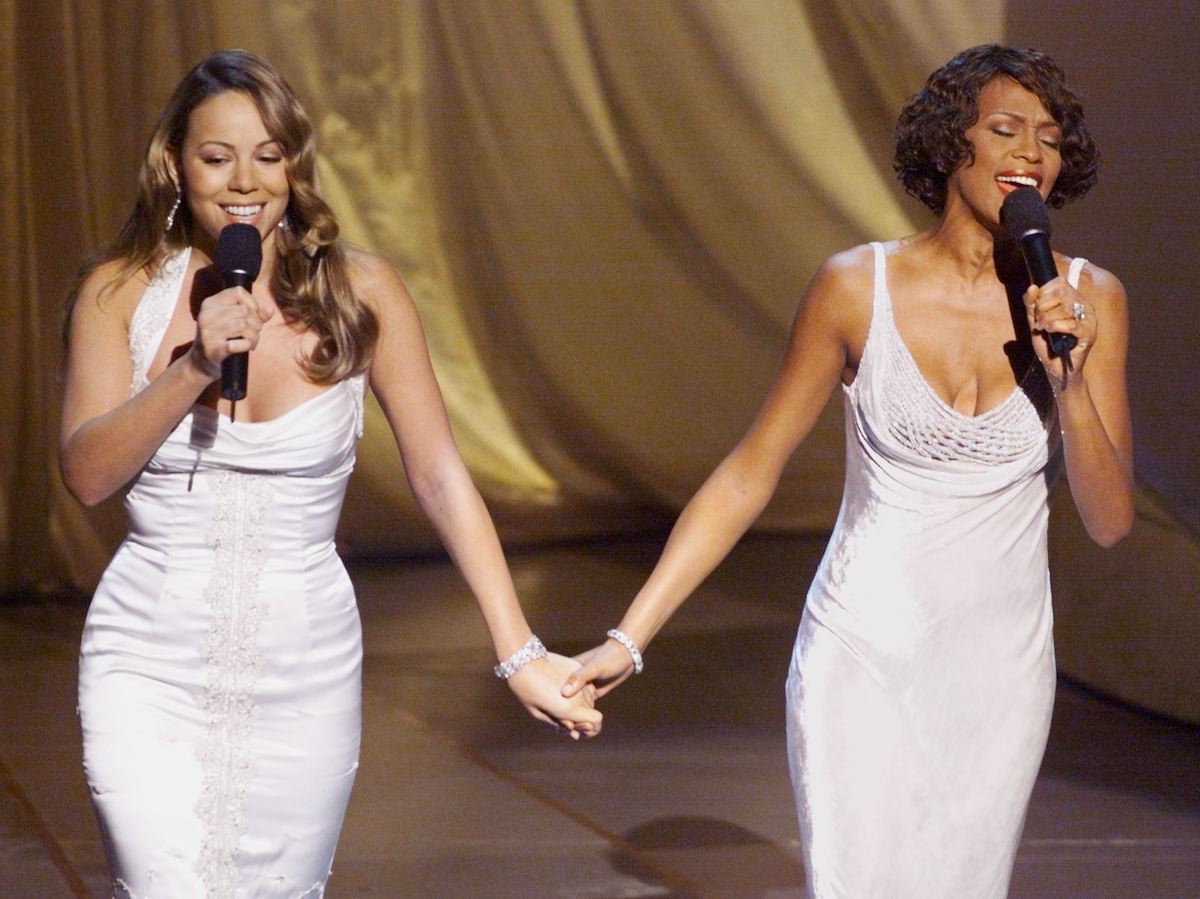 Inside Whitney Houston and Mariah Carey's very first meeting
The late Bodyguard icon and the Butterfly legend have two of the most distinctive voices in music history. For decades, they have defined music, and they've even worked together on the stunning song "When You Believe" for The Prince of Eygpt's soundtrack.
However, despite their friendship and their affection for one another, rumors have persisted that they were embroiled in a major feud at one point. This rumor seems to stem from their very first meeting with one another.
Houston's friend, gospel legend Bebe Winans says that when Houston first tried to introduce herself to Carey, The Emancipation of Mimi legend ignored her.
"We got in the car, when that door closed, she said 'Boy! I ain't never saying or doing anything you [say],'" Winans said. "'BeBe, oh my gosh I stopped and I turned around and I put my hand out and I said 'Hi Mariah, I'm Whitney.' She said Mariah turned her head like she didn't hear nothing. Whitney said 'The Jersey inside of me said grab her hair!'"
Mariah Carey says she and Whitney Houston never had a feud
Despite what Winans remembers, both Carey and Houston when she was alive have said that the "feud rumors" were just the media looking for drama.  
"I don't think people could ever understand our relationship … there was always this supposed rivalry in the beginning and then we did the duet and we became friends," Carey said on Good Morning America in 2012 following Houston's death. "I loved her. We all loved her. May she rest in peace … her legend's gonna go on forever.
Carey has said that she and Houston did not get to know each other well until they worked together in 1998. Then, they were thick as thieves.
Whitney Houston and Mariah Carey refused to sing in the morning
Houston and Carey's friendship was obvious in their interview with Oprah Winfrey in the late '90s. They both laughed and chatted and expressed why they did not want to sing in the morning.
"If you talk to her and me in the morning, we sound like men," Houston joked. Carey added, "Yeah, we do." It was rumored that Houston, in particular, refused to sing in the morning, which actually delayed the production of her movie, The Preacher's Wife, in 1996.
Having vocal issues in the morning wasn't all Houston and Carey had in common. They were also both hilarious. In 1998, they showed up to the MTV Video Music Awards wearing almost identical "one-of-a-kind" dresses to troll the media about their "rivalry" it was beyond amusing.