Who Are Bobby Flay's 3 Ex-Wives?
Bobby Flay may be dating now, but he's been married three times in the past. Here's who the Food Network chef has wed.
The Food Network has been a staple in cable television for decades, and it's not hard to see why the channel keeps growing year after year. From culinary competition shows to our favorite chefs cooking in their own kitchens, there's a little something for everyone. And Bobby Flay has proven again and again that he's fun, relatable, and a fan-favorite chef.
Fans have heard a lot about Bobby Flay over the years, and it may surprise them to know that he has quite the romantic history. While he's currently dating someone, he's also been married three times. Here's who his previous wives were.
Flay first married Debra Ponzek when he was 26
It makes perfect sense that Flay would fall in love with a fellow cook — and that's exactly what happened when he was just 26 years old. Delish notes he met his first wife, Debra Ponzek, at a charity event for Meals On Wheels and quickly fell in love. They were both highly notable chefs in the New York food scene back in the early '90s, The New York Times noted. And once they were married in 1991 just a few weeks after knowing each other, they were definitely the chef power couple everyone was talking about.
According to The New York Times' article, it was actually Flay who went out of his way to meet (and hopefully impress) Ponzek — and it seemed to work. Unfortunately, not all good things are meant to last. After merely two years of marriage, they split in 1993.
He wed Kate Connelly years later, and they had a daughter
When Flay met Kate Connelly in 1995, The New York Times noted he was "divorced and living in an apartment with white furniture, white carpets and modern art on the walls," and Connelly was "an unmarried mother whose apartment was decorated with the kinds of rugs and chairs that camouflage peanut-butter-and-jelly stains." The two first met when Flay guest starred on the show Connelly was hosting, Robin Leach Talking Food. And while the two immediately hit it off, others close to her noticed the combination of Flay and Connelly ignited "danger signals."
Connelly and Flay married in October 1995, and Flay noted one of the most attractive qualities of Connelly was the fact that she had an 8-year-old son at the time. While the couple went their separate ways in 1998, they did have a daughter together in 1996. Sophie Flay is incredibly close to her father and appears in many of his social media posts and shows.
Flay's longest marriage was to Stephanie March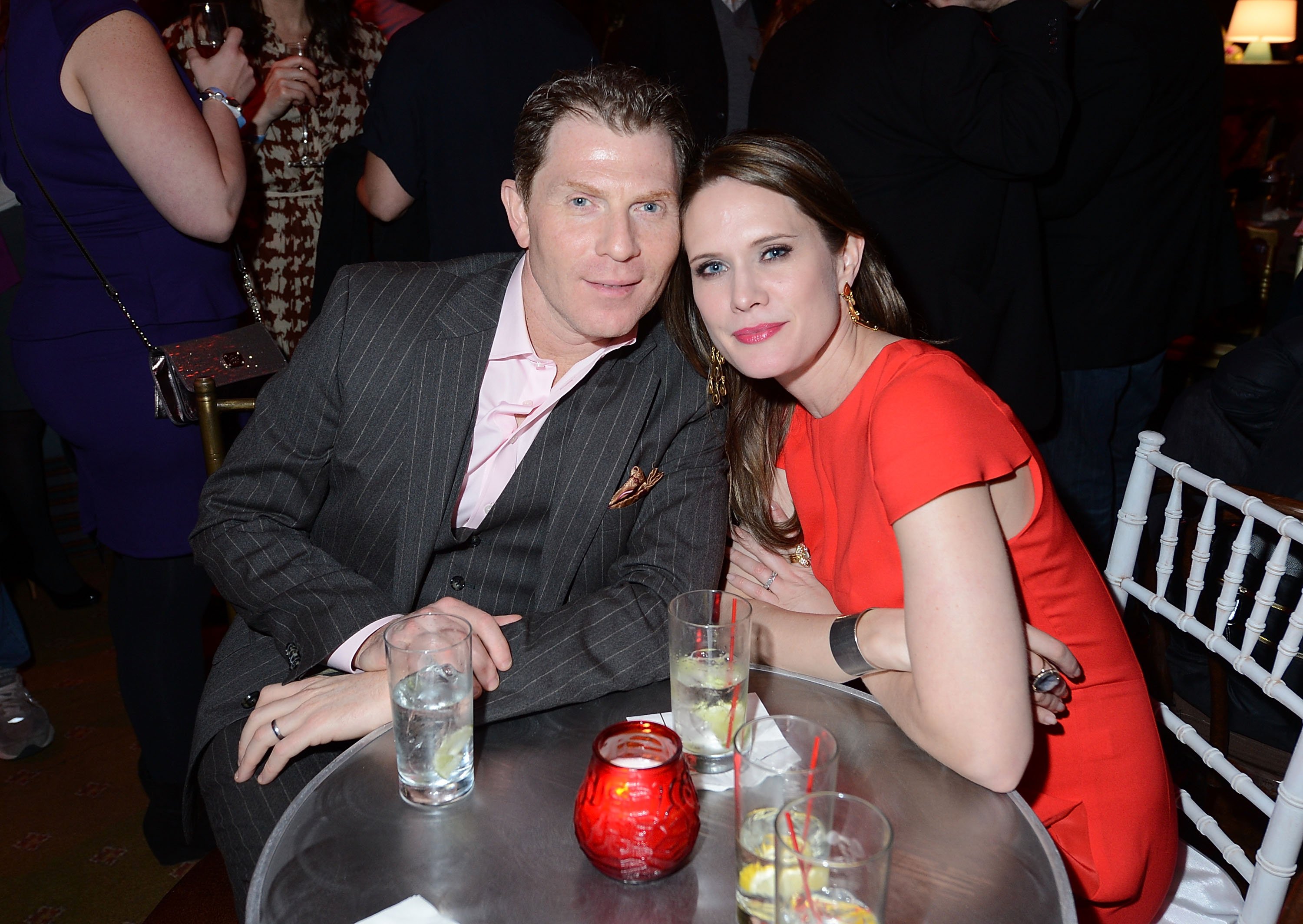 If there was one marriage of Flay's that everyone suspected would last, it was to Stephanie March. The two met in the early 2000s while March's career with Law & Order: SVU was taking off, Delish notes. By 2005, the two were married — though this proved to be Flay's most scandalous marriage of all. Page Six reminds us of the reports released in 2015 claiming Flay was cheating on March — and the most shocking allegation was that he had an affair with his much younger assistant.
According to Maia Madison, a friend of March's, "She came to my house and was sobbing uncontrollably. She said, 'I can't believe the last 10 years of my life have been a lie.'" Flay and March allegedly tried to work through their marital issues, but there was little success here. The chef filed for divorce in 2015 — and it seems the cheating rumors were swept under the rug from there.
We're not sure what was true and what was fabricated, but today, Flay has totally moved on to someone new — his current girlfriend, Helene Yorke. While Yorke and Flay aren't spotted out together too often, fans are hoping that the 54-year-old chef has finally found the woman he can settle down with permanently.
Check out The Cheat Sheet on Facebook!