Who Are Sarah Palin's Kids, and How Many Grandchildren Does She Have?
When Sarah Palin first took the political spotlight as John McCain's Vice Presidential nominee, America didn't know what to think. As an Alaskan governor, Palin certainly knew her politics, but her right-wing views and controversial rhetoric threw many for a loop. She may have stepped down from her political reign long ago, but that doesn't mean her family's totally out of the spotlight. From police involvement to reality TV, it seems the Palins are a more lively bunch than anyone anticipated.
With her political and family life in the media's eye, it can be hard to keep track of how many kids and grandkids Palin has. Here's what we know.
Sarah Palin has five children, two of whom are no strangers to the media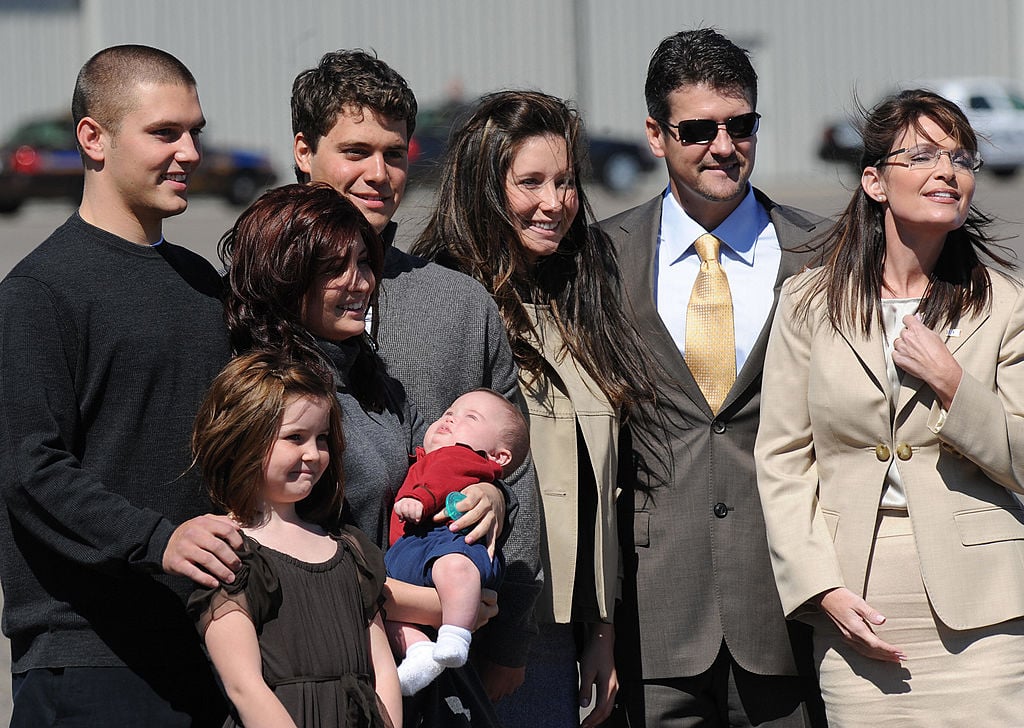 Palin's kids are all growing up fast, and she has five in total. Track is Sarah's oldest child at 30 years old, and Bristol is next at 28. They're followed by Willow, 24, Piper, 18, and Trig, 11.
We don't often hear about Willow, Piper, and Trig — at least, not in comparison to how often Track and Bristol are in the media spotlight. Metro reminds us Track is an army veteran and got married in 2011. Unfortunately, the marriage didn't last, and he's been under the watchful eye of the media after getting arrested multiple times for assault and domestic violence. Sarah Palin has spoken out before about her son's violent past and believes PTSD is part of the issue.
As for Bristol, she was recently on our TV screens via MTV's Teen Mom. Bristol was famously pregnant at 17 when her mother was running as VP for McCain. In more recent times, she joined the cast of Teen Mom — but the stint was short-lived, CNN reports, as she didn't agree with how the show portrayed her.
Bristol and Track Palin have kids of their own
Sarah Palin has quite a number of grandchildren, too. Bristol has three children and just recently gave birth back in 2017. Us Weekly reports her first child, Tripp, was the one she had with boyfriend Levi Johnston when she was 17. She also has two daughters, Sailor and Atlee, with ex-husband Dakota Meyer. Bristol and Dakota had a notoriously rocky relationship and surprised many when they decided to marry. Today, they've since divorced — and Dakota noted Bristol "wasn't happy with" him, so it's for the best, People reports.
Track is the other Palin with kids of his own. Metro notes he has a daughter with his ex-wife, Britta Hanson, and a son with his ex-girlfriend. The publication notes he doesn't have custody of his daughter, and after he attacked his ex-girlfriend and was hit with assault charges in 2016, his ex also filed for full custody of his son.
Willow Palin is now pregnant with twins
The Palins are gearing up for even more little ones. Willow Palin recently announced on Instagram that she and husband Ricky Bailey are expecting twins. And the happy couple couldn't be more excited to have children of their own. They tied the knot back in 2018 after getting engaged at Rockefeller Center, USA Today notes, and they seem to have a wonderful relationship, as they were dating for many years prior to their engagement.
It seems Sarah Palin is also ultra excited to add more babies to the mix. "ECSTATIC & BLESSED x2," the politician wrote on her daughter's Instagram. And the happy grandmother even created her own Instagram post just to show her excitement. "Now ask me if Ricky-n-Willow are having a boy or girl……………….Maybe ONE OF EACH‼️ Blessedx2 #TWINS," she captioned this post. With Willow's children, this will give Sarah a total of seven grandchildren so far.
Check out The Cheat Sheet on Facebook!