Who Are the Singers in Disney's 'Frozen' and 'Frozen 2'?
Some of these singers are Tony-nominated actors, others appeared in other Disney productions like the live-action adaptation of Beauty and the Beast. It's what they do together, though, that makes Disney's animated film, Frozen, so special. 
Here's what we know about the singers in Disney's Frozen and Frozen 2. 
Idina Menzel, formerly of 'Wicked,' voices Elsa
Some know her for her role in Rent, others know her as Elphaba from the Broadway musical, Wicked. She even appeared in the Disney movie Enchanted as Nancy. Idina Menzel voices Queen Elsa in this animated movie, as well as the sequel production.
Menzel performed the iconic song from the original Frozen, titled "Let It Go," even doing the song live at a number of music-related events. The same actor sang for the Frozen sequel, performing "Into the Unknown" and "Show Yourself."
Josh Gad voices Olaf 
This actor went on to appear in a number of other Disney projects. That includes the Disney Family Singalong, that aired on ABC. He portrayed LeFou in the live-action adaptation of Beauty and the Beast. Gad also narrates the Disney+ series, titled Magic of Disney's Animal Kingdom.
For Frozen, though, Josh Gad portrays the loveable snowman named Olaf. This summer-loving snowman is created by Elsa. In both movies, he helps the sisters on their adventures, getting some warm hugs along the way. 
Gad performed "In Summer" for the original Frozen. He reprised his role as Olaf, singing "When I Am Older" and "Some Things Never Change" for the animated sequel.
Jonathan Groff, of the original cast of 'Hamilton,' voices Kristoff
This actor, however, is best known for his role as King George in the original Broadway cast of Hamilton, even earning a Tony nomination for Best Featured Actor in a Musical. (A live recording of this production has since been released on Disney's streaming platform.)
Jonathan Groff voices Anna's friend-turned-fiancé, Kristoff, in Disney's animated films. Groff performed songs like "Reindeers Are Better Than People" in the original Frozen. He reprised the song for Frozen 2, then performing the rock ballad, "Lost in the Woods."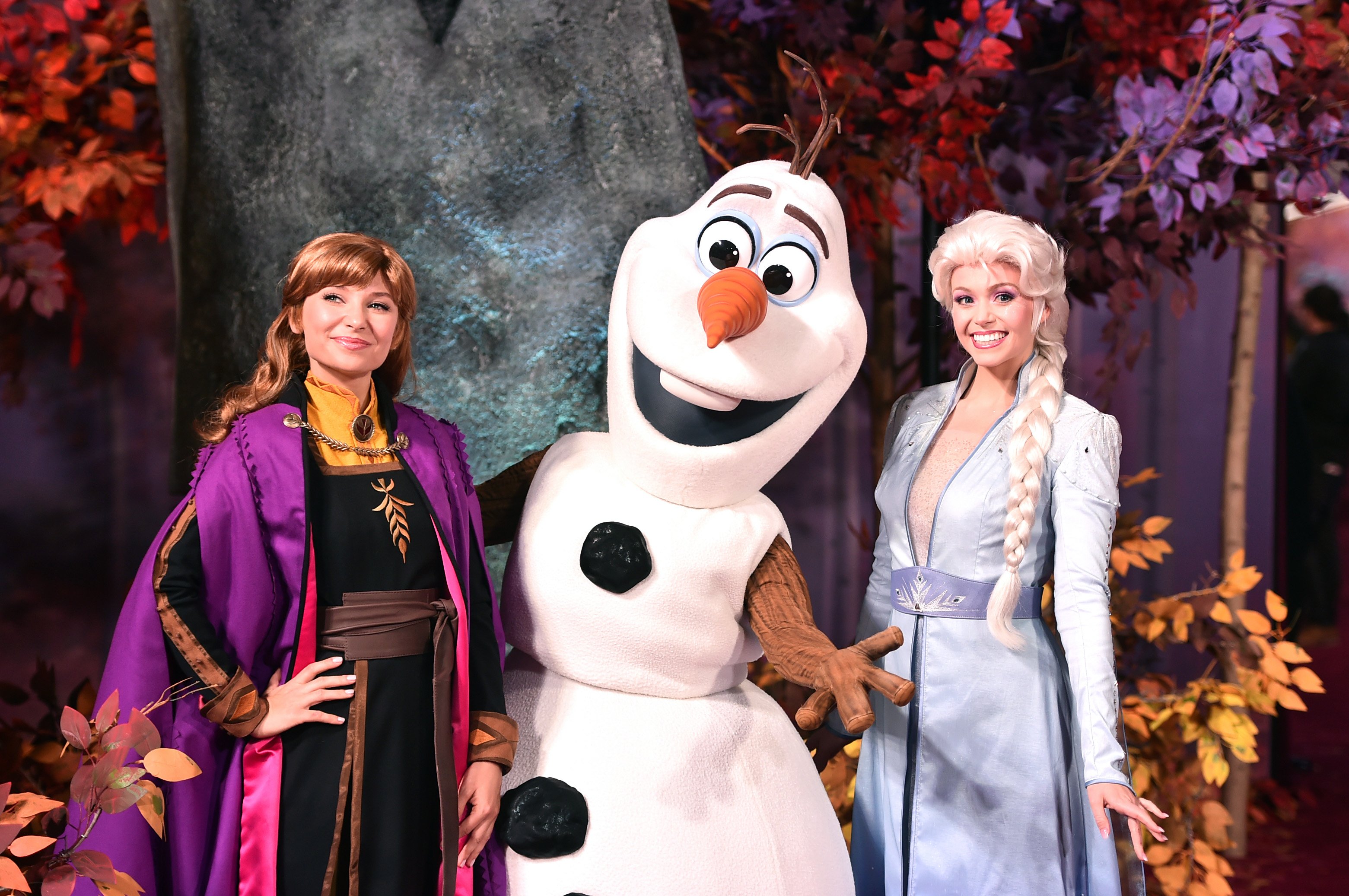 Kristen Bell voices Anna
She appeared in shows like Veronica Mars, Gossip Girl, and The Good Place. Kirsten Bell voices Princess Anna, Elsa's younger sister in these award-winning movies, singing as the character for both movies.
For the original animated movie, Bell sang as Anna for songs like, "For the First Time in Forever," and "Love is an Open Door." She performed again for Frozen 2, voicing Anna in songs like, "Some Things Never Change" and "The Next Right Thing."
Both Frozen and Frozen 2 are available on Disney's streaming platform, Disney+. There's also television specials, like Frozen Fever, available that feature Olaf, Anna, Kristoff, Sven, and all of their friends.