Who Did The Rolling Stones Write 'Wild Horses' About? Keith Richards and Mick Jagger Disagree
On April 23, 1971, the album Sticky Fingers by The Rolling Stones was released in the United States. It was the first to carry the familiar lips and tongue logo that is now synonymous with the group. The cover, with a functional zipper on the fly of a male model's pants, was designed by legendary pop artist Andy Warhol.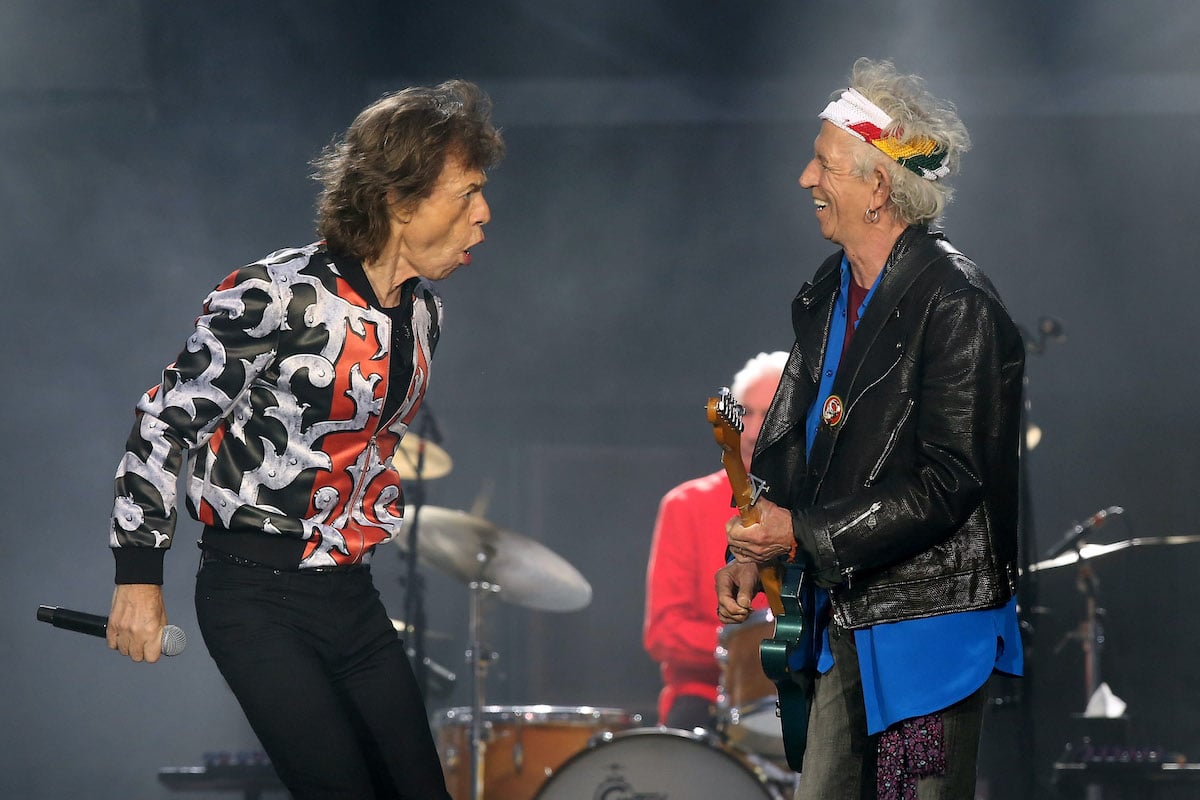 There's an interesting story behind the album's fan-favorite track, "Wild Horses". The iconic song was originally released in 1970 by a little-known group called The Flying Burrito Brothers, founded in part by Gram Parsons of The Byrds. Even so, only Keith Richards and Mick Jagger are credited with composing it, according to AllMusic.
Keith Richards wrote 'Wild Horses' with his son in mind
The Stones recorded their version of "Wild Horses" during a three-day session at the famous Muscle Shoals Sound Studios in December 1969. According to American Songwriter, the hit single was inspired by Richards' reluctance to leave his baby son, who had been born in August, to go out on the road with the band.
Songfacts states that Richards discussed writing the music for his 12-string acoustic guitar in his autobiography, Life. "'Wild Horses' almost wrote itself. It was really a lot to do with, once again, f—ing around with the tunings. I found these chords, especially doing it on a twelve-string to start with, which gave the song this character and sound."
Richards also addressed the famous chorus in his autobiography. "Once you've got the vision in your mind of wild horses, I mean, what's the next phrase you're going to use? It's got to be couldn't drag me away."
Mick Jagger turned 'Wild Horses' into a ballad of lost love
In the end, the chorus was all that remained of Richards' version. Jagger took the lyrics in a different direction, trading any mention of a baby boy for the famous "graceless lady" he addresses in the ballad. Fans speculated that she must be Jagger's former girlfriend from that time, singer/songwriter Marianne Faithfull. 
Faithfull reportedly said that famous phrase to Jagger upon waking from a drug-induced coma. "Everyone always says it was written about Marianne, but I don't think it was; that was all well over by then," Jagger reportedly said in the liner notes of Jump Back: The Best Of The Rolling Stones. 
"But I was definitely very inside this piece emotionally. This is very personal, evocative, and sad. It all sounds rather doomy now, but it was quite a heavy time." It was.
According to Grunge, just months before the song was recorded, The Stones' founding member, 27-year-old Brian Jones, was found dead at the bottom of his swimming pool.
'Wild Horses' might be about Gram Parsons' sister
Some people, including David Crosby of The Byrds and Crosby, Stills & Nash, credit Parsons for the song. No Depression references handwritten copies of it in a notebook belonging to Parsons, as well as letters to his sister, Avis, that convey similar sentiments. Parsons apparently felt responsible for her after the death of their parents and guilt at leaving her alone.
Parsons met The Rolling Stones in 1968 after leaving The Byrds. In 1973, Rolling Stone reported that Jagger wrote the song "for and about" him. "I remember we sat around doing this with Gram Parsons, and I think his version came out slightly before ours," Jagger said.
In 2021, Rolling Stone related that Parsons first heard the song when Jagger played it for him. Jagger eventually sent Parsons the master recording and asked him to put a steel guitar track on it. Parsons said about the session:
"And we went into the Record Plant … and somebody came in with some sort of strange dust and things just went haywire … the engineer forgot where he was and things like that. So they didn't use that track, and I asked Mick if we could put it on our mixed album if we didn't release it as a single, and he thought about it and said alright."
Famous covers of 'Wild Horses'
In 2013 an eleven-year-old girl wowed audiences with her powerful interpretation of the song on America's Got Talent. According to her Facebook page, Anna Christine discovered her musical side at the age of five and sings with a maturity and voice far beyond her years. After a rocky previous appearance during which she played piano and sang "Don't Let Me Be Misunderstood" Christine advanced to the semi-finals of the series.
"I kind of got off time and that's when I started to get nervous," she said, "and I actually did contemplate just crying and running off the stage." It's a good thing she didn't. Her soulful version of "Wild Horses" during her next and final appearance on the show is a real gem.
To this day you can find covers of "Wild Horses" on YouTube by artists both famous and obscure.
RELATED: Who Is Neil Diamond's 'Sweet Caroline' Really About?