Who Is Aaron Rodgers Dating Now?
Aaron Rodgers is one of the best quarterbacks in the NFL today, but he's made headlines in the past for things other than his play on the field. The athlete has made the news for his love life as well.
On July 16, 2020, a rep for Danica Patrick told Page Six that the retired NASCAR driver and the Green Bay Packers signal caller were "no longer together." Now, everyone is wondering is Rodgers dating someone new. Here's what we know.
Why Aaron Rodgers and Danica Patrick broke up
Patrick's publicist did not give a reason as to why they broke up but rumors quickly swirled that it was over another famous woman.
The day before Patrick's rep confirmed the breakup TerezOwens.com reported that the NFL star was spotted getting "cozy" in Lake Tahoe with Big Little Lies actor Shailene Woodley. Rodgers was in town for a celebrity golf tournament from July 6 through 12. The news reportedly devastated Patrick.
However, the quarterback and Pretty Intense podcast host hadn't been seen together for months leading up to the rep's confirmation that they split. In fact, the last time Rodgers appeared on Patrick's Instagram was April 11, 2020, when she shared a photo from a trip they had taken to Peru. This led to speculation that they ended things in the spring, not the summer.
RELATED: What Is the Age Difference Between Aaron Rodgers and Shailene Woodley?
Who Rodgers dated before Patrick
Before he began seeing Patrick, Rodgers was in a relationship with Olivia Munn. The two started dating in 2014 but called it quits three years later.
During an interview with ESPN in August 2017, the athlete spoke about their past relationship and pointed to Munn's fame and cameras always following them as the reason for their split.
"When you are living out a relationship in the public eye, it's definitely … it's difficult," he said. "It has some extra constraints because you have other opinions about your relationship, how it affects your work and, you know, just some inappropriate connections."
Rodgers was also linked to soccer player Marie Margolius, Gossip Girl alum Jessica Szohr, and Baywatch actor Kelly Rohrback.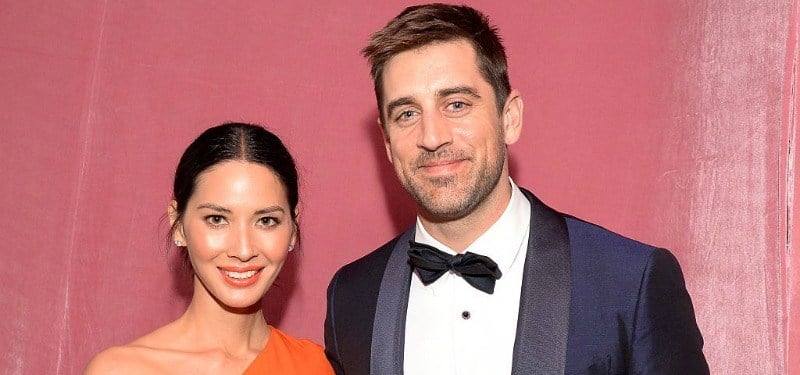 Does Rodgers have a new girlfriend?
But the question everyone's asking now is: Has Rodgers found love again?
Well, no one knows at the moment. The quarterback hasn't been spotted with anyone since the reports about Woodley so if he is dating someone new he's keeping it under wraps. He did, however, have a few things to say about love after his breakup with Patrick when he was a guest on The Pat McAfee Show in September 2020.
"I have just a new and increased love of life, and I've made decisions and changes and habits that put me in a lot better headspace," Rodgers explained. "There's just a lot of things that have come together in my life over the last few months that have really been enjoyable and reminded me, given me perspective on life and in football to view things through the most positive lens I possibly can. And that's why I'm having so much fun and it starts with love. And then surrounding yourself with people that you really enjoy."
For now, we'll just have to wait and see if A-Rod publicly reveals his relationship status in the future.