Who is Agnes in 'WandaVision'? The Biggest Rumor About Kathryn Hahn's Character
WandaVision's third episode premiered on Disney+ this past Friday, Jan. 22. Amidst the ongoing sitcom-themed antics, the show's central mystery continued to deepen, with Wanda (Elizabeth Olsen) and Vision (Paul Bettany) getting closer to the realization that their world isn't what it seems.
One character who appears to be central to this mystery is Agnes (Kathryn Hahn), the couple's nosy neighbor. While she initially seems like just another part of the show's strange world, Agnes now seems to know more about what's really going on and might even have a hand in keeping it up. Based on one prevalent rumor related to her character, this might just be the case.
[Spoiler alert: Rampant speculation for WandaVision ahead.]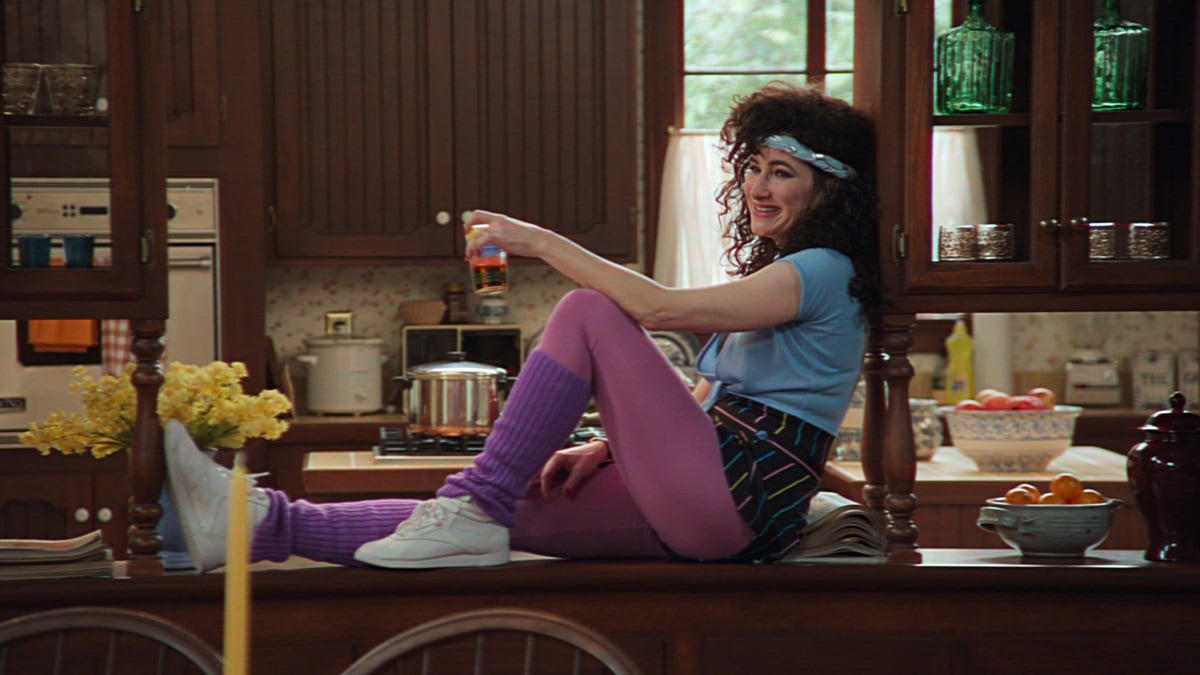 'WandaVision' has plenty of secrets beneath the surface
One of the prevailing rumors and pieces of fan speculation is that Hahn's Agnes is in fact the Marvel character, Agatha Harkness. According to Decider, this stems not just from the similarity of the names "Agnes" and "Agatha," but also from hints in Agnes's wardrobe.
In the comics, Harkness is a centuries-old witch who's been kicking around since the fall of Atlantis. She even got involved in the Salem Witch Trials at one point. Despite her intimidating look and demeanor, Harkness has often served as an ally to the heroes of Marvel Comics. This has included teaching magic to the universe's various witches and wizards, as well serving as a nanny for Franklin Richards, son of the Fantastic Four's Mr. Fantastic and Invisible Woman.
One major wardrobe hint that fans have zeroed in on since the early trailers is a black-and-white broach that Agnes is often seen wearing in WandaVision. In the comics, Harkness is almost always drawn with a similarly-colored broach.
Trailers have also shown Agnes dressed up as a witch for a Halloween-party episode of WandaVision. Given that Wanda and Vision in the same episode are dressed up like their traditional superhero selves, many have interpreted this as a clue that Agnes is secretly an actual witch.
It's also worth noting that Harkness has a key role in Tom King's celebrated Vision solo book from 2015-2016. Bettany has said that WandaVision takes inspiration from that series, alongside a few others.
The Scarlet Witch is headed in a more magical direction soon
RELATED: 'The Mandalorian': How the 'Star Wars' Show Inspired 'WandaVision'
Should Wanda cross paths with a witch like Harkness, it could indicate that her character is about to take a big step into the world of proper magic in the Marvel Cinematic Universe (MCU) after WandaVision. This lines up with what is known about Olsen's future in the MCU, as she's currently filming a role in Doctor Strange in the Multiverse of Madness with Benedict Cumberbatch.
In the films, Scarlet Witch's abilities have been toned down significantly from her comics counterpart. In the MCU, she has so far been limited to telekinesis. In the books, meanwhile, she can use magic to manipulate probabilities, allowing her to tinker with the likelihood of things happening, basically giving her the ability to do just about anything.
It's reasonable that the MCU films would have tried to avoid making the Scarlet Witch overpowered straight out of the gate. Now, however, with Wanda potentially crossing paths with a bunch of actual magic users, it seems like some big changes might be on the way for her.