Who is Alton Brown's Wife?
Resident celebrity chef and food scientist Alton Brown is a Food Network veteran, now with the network almost two decades. His classic show, Good Eats, styled according to Brown after "Julia Child, Monty Python, and Mr. Wizard," ended its thirteen-year run in 2011, but made a big comeback as Good Eats: Reloaded on Food Network in Aug. 2019.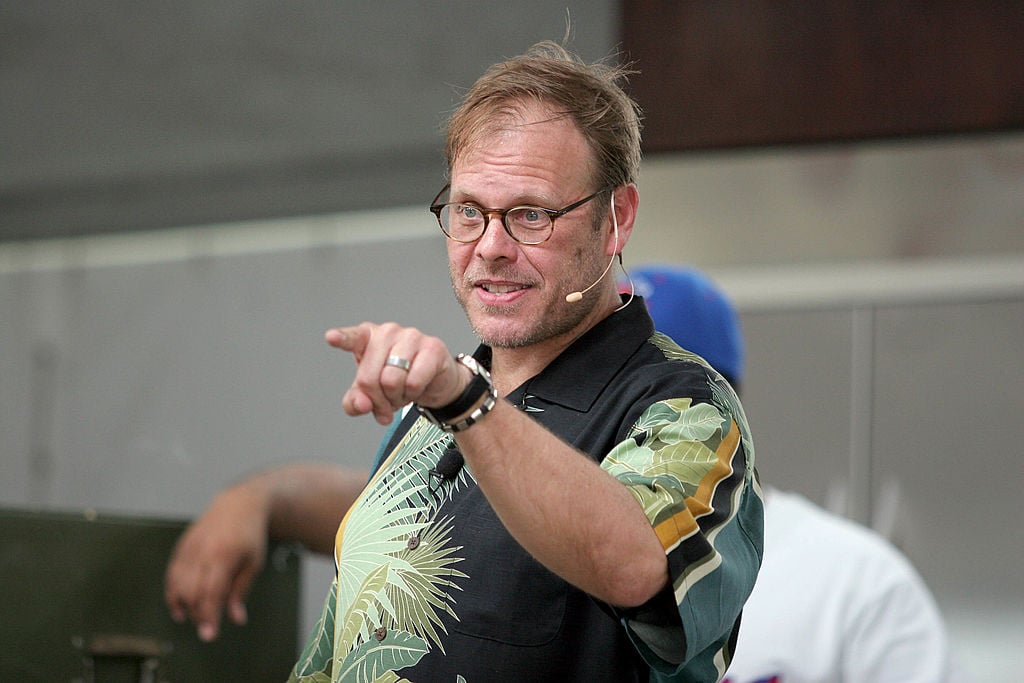 The other recent addition to Brown's life is his new wife, Elizabeth Ingram. Find out who she is, how they met and how she's changed him for the better.
Who is Elizabeth Ingram?
Alton Brown's wife, Elizabeth Ingram, is a restaurant and residential designer based in Atlanta. They were married on Sept. 29, 2018.
The interior designer has 25 years of experience in the restaurant, bar and residential design industry.
According to the Elizabeth Ingram Studio's website, Ingram is skilled in creating spaces that "eclectically transcend time, Ingram uses upholstery, custom lighting and furniture design to compose bespoke, textural and visually rich spaces for her clients – each project divulging its own mood and telling its own unique story."
Her design studio has conceptualized several Atlanta restaurants' interiors, including BeetleCat, Marcel, Superica El Tigre, and Golden Eagle.
How they met
Brown and Ingram met in 2016 when Ingram went to have her copy of Brown's EveryDayCook signed by Brown at a book signing. Brown needed a designer for his Marietta, Georgia office and asked for her assistance. After a while, the project became a complete renovation of his apartment, which they now share.
The couple starting collaborating on the renovation together and love bloomed.
Ingram told Architectural Digest how their affection deepened for each other during the renovation, which took seven months. "We benefited from Pinterest, text, and getting to know each other that way."
Brown interjected, "At some point, meetings turned into dates. I'm not going to lie — and I can't put my finger on when it was — I started looking forward to seeing her more than the space. I've never lived in a place where in the beginning of the day, I don't want to leave, and at the end of the day, I can't wait to get home. And it's not just because of who is going to be there."
How marriage has changed him for the better
According to Brown, his new wife has had a "calming effect" on him, telling People, "I was like an old creaky ship when I met her. Living with someone who's a creative, changes things because it changes the nature of what you can share and what you can expect people to understand. I think having somebody you can talk to, which I haven't always had in my life, is a big deal."
Clearly, his new marriage agrees with Brown. Ingram observes, "I've been amazed at how many people who have known him a very long time have told me that he seems really happy and relaxed now. There's something very sweet and humble about him—right underneath the snark."
Brown agrees, "There have been times where I've worked to avoid the rest of my life. I don't do that anymore. Before, I was only worth whatever I was working on at any given moment in time. Now I think I like me better."
Here's to the happy couple!