Who Is Baltimore Ravens Quarterback Lamar Jackson's Girlfriend?
Baltimore Ravens quarterback Lamar Jackson has been nothing short of amazing since he took over as the signal caller for the team. Now that he's a superstar in the NFL, his fans want to learn as much as they can about him. But Jackson is much more private than people realize. Here's what we do know about his girlfriend, Jamie Taylor.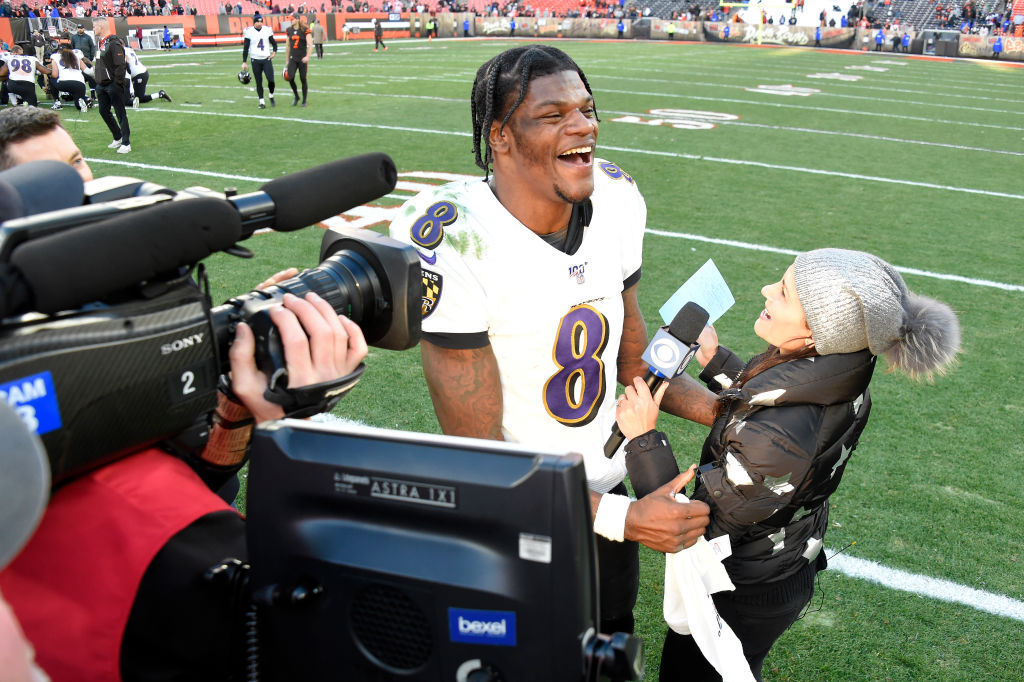 Lamar Jackson's girlfriend keeps a low profile
Jackson has been dating Taylor since his college days at the University of Louisville.
The pair met in 2017 and have been together ever since, but you would never know it. That's because Taylor stays out of the limelight completely. There is no detailed information on her, no pictures of her on any of Jackson's social media accounts, and no press photos of them together anywhere.
But we do know Taylor exists thanks to what Jackson has said about her and what she has said about him.
Jamie Taylor gave one interview about Jackson
In August 2019, journalist Clifton Brown did an extensive profile on Jackson.
For the piece, Brown interviewed Taylor about her beau and how she admires the way he doesn't let what his critics say get to him and is determined to prove them wrong.
"He's taught me how to handle criticism," she told Brown via BaltimoreRavens.com. "I mean, I used to get mad when I'd read stuff. Then I'd look at him, and he's just fine. He says, 'Let them do the talking. You don't have to say anything. Just show them.'"
What Jackson has said publicly about Taylor
As mentioned above, Jackson keeps his relationship with his girlfriend under wraps, but he has mentioned her previously when speaking about his 2019 Halloween costume. Thanks to his comments we know that Taylor's a fan of Harry Potter and Jackson agreed to dress up as the popular wizard, according to Heavy.
"Harry Potter. I was Harry," Jackson explained to reporters who asked about his costume choice.
"I thought it was pretty cool," he said, adding, "My girl she wanted [to do a Harry Potter theme]. Had the little coat on, I felt like I was back at the wizard's place. It was pretty dope… I wouldn't say I am [a fan of Harry Potter]. I watched a few movies but it's pretty long. I get sleepy. I'll be watching it for like a good hour then [I fall asleep]. Then Harry Potter start watching me."
For now, Taylor's identity largely remains a mystery but perhaps one day we'll catch a glimpse of her running on the field to hug her man after he wins a Lombardi Trophy.
RELATED: Are Baltimore Ravens Quarterback Lamar Jackson and Rapper Kodak Black Friends?
Check out Showbiz Cheat Sheet on Facebook!