Who Is Beatle George Harrison's Wife, Olivia Harrison and How Did She Literally Save the Former Beatle's Life?
It will be 18 years at the end of this month since "quiet Beatle" George Harrison passed away of throat cancer in 2001. His music lives on with his timeless melodies on songs such as Something, Here Comes the Sun, and I Got My Mind Set On You.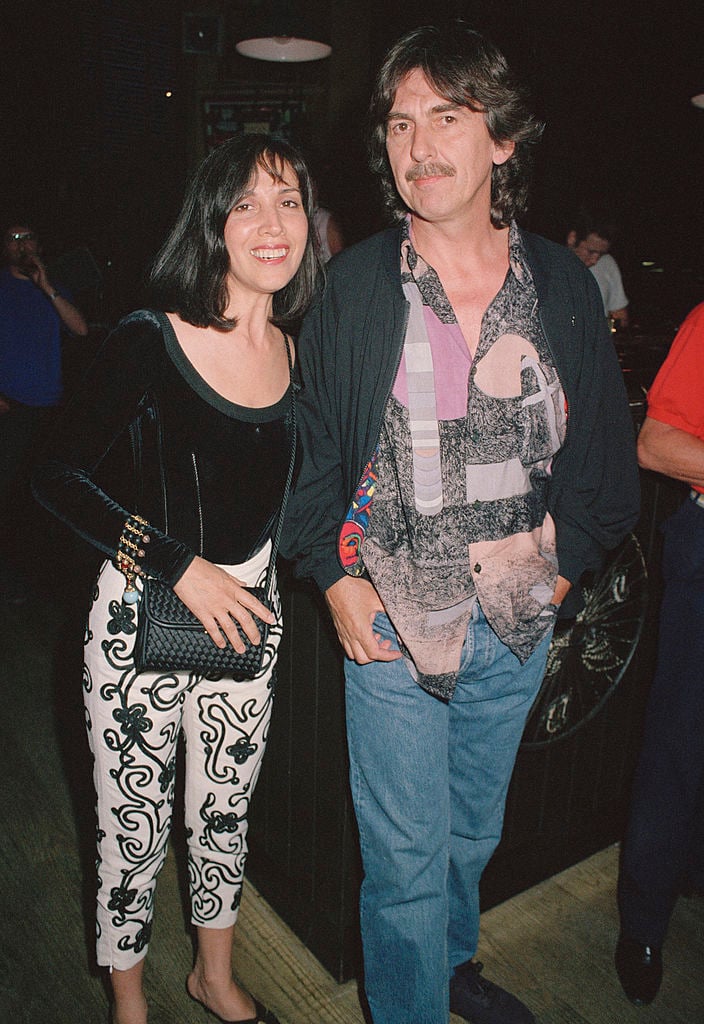 After George and his first wife, Pattie Boyd, separated in 1974 and then divorced three years later, he met and married Olivia Arias in 1978.
Find out about how they met, Olivia's influence on George's life, and the night that she saved George's life.
Olivia was a secretary when she met George
Born in Los Angeles, Olivia Trinidad Arias saw the Beatles in concert two times, once at the Hollywood Bowl on August 29, 1965, and then a year later at Dodger Stadium on August 28, 1966. 
In 1973, she started working at A&M Records, which by the following year won the rights to distribute George Harrison's Dark Horse solo records globally.
In the midst of the negotiation process, George and Olivia chatted by phone frequently. Eventually, the former Beatle wanted to know more about his phone friend and asked his friends to get more information about her for him.
At a party later that year, George and Olivia finally met and stayed together, with Olivia going along with George everywhere he went.
George had been separated since 1974 from his wife Pattie Boyd Harrison, who he'd married in 1966. Pattie had already moved on with George's good friend, Eric Clapton.
Olivia eventually moved into George's Friar Park mansion home in Henley-on-Thames, England. George's divorce from Pattie became final in June of 1977.
The couple learned Olivia was pregnant in 1978. Olivia gave birth to their son, Dhani, in August of that year. They married the following month on September 2, 1978.
The opportunistic doctor Olivia Harrison sued after George Harrison died
After George Harrison died of throat cancer in 2001, Olivia, naturally, took some time to grieve.
In 2004, according to New York Magazine, she sued the New York City doctor who had been treating George for what was described as at the very least, an ill-timed request the doctor made of George. At most, it was tasteless, ghoulish behavior.
According to the magazine's account of events as they happened, the doctor, Gilbert Lederman, had been treating George with an experimental radiation therapy. At one point, about a month into George's treatment, the doctor showed up uninvited, according to the Harrison family, to their home. He brought with him his three children so that they could visit with George, who was leaving the next day to California.
George would die two weeks later, was easily tired, and in no condition to receive guests.
Lederman told his teenage son to play a song on his electric guitar for George. Once he was done, the doctor gave the guitar to George and asked him to sign it. The Harrison family claim George, in his exhaustion, said, "I do not even know how to spell my name anymore."
The family said the fanatical doctor insisted, "C'mon, you can do this," guiding George's hand and out loud helping George to spell his name.
Olivia and Dhani sued the doctor for his behavior, as well as for allegedly talking about George's private medical details with the press.
The doctor and the Harrison family finally settled out of court and the doctor was ordered to destroy the guitar George had signed.
The night Olivia saved George during a savage attack
In 1999, George was attacked by a deranged fan who had broken into their Friar Park mansion home in England. The intruder flew up the stairs where the couple were looking on in horror. George flung himself onto the man, who overpowered him and began stabbing the former Beatle.
George said later, "I felt exhausted and could feel the strength draining from me. I vividly remember a deliberate thrust to my chest…. my lung exhaling and had blood in my mouth. I believed I had been fatally stabbed."
Finally, Olivia knocked the attacker unconscious when she smashed a brass lamp over his head, stopping the attack.
She later said she would never forget the viciousness of the attack.