Who Is Bella Thorne's Fiancé Benjamin Mascolo and How Long Have They Been Together?
Wedding bells are ringing for Bella Thorne!
On Mar. 20, the Disney Channel alum and her now-fiancé, Benjamin Mascolo, announced on Instagram that they are engaged, with Thorne sharing an up-close snapshot of her massive pear-shaped diamond ring.
Since sharing this exciting news, many have wanted to know more about the actor's relationship with her soon-to-be husband, including how they met and how long they've been together. Here's everything we know so far.
Benjamin Mascolo is a singer and actor
Thorne is engaged to be married, and her soon-to-be husband is someone whose life isn't that much different from hers.
Benjamin Mascolo is an Italian singer and actor who recently made his acting debut in a film starring none other than his fiancée.
In November 2020, Mascolo and Thorne began filming the movie Time Is Up in his native Italy. In the film, the two play a couple forced to make changes to their lives following an accident.
"Shooting my first Movie, making my new Music, working and living side by side with my partner in crime," Mascolo wrote on Instagram. "2020 has been crazy, 2021 is going to be f*****g insane."
The pair also starred together in his music video "Finché le Stelle non Brillano" ["Until the Stars Shine"], which was released in February 2021.
Bella Thorne and Benjamin Mascolo have been together for two years
According to Mascolo, he and Thorne first met in April 2019 at Coachella in Palm Springs.
"I immediately knew she was different from all the other women I met in my life," he told Icon magazine in March 2021, per E! News. "With Bella mixing private and work has become simple, we are accomplices at 360 degrees: it was she who asked me to participate in the video clip of 'Finché le Stelle non Brillano' ['Until the Stars Shine'], which gave me immense pleasure as she was the inspiring muse of the song."
Later that same month, the pair were linked romantically, just days after the former Shake It Up star announced her split from rapper Mod Sun, with whom she and YouTuber Tana Mongeau had been in an open relationship.
At the time, photos of Thorne and Mascolo kissing in San Diego had surfaced online, leading many to believe that they were dating. Months later, the pair went Instagram official.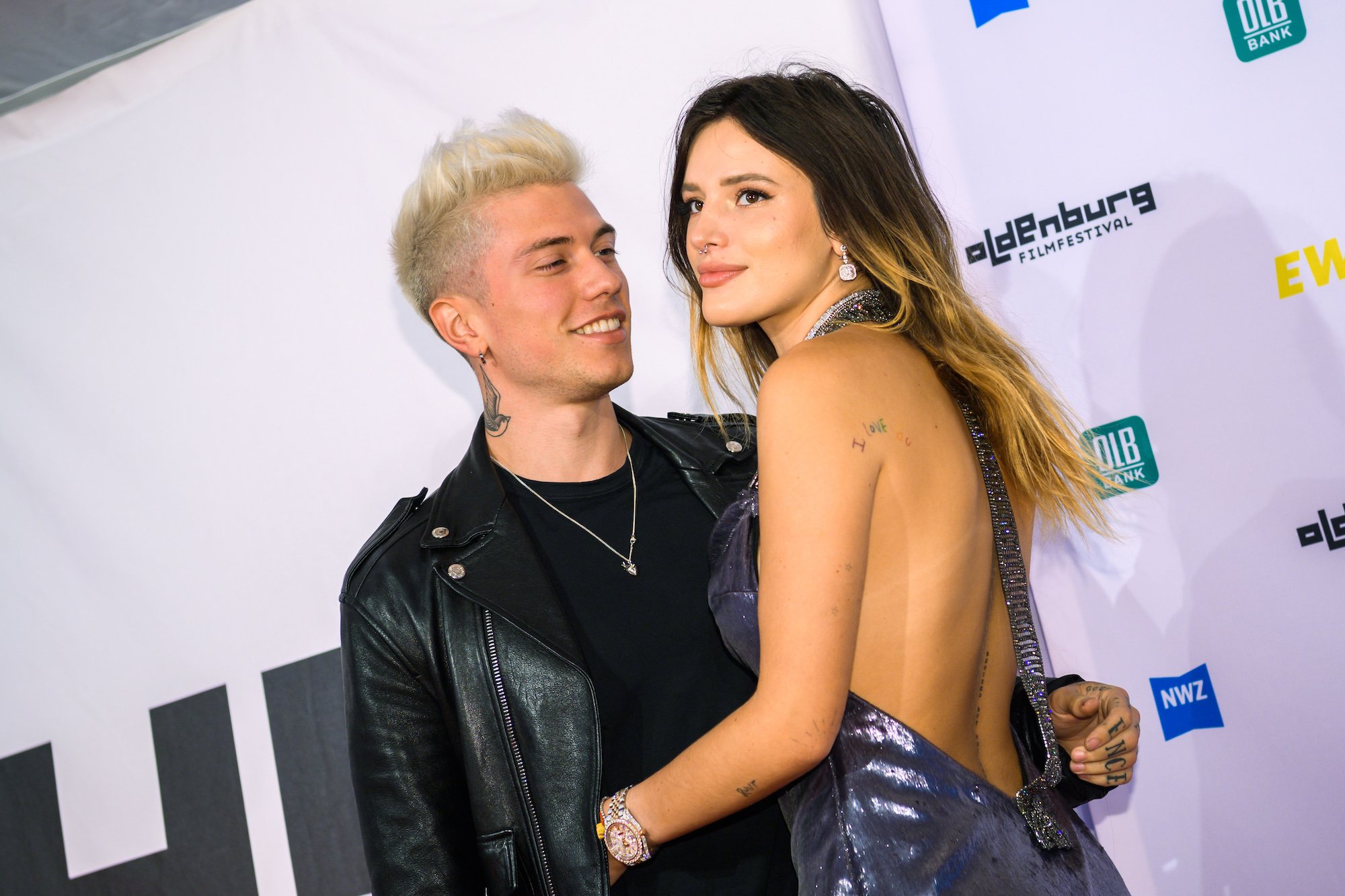 Since then, the couple hasn't shied away from posting about each other on their respective Instagram accounts.
In April 2020, Mascolo paid tribute to Thorne in honor of their one-year anniversary, writing on Instagram, "About one year ago, out of the blue you landed like a UFO alien in my very normal Italian popstar life and f**cked up all the plans I had for [an] outrageous Coachella weekend and summer in Ibiza and Mykonos. Safe to say this was no doubt the best thing that ever happened in my life."
Bella Thorne and Ben Mascolo are now engaged
Nearly two years after they first started dating, Thorne and Mascolo are now engaged to be married.
The singer proposed to the Disney Channel alum on the set of their new movie, Time Is Up.
On his Instagram Stories, Mascolo shared a photo of the love letter he gave the actor. Later, he explained the moment he popped the big question.
"I wrote the love letter on the back of the script of our movie…at the end of the last scene," he revealed. "She was at [a] monitor watching with the director and…surprise."
He then shared a photo of himself and Thorne, who was showing off her engagement ring, on his Instagram feed with the caption, "She said YES @bellathorne."
"Thank you for being amazing, baby. I love you so much," Mascolo later said in a video at what appeared to be an engagement party. Thorne replied, "I love you so much," making kiss gestures.
He continued, "Yay! We're getting married. Celebration in Italy and in America, both."