Who Is Bill Burr's Wife and Do They Have Any Kids?
Recognized for his outspoken and brash comedic style, Bill Burr has become one of the most recognizable comedians in the entertainment industry. Burr's rage-fueled rants are relatable to many people who yearn for a simpler way of life.
His recent stand-up specials I'm Sorry You Feel That Way, Walk Your Way Out, and Paper Tiger were each Netflix exclusives, and have helped to increase his multi-million-dollar net worth.
Burr will soon have to use some of that money for diapers and a college fund, as he and his wife Nia Hill are expecting their second child. 
Who is Bill Burr?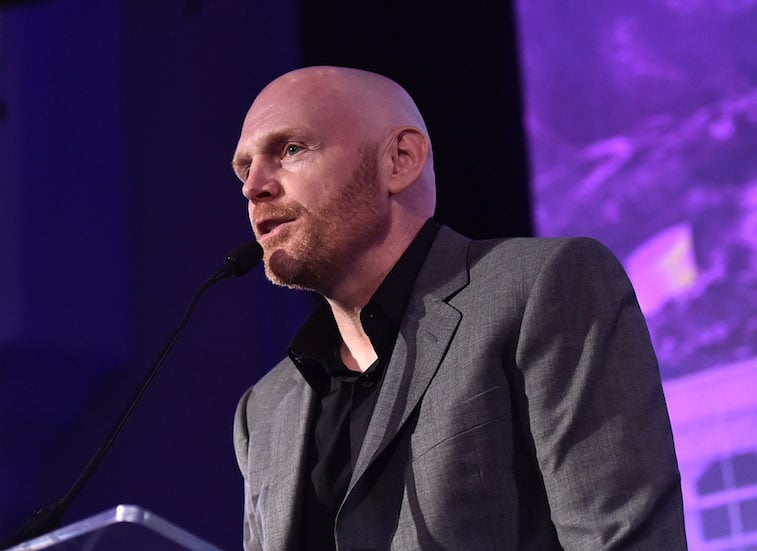 RELATED: How Much is Comedian Bill Burr Worth?
Known for more than just his comedy, Burr is also a successful actor. His acting roles are mostly comedic based, and his roles include such films asThe Heat, Date Night, and the upcoming film starring Pete Davidson The King of Staten Island.
The Canton, Massachusetts born Burr has also appeared in a variety of high-profile television programs including Breaking Bad and The Mandalorian.
According to Indiewire, Burr's sharpshooting bounty-hunter character Mayfeld is scheduled to appear in the upcoming second season of The Mandalorian. Fans of the Disney+ show last saw Mayfeld trapped in a cell in a New Republic prisoner ship with the rest of his criminal crew.
The comedian is also an active podcaster, as his The Monday Morning Podcast has been released weekly since 2007. Burr's podcast is a series of "rambles," in which the Burr and his guests discuss any and every topic that is of interest.
The 51-year-old comedian is known for his impassioned and somewhat controversial jokes, including material about his marriage, and the idea of marriage in general.
One of Burr's most popular jokes was asking why people still got married in a time when it could be considered an outdated practice. Clearly Burr has matured some since then, as he now has a wife and a family of his own.  
Who is Nia Hill?
Burr's wife is Nia Hill, who is also an actress. She has appeared in the television programs Crashing and Santa Clarita Diet.
Hill is also a voice actor for in her husband's show, F is for Family. Hill's character is Georgina Roosevelt, and Burr wrote the part specifically for his wife. The two do not play a married couple in the show, as Hill's character is married to Rosie Roosevelt, who is voiced by Kevin Michael Richardson.
Burr's character is married to Sue Murphy, who is voiced by Oscar-winning actress Laura Dern. Hill is also a comedian, and the two met during a comedy show in 2013. The 49-year-old actress is also a frequent podcast guest, both on her husband's show and others. During one of her appearances on The Monday Morning Podcast, Hill and her husband engaged in a fiery conversation about feminism.
The lively debate showed that while the two may disagree on some things, they still have a strong sense of love and respect for one another. Hill is also a writer for her own feminist website, and she has done work in various non-acting roles in the entertainment industry. Some of these roles include costume design, casting, and behind the scenes' production. 
Do Hill and Burr have children?
RELATED: How Many Comedy Specials Does Bill Burr Have?
Hill and Burr currently have a three-year-old daughter, Lola. She was born in January 2017, and the couple also announced that they are expecting another child. Burr has talked about his daughter on various late-night shows, and Lola has even made a brief appearance on The Monday Morning Podcast.
Burr and Hill were married in 2013. The two met at a Los Angeles comedy show, where the two and their child still reside. Burr and Hill obviously has real experience as parents, as well as being a fictional parents on the Netflix series F is for Family. 
Burr created the popular animated show, and it is based on his own experiences growing up in the Boston area. Hill's character is also a mother in the show. The successful comedic couple will welcome their second real-world child sometime in the coming year, proving that Burr-Hill is definitely for family.