Who Is Brendan Morais From 'The Bachelorette'? Tayshia Adams' Contestant Shares a Secret on the First One-on-One Date
'The Bachelorette' Season 16 bio of Brendan Morais from Tayshia Adams and Clare Crawley's journey, including the 2020 cast member's age, Instagram, and job.
The Bachelorette fans haven't seen much of Brendan Morais from Tayshia Adams and Clare Crawley's season. But it looks like we're going to start seeing more of the contestant moving forward. So who is Brendan from The Bachelorette Season 16? Here's everything you need to know about the cast member, including Adams' first impression and what to expect from their first one-on-one date.
Who is Brendan Morais on  'The Bachelorette' with Tayshia Adams and Clare Crawley?
First thing's first, Brendon isn't Brandon Goss, who Crawley sent home on The Bachelorette Season 16 Episode 2. That said, Brendan's been hanging out in the background as Crawley and her frontrunner, Dale Moss, took center stage. But now that Adams is the new bachelorette, Bachelor Nation viewers will finally get to know the 30-year-old commercial roofer from Milford, Massachusetts. 
According to Brendan's Bachelorette profile on ABC.com, Adams' cast member is a "sensitive soul" who is family-oriented. He lost his father at a young age, which made him realize he wanted to be a father. Brendan also moved out to LA for a brief period of time. But eventually, he moved back home to be closer to his family.
Meanwhile, Bachelor Nation fans can find Brendan's Instagram under the handle @brendanmorais. His feed is filled with professional pics, which may not come as much of a surprise once you realize Brendan was a model and actor before working for the family roofing business. 
What Chris Harrison and Tayshia Adams think of Brendan Morais from 'The Bachelorette'
When Chris Harrison introduced The Bachelorette Season 16 cast in September 2020, the host didn't have much to say about Brendan aside from his interesting accent and character.
"Lovable Roofer from Boston. Very interesting because he has a Portuguese family, but also from Boston. So imagine the Portuguese Boston dialect and accent. It's very interesting," Harrison said. "Very humble, quiet, soft-spoken but he turned it on when it counts the most."
Of course, Harrison's comments didn't exactly indicate Brendan made it far on the ABC reality series. But he did make it past The Bachelorette switch-up. Then on Nov. 9, Adams teased what to expect from Brendan.
"Brendan is someone who stuck out to me night one," Adams told Entertainment Tonight. "I end up having a one-on-one date with him."
But does she fall in love with Brendan on The Bachelorette? As expected, Adams played it coy. "You'll just have to wait and see," she said. 
[Spoiler alert: The Bachelorette 2020.]
What happens to Brendan Morais and Tayshia Adams on 'The Bachelorette'?
As mentioned, Brendan receives Adams' first one-on-one in The Bachelorette Season 16 Episode 5. And according to the ABC press release, the contestant is "eager" to share with the new lead. But much like Jason Foster, it seems Brendan's worried about delving into his past.
"Brendan is eager to spend time with Tayshia on his one-on-one date, but his excitement is mixed with uncertainty," the release says. "He harbors a secret about a past relationship that he is nervous about sharing with Tayshia. How will she respond to his honest, sincere revelation?"
For now, The Bachelorette fans will have to wait and see what happens on the one-on-one date between Brendan and Adams. But in October 2020, Bachelor Nation spoiler king, Reality Steve, revealed Brendan may have been married before. The blogger shared the alleged relationship ended about a year before The Bachelorette, and Brendan is now divorced.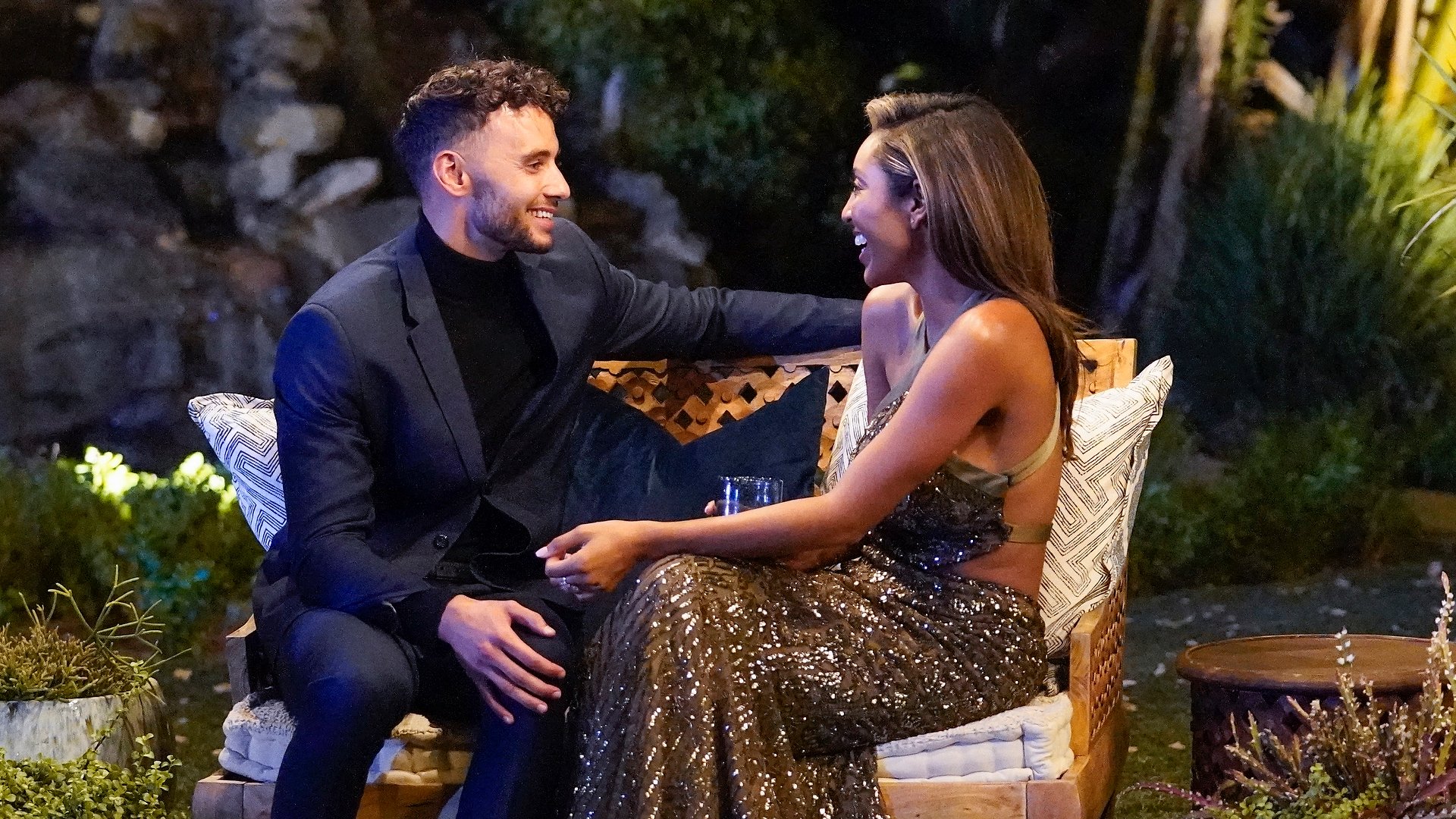 Meanwhile, Reality Steve recently shared spoilers about Adams' Bachelorette finale, and Brendan makes it pretty far. Apparently, the contestant reached the final four and self-eliminated sometime before Adams picked her top two. 
That said, Reality Steve was unable to confirm exactly when the cast member left. The blogger pointed out Brendan's family didn't show up for Hometowns. He also claimed the commercial roofer's divorce played a part in the exit. But regardless, it seems Brendan's departure hurts Adams deeply.
"By all accounts, Brendan is who Tayshia wanted," Reality Steve wrote. "And when he left, she was pretty distraught but still ended up picking somebody."
Update: On Dec. 14, Reality Steve updated fans on Brendan's journey on The Bachelorette Season 16. According to the blogger, Brendan didn't self-eliminate. Rather, the contestant made it to Adams' final two with Zac Clark.
Update: On Dec. 21, Reality Steve reported his previous update was incorrect. Brendan self-eliminated during his overnight date with Adams. Then in the episode, the contestant revealed he wanted Adams to be with someone who wasn't "broken." So he sent himself home.
Whatever happens between Adams and Brendan on The Bachelorette, we know it's going to be quite the journey. So get ready. New episodes resume Tuesdays on ABC.
Check out Showbiz Cheat Sheet on Facebook!