Who Is Issa Rae's Husband, Louis Diame? The Couple Keeps Their Relationship Private
Issa Rae's husband, Louis Diame, prefers to keep a low profile, and the actress doesn't share much about him.
Issa Rae broke out on the scene with her Awkward Black Girl web series on YouTube in the early 2010s. Since then, she's impressed fans and critics, creating and starring in HBO's hit show Insecure. We got a glimpse into her personal life when she released her best-selling memoir, The Misadventures of an Awkward Black Girl, however, she's kept a lot about her relationship under wraps. Issa Rae tied the knot in July 2021, but not much is known about her new husband, Louis Diame. 
Here's what we know about Issa Rae's and husband Louis Diame's private relationship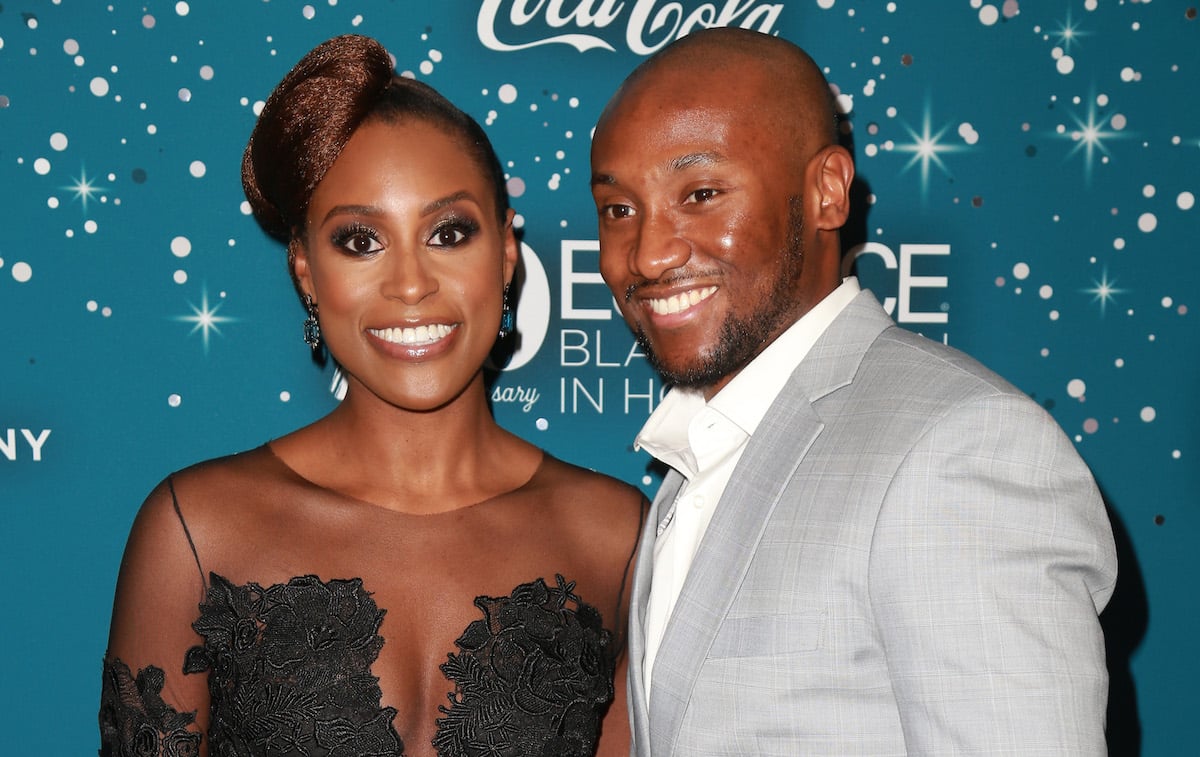 Rae and Diame have been an item for a long time. The Washington Post dropped the info back in 2012, upon publishing a profile on Rae and her aforementioned web series. It was mentioned briefly that he was her boyfriend as he teased her about being "still stuck in college mode." However, she's been crystal clear that she doesn't want anybody prying into her private life. When asked if she was dating someone in a 2018 interview with Vogue, she had this to say:
"I don't want any input. As a writer, you put everything on the table. I'll take input on kids if I'm going to have kids. How do I not kill the kids? Work? Give me the input. Any other aspect of my life? Give me the input. But who I'm f******? No, I don't need input. I'm good."
That's when rumors were going around about them being engaged. Except, Diame didn't propose until the following year in 2019. Eagle-eyed fans spotted her first wearing her engagement ring on the April 2019 cover of Essence magazine.  
The news of the marriage wasn't official until Rae dropped the bomb in a series of photos posted to her Instagram. The first picture showed her in a wedding dress with the caption, "A) Impromptu photo shoot in a custom @verawang dress." Then in a photo with her bridesmaids, she joked, "B) My girls came to help me, but they all coincidentally had on the same dress! They were sooooo embarrassed."
Finally, we got a picture of her and Diame, where she hilariously puts: "C) Then I took a few flicks with Somebody's Husband." She ended the post by thanking her wedding planners. E! News reported that the ceremony was held in South France, but there are very few details other than that.
Who is Louis Diame?
Unlike his wife, Diame doesn't work in Hollywood. However, he did make a cameo way back in Rae's earlier episodes of Awkward Black Girl.
Women's Health tried to dig through his LinkedIn, but it was marked private. According to them, he's a Senegalese businessman who's an "independent banking professional." He's kept himself out of the spotlight, aside from appearing here and there in a photo with Rae.
Rae's brother, Diop, did drop a little info on what the man's like and gave his approval. He told Us Weekly, "He's just a good guy, man. He's just a cool guy." Before following that up with, "They've been dating forever. He's already been like a brother to me." And from the looks of it, the rest of the family approves as well. Diop said that Diame is "at all the family events and dinners, Christmas, Thanksgiving."
What is Louis Diame's net worth?
Another question on fans' minds is, how much is Diame worth? According to The Sun, it's somewhere between $1 and $5 million. As for Rae, Celebrity Net Worth puts hers at around $4 million. So, Issa Rae and her husband are pretty even in that respect.