Who Is Sebastian Stan and What Is His Net Worth?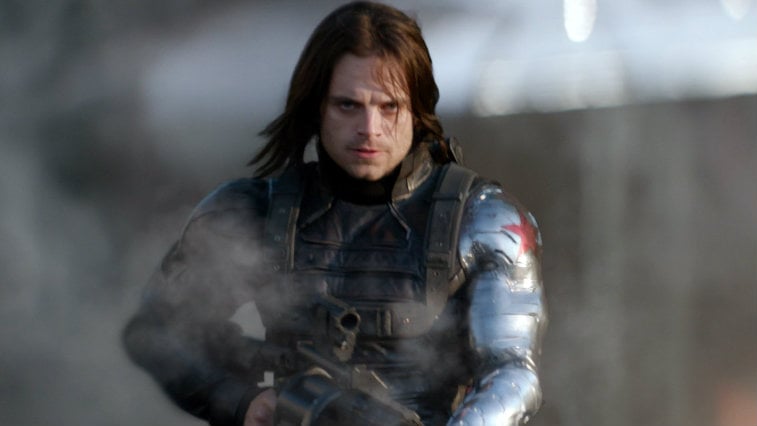 The Marvel movies have spawned many fan-favorite characters over the years, from the sassy quips of Robert Downey Junior's beloved Tony Stark to Tom Hiddleston's mischievous Loki. But one character has become adored by fans of the Marvel Cinematic Universe (MCU), and that is Sebastian Stan's character of Bucky Barnes, the "Winter Soldier."
It hasn't been a straight shot to fame for the charismatic Stan. Through hard work and integrity, he's become one of the most bankable actors in Hollywood, with a net worth of around $4 million.
Sebastian Stan's early life
Sebastian Stan was born in Romania in 1982 and moved to Austria when he was 8 years old. When he was 12, Stan and his family relocated to New York, where he became heavily involved in the theater division of his high school.
Stan gained valuable experience acting during this time and starred in a wide range of different productions, including Little Shop of Horrors and West Side Story. Deciding that acting was his future when Stan came of age, he sent out applications to acting programs of several major universities. Sebastian Stan got accepted to Rutgers University Mason Gross School for the Arts, a highly regarded acting school.
How Sebastian Stan got started in films
It didn't take long for film and television companies to start noticing Sebastian Stan. With his impressive acting school pedigree and versatile range, he was able to land roles in several different TV shows in the early 2000s, including Gossip Girl and The Covenant.
He scored a breakthrough role in films when he played a featured role in the thriller, Black Swan. Stan proved his versatility once again when he went from the dramatic to the humorous, playing the lead in the cult-classic 2010 film, Hot Tub Time Machine. Around this time, Stan started filming the role that would prove to become iconic for him – that of Bucky Barnes.
Stan meets the Marvel universe
In 2011, Captain America: The First Avenger was released. This highly-anticipated film told the origin story of the famous Marvel character Captain America, with Sebastian Stan cast as the antagonist to Chris Evans' righteous leading man.
Almost instantly, critics and fans alike praised Stan's turn as war-torn Bucky Barnes. It's impressive how he made an initially unlikeable character someone to sympathize with and ultimately root for. Sebastian Stan has gone on to reprise the role of Bucky Barnes in Captain America: Winter Soldier (2012), Captain America: Civil War (2016), and Avengers: Infinity War (2018). Stan will also appear in the next installment of the Avengers franchise, set to release in 2019. With nine total Marvel films in his contract, it's likely Bucky Barnes will reappear in several films over the next few years, to the delight of fans everywhere.
Sebastian Stan's upcoming projects
Stan has several exciting films in the works, in addition to his remaining Marvel appearances. In 2019, he will play the lead role in The Last Full Measure, a dramatic film which pairs Stan with co-stars Christopher Plummer, William Hurt, and Ed Harris.
The Romanian-American actor is also making headlines for scenes he filmed recently for the 2019 film Monday, which required him to ride a motorcycle fully nude through the streets of Athens.
No matter what project he's working on, Stan always manages to thrill and delight audiences, including those on the comic convention circuit, of which he is a firm fixture. The talented Stan undoubtedly has a long career ahead of him, full of riveting performances and his trademark charm and good humor.