Who is the Girl with the Pimple and Spiders in 'Scary Stories to Tell in the Dark'?
Meet Natalie Ganzhorn, whose 'Scary Stories to Tell in the Dark' experience involves two primal fears.
There are so many pathological fears represented in the two-minute trailer to Scary Stories to Tell in the Dark. Two of them befall the same poor girl. The trailer wraps up with a lovely blonde teen trying to pop a zit in the mirror that just keeps growing bigger. By the end, she's swatting a swarm of spiders. Fans of Alvin Schwartz's book Scary Stories to Tell in the Dark will recognize this story as The Red Spot. Writer/producer Guillermo del Toro and director Andre Ovredal brought The Red Spot to gruesome life.
They found an actor game to have the red spot and the arachnids on her face, too. You don't have to wait until Scary Stories to Tell in the Dark hits theaters August 9 to find out who this poor girl is. We have your Showbiz Cheat Sheet for the star of this landmark story in Scary Stories to Tell in the Dark.
Her name is Natalie Ganzhorn 
Natalie Ganzhorn's first credits were in 2014, during which she appeared on three TV series, including multiple voice roles on the animated Doki Adventures, and the movie Wet Bum. She recurred on Nickelodeon's Make It Pop. 
In Scary Stories to Tell in the Dark, Ganzhorn is one of the older siblings plagued by the horror stories her younger brother and his friends unleash.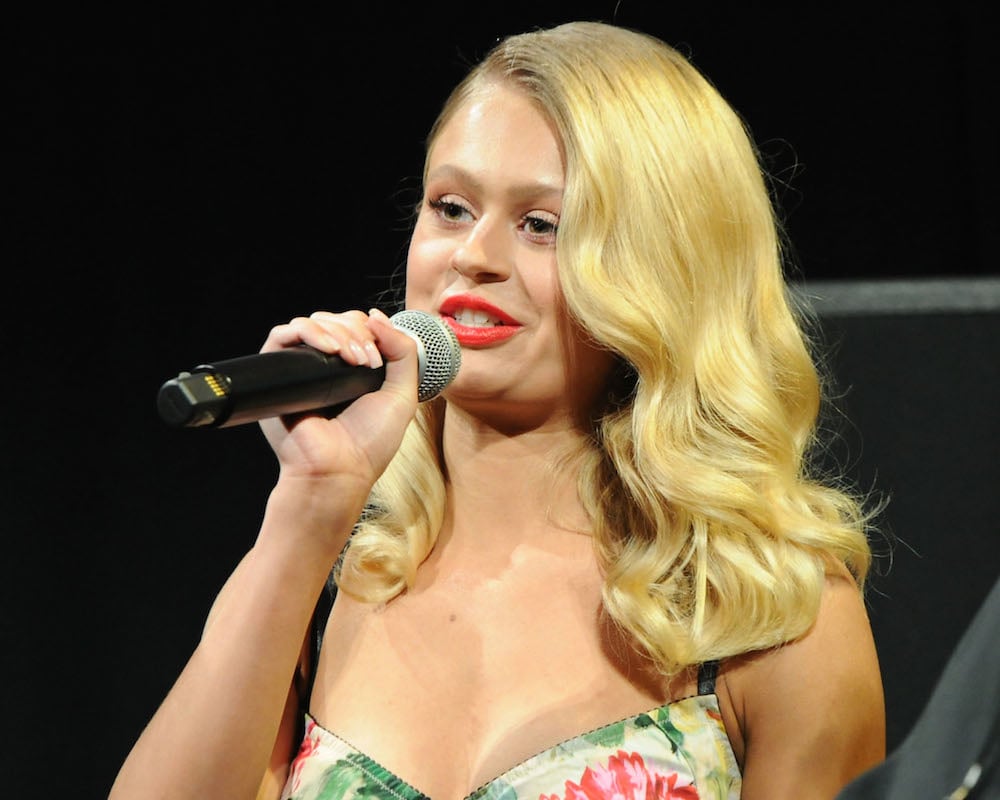 "I play Ruth Steinberg, Chuck's older sister," Ganzhorn told reporters. "She gets pulled into the story because she feels like she's getting dragged into her younger brother's Halloween shenanigans."
'The Red Spot' is Ruth's ultimate fear
As the high school drama star, Ruth is all about appearances. Natalie Ganzhorn is a lovely young woman who has nothing to worry about, but many high school girls will likely relate to her obsession with looks. Then they'll sympathize with her when she gets a big red spot. 
"Ruth is working on her school musical and always wants to appear perfect, and has a deathly fear of anything that is imperfect," Ganzhorn added. 
Natalie Ganzhorn has done a horror movie before
Scary Stories to Tell in the Dark is not Ganzhorn's first horror movie. In 2016 she did a pair of holiday movies. Holiday Joy was a Christmas movie for Freeform. The other one was….
"I did a movie for Syfy network that was called The Night Before Halloween," Ganzhorn said. "That was a bunch of flies that swarm people and lead to their death so now I've done spiders, I've done flies. I'm not sure what's going to be next."
Natalie Ganzhorn plays a good sister
Scary Stories to Tell in the Dark has a large ensemble of young actors, some younger with their older siblings trying to talk sense into them. In this movie, the younger kids are right. These monsters are real.
"It's a bit of a love-hate relationship, like a frenemy kind of situation," Ganzhorn said of Ruth's attitude towards Chuck's friends. "They're her younger brother's friends so she's kind of the, for lack of a better word, annoying older sister. She doesn't believe in their shenanigans and thinks that she's too mature for what they do. But, she has a big heart and you see that in the movie."