Celebrity / Net worth / TV
Who Is the Richest 'Jersey Shore' Cast Member?
The cast of 'Jersey Shore' has earned a good chunk of money since they became reality stars. Learn more about who the richest cast member is.
In the early 2000s, a little show called Jersey Shore came on the scene and really took off- catapulting it's cast into extreme fame and wealth. When they first signed up to be on the show, it's doubtful that most of them knew how big it would be, or how much their life would change because of the show. But today, most of the Jersey Shore cast continues to enjoy fame and wealth. What is the cast up to now, and how much are they all worth? Let's take a look at each cast member, to find out which one became the richest. 
'Pauly D' Paul Delvecchio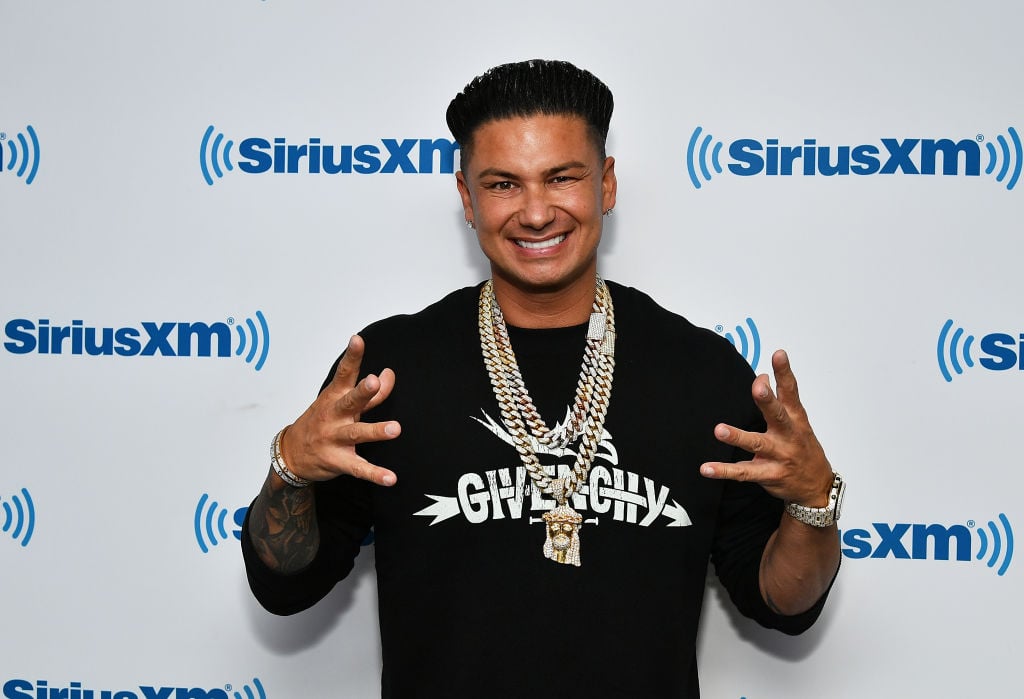 The richest member of the Jersey Shore cast is Paul Delvecchio, most commonly known as Pauly D. Because he has a highly successful career as a DJ, on top of the fame that the show has brought him, Delvecchio has made quite a fortune. There is some dispute on exactly how much he's worth. On the lower end of the scale, The Richest website claims he has a net worth of at least $20 million. However, People reports that it could be as high as $24 million. Either way, that's a lot of money. 
In addition to Jersey Shore, Delvecchio has been on other TV shows, including The Pauly D Project, which documented his career as a DJ and no doubt contributed to his success in the profession. Most recently, he joined his Jersey Shore co-star Vinny Guadagnino in a Bachelor-style reality show where he tried to find love: Double Shot at Love. 
'JWoww' Jennifer Farley
Jennifer Farley, also known as JWoww, has been able to take part in several reality shows since gaining notoriety on Jersey Shore. The first was a spin-off with her Jersey Shore co-star, titled Snooki & JWoww, chronicling their life as roommates in Seaside Heights. She also took part in a season of Marriage Boot Camp, with her then-husband Roger Mathews, and won season seven of Worst Cooks in America. She also earns an income from her popular YouTube channel. Farley's net worth is estimated to be $4 million. 
'Sammi Sweetheart' Samantha Giancola
In addition to fame from Jersey Shore, Samantha Giancola, otherwise known as Sammi Sweetheart, also earns a living from the fashion industry. She launched a clothing line, called Sweetheart Styles, in 2013. Giancola also hosts a podcast called Just Sayin. Those endeavors must keep her plenty busy because Giancola is the only original Jersey Shore cast member that decided not to be a part of the reboot show, Jersey Shore Family Vacation. According to People, Giancola is worth $2 million.
Vinny Guadagnino
Like many other the other cast members, Vinny Guadagnino has been able to build a successful TV career from his time on Jersey Shore. Along with his mother, Guadagnino hosted a reality travel show, called Vinny & Ma Eat America, and also took part in a search for love in the reality show, Double Shot at Love.
In addition to reality TV, Guadagnino pursued an acting career, landing roles on The Hard Times of RJ Berger, and 90210. MTV even gave him a chance to host his own talk show, called The Show with Vinny. Guadagnino also has an eye for fashion. He designed a clothing line, called Name Brand NYC. According to both The Richest and People, Guadagnino's net worth is $3 million. 
Ronnie Ortiz-Magro
After Jersey Shore, Ronnie Ortiz-Magro took part in another reality show called Famously Single. He also has been able to bring an income in from his involvement with TNA wrestling, and by promoting Xenadrine and Gen X Biotech. Although he didn't make as much from Jersey Shore as his co-stars, Ortiz Magro does have a net worth of $3 million today, according to The Richest. 
Angelina Pivarnick
Angelina Pivarnick left Jersey Shore early in its run, but she still benefited from the fame it brought. She took part in other reality shows, including Couple's Therapy and How Far is Tattoo Far. She also became involved with TNA wrestling. Now, she works as an EMT on the streets of New York City, but her bank account is far higher than most EMTs. Pivarnick is worth an estimated $2 million according to People and The Richest. 
'Snooki' Nicole Polizzi
One of the most well-known cast members, Nicole Polizzi, or Snooki, has built a huge following on social media, with 12.6 million followers on Instagram. She has also continued her work on reality TV, by appearing on shows such as Snooki & JWoww, Dancing With the Stars, The New Celebrity Apprentice, and Nicole & Jionni's Shore Flip. Polizzi is also the author of several books. As one of the highest paid cast members of Jersey Shore — she was making $150,000 per episode towards the end — Polizzi continues to pull in a large income. Her net worth today is $4 million, according to People and The Richest.  
'The Situation' Michael Sorrentino
Although he made a large amount during his Jersey Shore days, Michael "The Situation" Sorrentino is not worth as much today as his fellow cast mates. In 2014, he was found guilty of tax evasion. He's appeared on several other reality shows, has filmed a workout DVD, and promotes a vitamin and clothing line, but because of his legal troubles, Sorrentino is only worth about $300,000. 
Deana Cortese
Deana Cortese wasn't part of the show from the beginning. She only joined after Pivarnick left the show, but she's still been able to build a successful career from it. Like her other cast mates, Cortese has continued to appear on other reality TV shows, including Couples Therapy. She also brings in quite a bit from sponsored Instagram ads. Cortese's net worth, according to The Richest and People, is $1 million. 
Looking at the success that the Jersey Shore cast has had, even after the end of the show, it really becomes apparent how much fame and wealth a career in reality TV can bring!