Who is Thomas Rhett's Wife and Why They Almost Didn't Get Married
Thomas Rhett is one of the rising stars of the country music scene, with several very popular songs and a loyal legion of fans. His musical signature is his habit of tying in real happenings in his life into the songs he sings, and fans can't seem to get enough.
His two biggest hits, "Die A Happy Man" and "Marry Me" are both based on the real-life love story that he shares with his wife of many years, Lauren Akins. Read on to learn more about Akins and all about her life with Rhett.
How did Thomas Rhett meet his wife?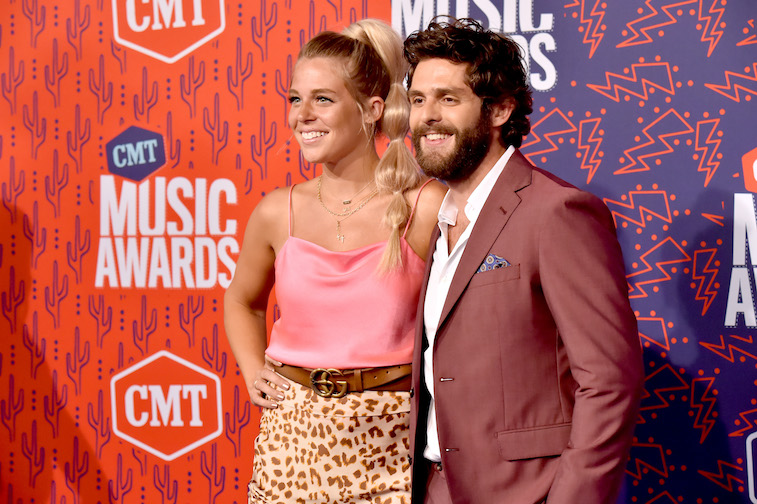 Thomas Rhett was born in 1990, the son of singer Rhett Akins and Paige Braswell. He was surrounded by music his entire childhood and grew up knowing such country music icons as Tim McGraw.
Naturally, his interests tended to making music, and in junior high school, he started playing the drums. When Rhett was 20, he dropped out of college to pursue his career in music. He began by writing songs for other artists like Jason Aldean and Florida Georgia Line, but when he released his debut album, It Goes Like This, people everywhere started to sit up and take notice.
Rhett's second album, Tangled Up, launched his most popular songs to date, including "Die A Happy Man," inspired by his love story with wife Lauren Akins.
Akins and Rhett met in first grade and were fast friends all throughout their childhood and teenage years. The two even dated when they were 15 but the attempt at romance was short-lived and they went back to being friends.
Still, Rhett couldn't shake the feeling that he was meant to be with his longtime friend, feelings that were confirmed when she went on to get romantically involved with someone else. It was then, when she was about to get married to that other man, when her father called Rhett and told him that he should let Akins know how he really felt about her.
Rhett took his advice, and the two have been together ever since.
When did Rhett and Akins get married?
In 2012, Thomas Rhett married Lauren Akins. They were only 22 years old when they got married, but getting married young has definitely worked for them. In 2015, fans were surprised when Rhett's music video for "Die A Happy Man" was released, featuring none other than his wife, Lauren Akins, as the model.
Rhett admitted that it was inevitable that she would be in the video since the song is "for her and about her."
The video has even more romantic history behind it, as it was filmed in the Oahu, the spot where Rhett and Akins honeymooned in 2012. Rhett claimed that the video perfectly illustrates how he and his wife are at home, just having fun and being silly.
How many children does Thomas Rhett have?
The year 2017 held even more big life changes for Rhett and Akins. In May of that year, the couple announced that they were adopting a baby girl named Willa Grace from Uganda.
In August 2017, they expanded their family by one more when they welcomed Ada James, their first biological child. Rhett followed his tradition of writing songs about his new family life, penning the hit tune "Life Changes" about the arrival of the couple's two young daughters.
All in all, Thomas Rhett and Lauren Akins seem to be in it for the long haul. Their sweet love story will surely continue to inspire millions of fans around the world – and Rhett will probably continue to write songs about it.