Who Did Kaitlyn Bristowe Pick on 'The Bachelorette'?
It's been a hot minute since Kaitlyn Bristowe was The Bachelorette. The former dance teacher became the new lead for the 11th season in 2015. Now, fans will get to relive Bristowe's dramatic journey on The Bachelor: The Greatest Seasons — Ever! on Monday, June 15. But for those of you who can't wait until the end of the lengthy three-hour episode, who did Bristowe pick on The Bachelorette? She had a choice to make between Shawn Booth and Nick Viall.
Kaitlyn Bristowe picked Shawn Booth over Nick Viall on 'The Bachelorette' Season 11
In The Bachelorette Season 11 finale, Bristowe picked Booth over Viall. Booth won over Bristowe on the first night and received the first impression rose. Then in the finale, the couple got engaged.
At first, Booth expressed how he felt about Bristowe. He noted that despite their highs and lows on the reality series, he wanted to be together. Then Bristowe revealed Booth was her final pick. She said:
The truth is, you light me up and you make me laugh. And most importantly, you allow me to be myself … I never want you to question what we have ever again. I am completely yours and I will always be faithful to you. I've been waiting so long to tell you how I feel because I love you with all of my heart like I've never loved anybody before. And I can't wait to make lifetime of memories with you. Because you are the one — and always will be.
At that moment, Booth got down on one knee and proposed to Bristowe. 
"One of the first things I told you was that I truly believe that everything happens for a reason," he said. "After the two best months of my entire life, I know what that reason is. I'm not supposed to live my life without you. And I'm not going to."
Then after The Bachelorette Season 11 wrapped, Bristowe shared her excitement about her engagement with Booth. 
"I didn't think I could be this happy," Booth told People in 2015. "We have such an honest relationship. Every day I think, 'I picked the right guy.'"
Kaitlyn Bristowe and Shawn Booth broke up
Three years after getting engaged on The Bachelorette, Bristowe and Booth announced their split in November 2018. The pair shared a statement with Entertainment Tonight. They said: 
After three incredible years, we have decided to go our separate ways. This difficult decision comes after thoughtful, respectful consideration. Even though we are parting as a couple, we're very much committed to remaining friends. We have both evolved as people, which is taking us in different directions, but with the hope that we will continue to support each other in new ways. 
Due to the nature of how we met, our relationship has always been very public, and we have enjoyed sharing it with all of you, but we ask that you respect our decision and our privacy at this time.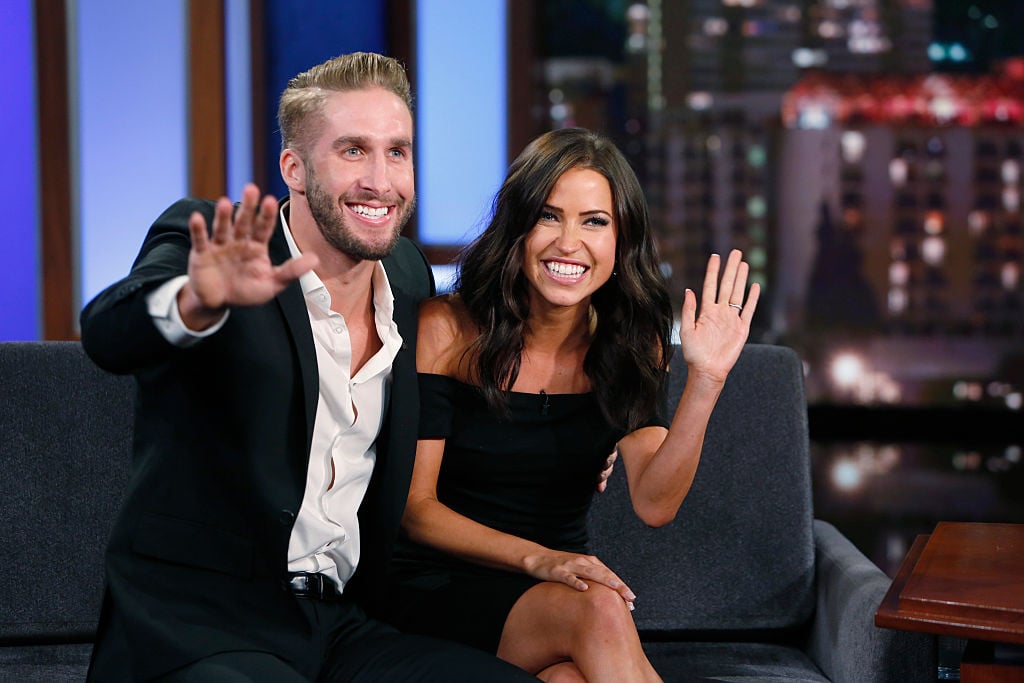 Of course, many fans wondered why Bristowe and Booth broke up. Then in May 2019, Bristowe went on the LadyGang podcast and revealed Booth ended the engagement. 
"He didn't know why he couldn't love me," Bristowe said. "I just think the show was too hard for someone to get over."
Then when speaking with Viall on his podcast, The Viall Files, Bristowe went into greater detail. She revealed there wasn't balance in the relationship, noting she "lost" who she was to please her partner. Bristowe also explained how hurt she felt because she thought he was "The One." But her feelings weren't reciprocated. 
"I just wanted him to believe how much I loved him. And it never came through," Bristowe said in November 2019. "At the end of the day, I chose him… and it never felt like he chose me back."
Are Kaitlyn Bristowe and Shawn Booth friends now?
When Bristowe and Booth shared their breakup statement, they pointed out they still wanted to remain friends. But in the above interview with Viall, Bristowe hinted she doesn't have much contact with her ex. 
The former bachelorette explained she's in a good place in her life. She has also moved on and is currently dating Jason Tartick from Becca Kufrin's season. However, Bristowe suggested Booth may not be supportive of her happiness. 
"I feel like he might hate me," she said. "It makes me sad because all I ever did was try and make him happy and I just feel like he's still angry at me."
Then in April 2020, Bristowe reached out to Booth on Instagram when his dog, Tucker, passed away. When speaking with Entertainment Tonight, Bristowe said Booth never responded. But she understood the situation. 
Meanwhile, Bristowe recently released a new song called "If I'm Being Honest." The Bachelor Nation alum revealed she wrote the track right before her breakup with Booth was announced to the public. And although she didn't speak with Booth about the song ahead of its release, Bristowe confirmed it's "not really relevant" to their relationship now.
"I didn't even really think about giving him a heads up for the song," Bristowe said. "He knew in that moment that I was writing that and that it was going to eventually come out at some time. It's not really relevant to that situation anymore and it's more about the times we're in now."
Check out Showbiz Cheat Sheet on Facebook!