Who Owns The Film Rights To Spider-Gwen, Ghost-Spider?
Spider-Man: Into The Spider-Verse left audiences floored with how good it was. The visuals, acting, and score all came together to produce this Oscar-winning animated film, and it's left a mark on Spider-Man movies going forward. One character that the film introduced to cinematic audiences for the first time was Spider-Gwen.
Voiced by Hailee Steinfeld, Gwen Stacy was from another Earth and was a worthy partner for Miles Morales. She was a little older, a little wiser, and she could take out villains with the flick of her wrist. There's a want from fans to introduce the character into the MCU, but is that even legally possible? Let's see.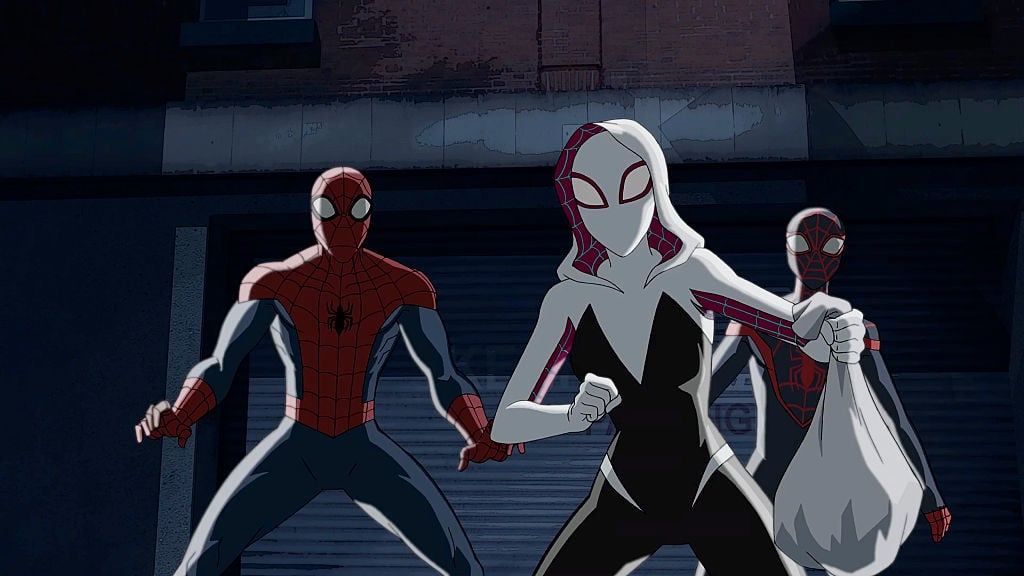 It's not clear which studio has the rights to give fans a Spider-Gwen movie
As stated above, the powered version of Gwen Stacy was in Into The Spider-Verse, which was produced by Sony Pictures Animation and Marvel Entertainment (different than Marvel studios), and Sony distributed it. It is animation, so that might make a difference in who was allowed to release it.
As pointed out by Cinema Blend a few years ago, Sony, for sure, has the rights to Gwen Stacy because she appeared in both of their live-action Spider-Man movies, played by Bryce Dallas Howard and Emma Stone. Would Spider-Gwen be a different character to negotiate over?
Spider-Gwen, the one bit by a radioactive spider on Earth 65 where Peter Parker is just a regular human, wasn't created until 2014, after Marvel sold the rights of Spidey and friends to Sony originally. This leaves room for a loophole to allow Spider-Gwen, who now goes by Ghost-Spider, to appear in the MCU. And if that's the case, Sony can't make a live-action Spider-Gwen film, unless given those rights by Marvel, which doesn't seem likely to happen. 
Is there a plan to make a live-action movie about Gwen?
In terms of a live-action movie about Spider-Gwen's interdimensional travels, no, there isn't a plan at the moment. However, Shawn Robbins, a chief analyst for Boxoffice.com, told CNBC that the growing popularity and success of Spider-Man movies over the past couple of years might influence one to happen. 
"Given the popularity of that film, it seems like only a matter of time before we see a live-action take on Miles or someone like Spider-Gwen," he said. 
If you're a die-hard Gwen fan, you'll be happy to know that an animated spin-off of the Into The Spider-Verse character is already in development. It'll be female-driven and also include Cindy Moon (Silk) and Jessica Drew (Spider-Woman). And speaking of Silk, Sony is also creating a live-action movie about her. Her story is similar to Peter Parker's, and they exist in the same universe, as opposed to Gwen being the only one bit in her dimension. 
There is another Spider-Verse character that Marvel can use
According to ScreenRant, the Marvel and Sony contract leaked in 2014 and gave interesting instructions for another woman in the Spider-Verse: Jessica Drew, aka Spider-Woman. It reads:
'Jessica Drew' and specifically listed related characters. [Sony Pictures] may depict Jessica Drew as Spider-Woman, and Marvel may only use her without any Spider-Man-related elements.

— ScreenRant
Much like with the X-Men deal, which allowed Quicksilver to appear in Fox and Marvel movies, the two studios share the rights for Jessica Drew. Marvel just wouldn't be allowed to make a movie with her that mentions Spidey, so she wouldn't work in the MCU as of now.
The Sony/Marvel dealings are complicated and have a long history, so it's not always clear who owns which character. But with her popularity, odds are fans will see a live-action Spider-Gwen/Spider-Ghost movie in the future.