Who Plays Number 5 in 'The Umbrella Academy?'
Number 5– the time-traveling deadly assassin in 'The Umbrella Academy' – is played by 15-year-old Aidan Gallagher. Read all about him here.
Number 5– the time-traveling and silver-tongued deadly assassin in The Umbrella Academy – is played by 15-year-old Aidan Gallagher. Aidan Gallagher's first major role was on Nickelodeon's Nicky, Ricky, Dicky, and Dawn; he starred as Nicky Harper. While not new to the world of acting, he's gained more prominence for his portrayal of Number Five on Netflix's new series.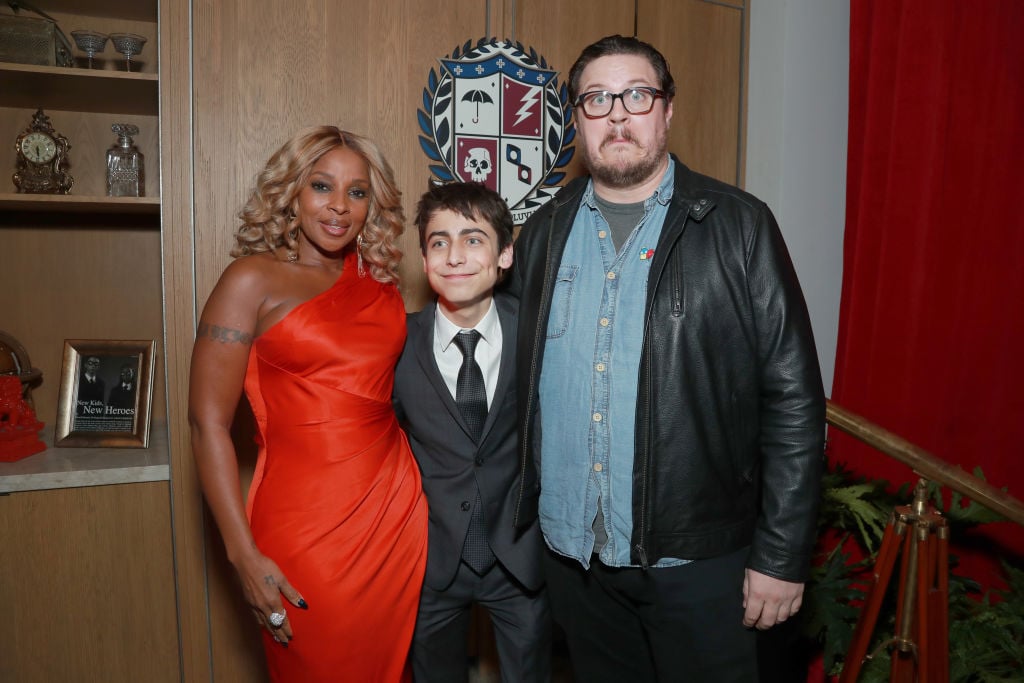 Aidan Gallager started displaying creative talent at a very young age; by eight years old, he was story-boarding and shooting live-action shorts with his peers, according to IMDb. He even shot stop motion Lego action videos using special effects.
At age nine, Gallagher asked his father if there was any way he could shadow a few directors while they worked. Aidan Gallagher's father worked in the business, so he made a few phone calls to get his son on sets as an observer. However, the observer quickly turned into the participant, for directors found the young boy appealing and requested to cast him into their projects, according to IMDb.
Gallagher first booked an episode of Modern Family and a character role in the Jacked Up pilot; the latter was a CBS show that never took off. Soon after the Jacked Up misfire, Gallagher landed his role on the Nickelodeon series mentioned above.
Number Five's role in 'The Umbrella Academy'

Aidan Gallagher plays a time traveling and space jumping 58-year-old man stuck in a teenager's body; thus, the role requires a bit of imagination and a lot of conviction on Gallagher's part. It's not easy to uphold a grown and bitter man's disposition with the appearance of a 15-year-old; however, Gallagher excels.

Number Five is responsible for "putting the pieces together;" he struggles to figure out how the present day's events will lead to the seemingly inevitable apocalypse; this way, he can alter the future. With a lot of weight on his shoulders, he sporadically disappears from family gatherings and often tries to solve conundrums solo, reuniting only when he sees fit.  

Aidan Gallagher on playing Number Five

Gallagher, a fan of the comic book series himself, was interested in the project and his specific character prior to the show's release. During his interview with Collider, Gallagher stated:

"I had been a fan of the graphic novels, previous to the audition for the show, so I was a fan, going in. For me, I would be interested in the project, regardless of knowing it prior to the show, as it's a very unique character and the world that Gerard [Way] and Gabriel [Bá] have created. That was a big selling point for the cast."

Gallagher also revealed his tips and tricks for diving into the character he so pointedly illustrates:

"I wanted to do justice to the graphic novels, so one of the first things that I looked at was his posture. Gabriel's drawings are very immersive, as far as the characters and the world goes, so I wanted to make sure that I got his posture right, the way he interacted with different elements. His mentality developed with the writing, as I acted in later episodes in the series. As an actor, it's very important to have good writing, so that I can help build the series, and lucky for us, this show has incredible writing. So, as far as getting the vocabulary of Number Five correct, that was a big help. One of the things that interested me about Five was the trauma that was contributed via the apocalypse. I wanted to make sure that I got his PTSD correct. There's a lot of interesting stuff that happens in the apocalypse. too. The 58-year-old thing was always an interesting dynamic to play with the siblings. But he's still a person, so although you have the experience that comes with a few more decades of life, the writing took care of a lot of that. I took care of more of the human aspect of Five"



Interview with Collider

Aidan Gallagher is clearly a meticulous actor with a passion and proclivity for detail; he depicts Number Five with a degree of veracity and a sense of confidence that would be unexpected from an actor with his level of experience.