Who's Who in 'The Umbrella Academy?'
Netflix's The Umbrella Academy, a superhero series starring Ellen Page, Mary J. Blige, and Tom Hopper, takes genre tropes and – with poise and perfection – utterly eschews them. While viewers get a set of superhuman individuals, the show takes a darkly comic approach and presents them as a disbanded family overflowing with dysfunction and suppressed trauma.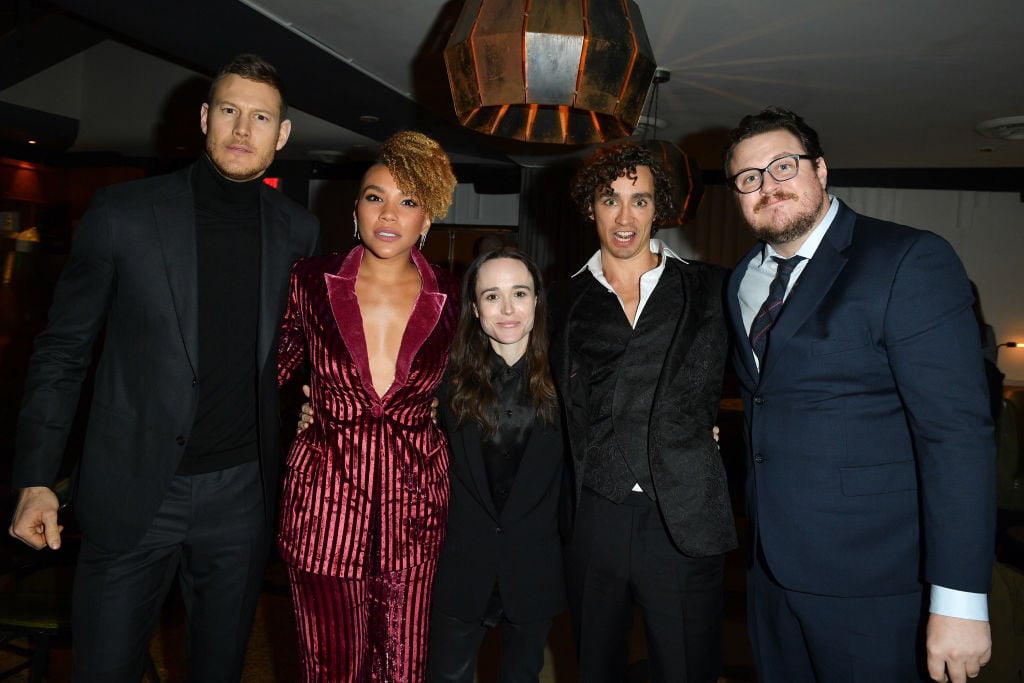 If you have yet to stream The Umbrella Academy, the show centers on seven children, of 43 total, born on the same day to mothers across the globe. All are born with unique gifts, but a billionaire industrialist adopts seven to constitute his so-called "Umbrella Academy," a group of children he plans to mold into saviors.

The siblings grow apart with time and the billionaire's vision never entirely comes to fruition; however, when he suddenly dies, the siblings are brought back together to solve the mystery behind his death and stop an imminent apocalypse.

So, the question is: who exactly are the seven chosen ones? Do they have the powers it will take to prevent an apocalypse? And if so, can they get past their childhood traumas and focus on the crisis at hand?
Number 1: Luther Hargreeves

Luther Hargreeves, portrayed by Tom Hopper, is born with superhuman strength and durability. Luther is the only member of the academy who did not abandon Hargreeves over time. When the show opens, viewers see Luther as an overly broad (beast-like in size) individual. He, within the first episode, tries to convince his siblings that his father was murdered.

Tom Hopper, best known for his work in Merlin, I Feel Pretty, and Black Sails is a 34-year-old actor and stands six feet and five inches tall (without CGI); seems like a pretty appropriate pick for the Superman-esque character of the bunch.
Number 2: Diego Hargreeves

Diego Hargeeves (also referred to as "The Kraken") can hold his breath indefinitely. While not too impressive on its own, he's also mastered knife throwing, making him a ninja-like opponent destined to shine in an underwater battle.
David Castaneda, most recently starring in Sicardo: Day of the Soldadoplays Diego Hargreeves. You may also recognize him from his earlier work in End of Watch or Bound and Babysitting.

Number 3: Allison Hargreeves

Allison Hargreeves – a reality manipulator – can bend the world's circumstances at her will. All she has to do is start a sentence with, "I heard a rumor," and anything she says afterward becomes true.

Emmy Raver-Lampman, previously starring in A Million Little Things and Odd Mom Out, plays the fierce reality bender. She will soon be seen in the show Wednesdays as Millie, which is currently in post-production, according to IMDb.com.
Number 4: Klaus Hargreeves

From levitation to telekinesis and the ability to contact the dead, Klaus, AKA The Seance, would be a worthy competitor…if he could stay sober. His powers only work when he's not under the influence, and sobriety is a rare state for this one.

Portrayed by Robert Sheehan – known for Mortal Engines, The Mortal Instruments: City of Bones, and Misfits – Klaus is in good hands, as the actor is well-accustomed to playing in fantasy roles.

Number 5: The Boy

Known only as "The Boy," number 5 disappeared when he was ten years old, but reappears 20 years later in his childhood body. He got stuck in the future trying to prove the possibility of backward time travel.

Aiden Gallagher stars as The Boy. Previously on Nickelodeon's Nicky, Ricky, Dicky, and Dawn, this is a significant opportunity for the young 15-year-old actor.
Number 6: Ben Hargreeves

Number 6, only present when Klaus tries to commune with the dead, dies before the show's main progression begins. Affectionately referred to as "The Horror," he retains monsters from other dimensions under his skin.

Taking on "The Horror" Is Justin H. Min, most widely recognized for his work on CSI: Cyber, Faking It, and Pure Genius.

Number 7: Vanya Hargreeves

Vanya Hargreeves is the only sibling who does not possess superhuman abilities; though born on the same day as the others, she's just a regular girl. However, from years of practicing violin, she has grown to be an extremely skilled player; thus, she is also referred to as "The White Violin."

Ellen Page, the overly likable and talented actress from Juno, X-Men, Inception, and more plays Vanya.

And there you have it: Sir Reginald Hargreeves' seven chosen ones destined to save the world.