Why Adam Driver Said It 'Can Feel Disgusting' to Take Photos With 'Star Wars' Fans
Since the 2015 premiere of Star Wars: The Force Awakens, actors Daisy Ridley and Adam Driver have been inextricably linked to their characters of Rey and Kylo Ren. But much of the sequel trilogy's cast has developed complex feelings about the saga. Driver even once admitted that taking photos with Star Wars fans can make him feel "disgusting." Here's why.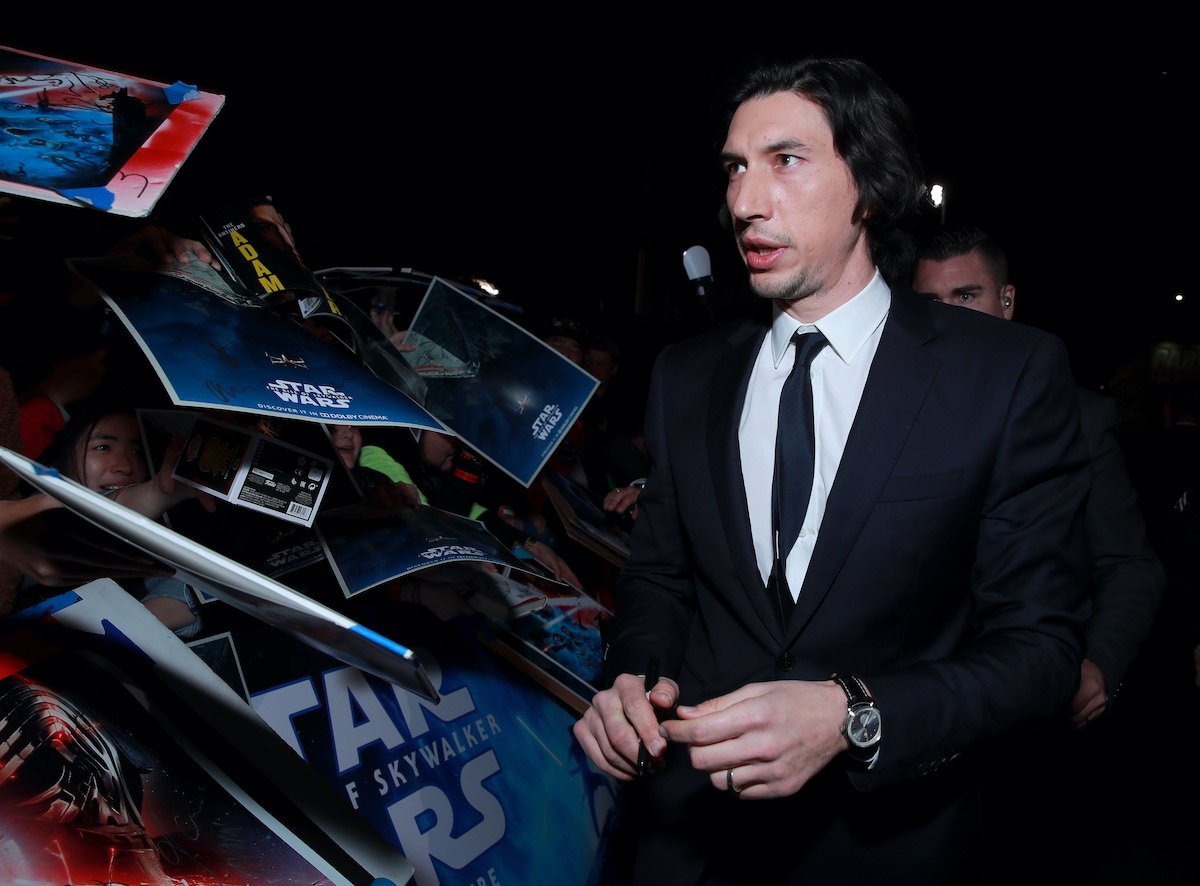 Adam Driver joined the Marines before becoming an actor
Years before joining the "galaxy far, far away," Driver led a completely different life. In fact, he joined the U.S. Marine Corps. in the early 2000s. And after nearly three years, Driver was medically discharged following a fracture in his sternum. Only then did he begin his college education, ultimately getting into the Juilliard School for Drama and launching his acting career.
Although Driver never thought he'd become a leading man, he had already landed his breakout role by 2012. Until 2017, Driver played Adam Sackler on the HBO series Girls. And in 2014, he was cast as Kylo Ren in Star Wars. Of course, Driver has done a lot more than just that saga, having appeared in Oscar-winning movies such as BlacKkKlansman and Marriage Story.
The actor doesn't always like taking photos with 'Star Wars' fans
Even though Driver is now a major Hollywood star, he's continued to stay true to his military roots. The actor founded Arts in the Armed Forces (AITAF), a nonprofit that brings arts programs to military members. But Driver has found his Star Wars work overlaps with his philanthropy in one frustrating way, he told Vulture in 2018. 
"I didn't used to feel comfortable fundraising. Like, 'Yeah, we're interested in your mission, but could you take a picture with my daughter? She's a big Star Wars fan, and if you do that, I'll give you $100,000.' No, I'm not going to take it. Is there nobody that is just philanthropic for the sake of it? Is there always some picture with your kid? I don't want AITAF things to turn into Star Wars events. … It has to be the right thing, or it can feel disgusting."
Driver admitted his efforts to overcome his discomfort in the interest of supporting AITAF. But many of his fans probably know how much the actor bristles at his big-screen work. It's easy to imagine how leveraging it for money — even for his own nonprofit — could raise some questionable feelings.
What if Adam Driver just refused to connect with 'Star Wars' fans?
Driver has openly stated the fame part of his job isn't his favorite. But interacting with fans is part of the job. Perhaps Driver has eased into his relationship with the devoted Star Wars fan base since his Vulture interview. After all, even though the actor presumably exited the saga with 2019's Star Wars: The Rise of Skywalker, roles in that franchise leave a lasting mark.
There's always the chance Driver could return to play Ben Solo — Kylo Ren's true, pre-dark side identity — in a follow-up movie. Ridley has said she will "never say never" about a potential Rey return. And rumors have already circulated the notion of a project focused on Kylo Ren. For now, though, Driver is unlikely to jump back into the Star Wars saga anytime soon.