Why Alex Trebek Says His Pancreatic Cancer Diagnosis 'Was Not Devastating News'
Alex Trebek and Jeopardy! are practically one and the same. The TV personality quizzes contestants on trivia as he's done since 1984 when he began hosting the classic game show. But everything changed when he started having stomach pains. Keep reading to find out how the 79-year-old reacted when he learned about his pancreatic cancer diagnosis. 
Alex Trebek announces pancreatic cancer diagnosis
On March 6, 2019, Trebek went public about his health. In a video posted to the game show's Twitter, Trebek announced a stage four pancreatic cancer diagnosis. Standing on the Jeopardy! stage, he shared his intentions "to fight this." 
"I'm going to keep working and with the love and support of my family and friends — and with the help of your prayers also — I plan to beat the low survival rate statistics for this disease," Trebek said in the short clip.
He went on, at one point joking about his Jeopardy! contract. 
"Truth told, I have to [continue hosting] because under the terms of my contract, I have to host Jeopardy! for three more years. So, help me. Keep the faith, and we'll win. We'll get it done."
In the days, weeks, and months following his announcement, Trebek's received messages of love and support from Jeopardy! Fans. So much so, it convinced him to release a memoir.
He says cancer is 'part of life' 
Since the diagnosis, Trebek's discussed his health in a number of interviews. One of them being a conversation with Good Morning America in early 2020. 
Trebek recounted how he learned of the pancreatic cancer diagnosis. Because of severe stomach pains, he went to see a doctor. 
"I knew as soon as the doctor came back and mentioned the pancreas. I said, 'Uh-oh, it's going to be cancer,'" Trebek said.
He went on to say he didn't tell his wife, Jean Currivan Trebek, "as quickly as I could have." Why? Because, as he put it, "it was not devastating news to me."
The Jeopardy! host explained that to him it's one of life's obstacles. 
"Throughout my life, I've always wondered about how courageous a human being I was," he said. "I just look at it as it's a part of life. Does that mean I'm courageous because I'm dealing with it? No. I could be scared to death and I'd still have to deal with it."
Alex Trebek continues to host 'Jeopardy!'
Despite his wife asking him to take a break from his Jeopardy! hosting duties, he's still dishing out clues to Jeopardy! contestants. Currivan Trebek shared in the same interview with Good Morning America that hosting the show gives her husband "a sense of purpose," saying "it's what feeds him."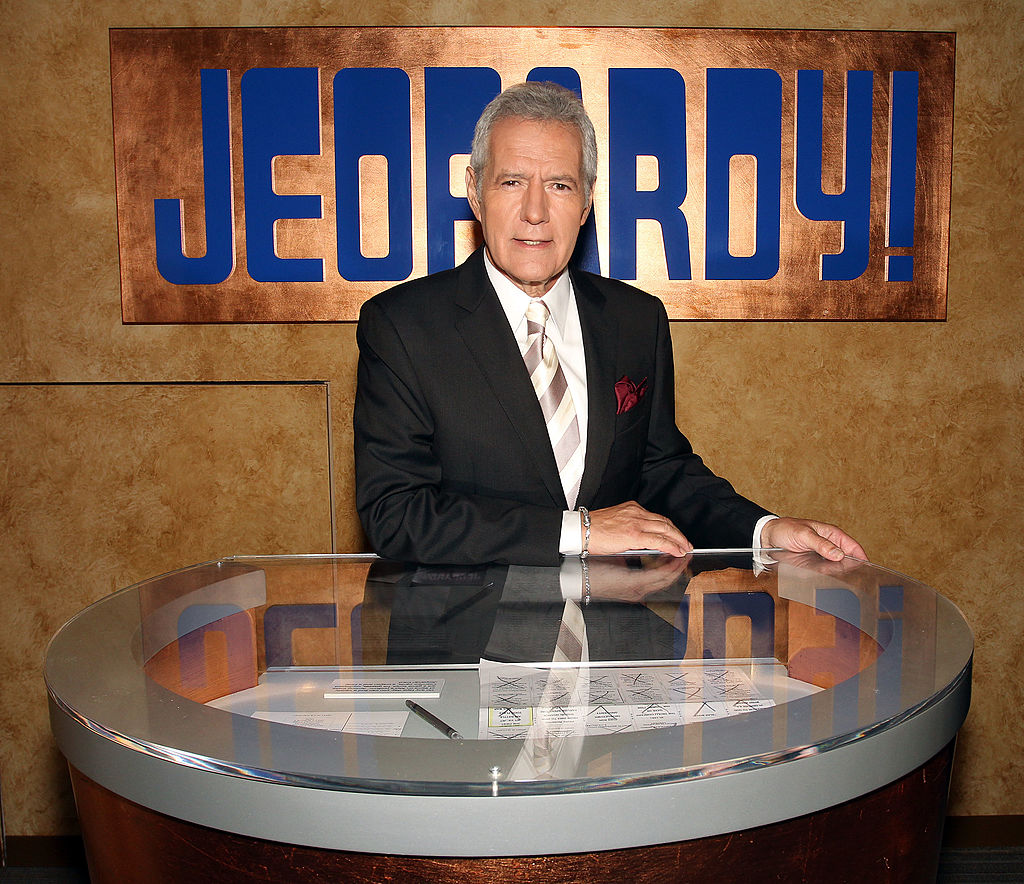 Now more than a year after going public with his diagnosis, Trebek is still hosting Jeopardy! and giving fans updates on his health
What's the status on Alex Trebek's health? 
On March 4, 2020, Trebek shared a one-year update on his health with Jeopardy! fans.
"The one-year survival rate for stage 4 pancreatic cancer is 18%," he said in a video posted to the show's Instagram. "I'm very happy to report I have just reached that marker."
He continued: "There were some good days but a lot of not-so-good days." 
Following the diagnosis, Trebek got candid about experiencing depression as a result of chemotherapy. In the face of it all, he continues to host Jeopardy! although he does know what he wants to say during his farewell.