Why 'American Idol' Has Produced More Stars Than 'The Voice'
Why 'American Idol' has produced more huge stars than 'The Voice.' Inside the discrepancy that boggles fans' minds. Does 'Idol' deserve this honor?
American Idol and The Voice have been placed head-to-head since The Voice first premiered with Christina Aguilera, Blake Shelton, CeeLo Green, and Adam Levine in those unmistakable red swivel chairs. While The Voice has been said to better groom its talent, taking a coaching perspective instead of a judging perspective, many argue that American Idol has produced more A-listers anyway.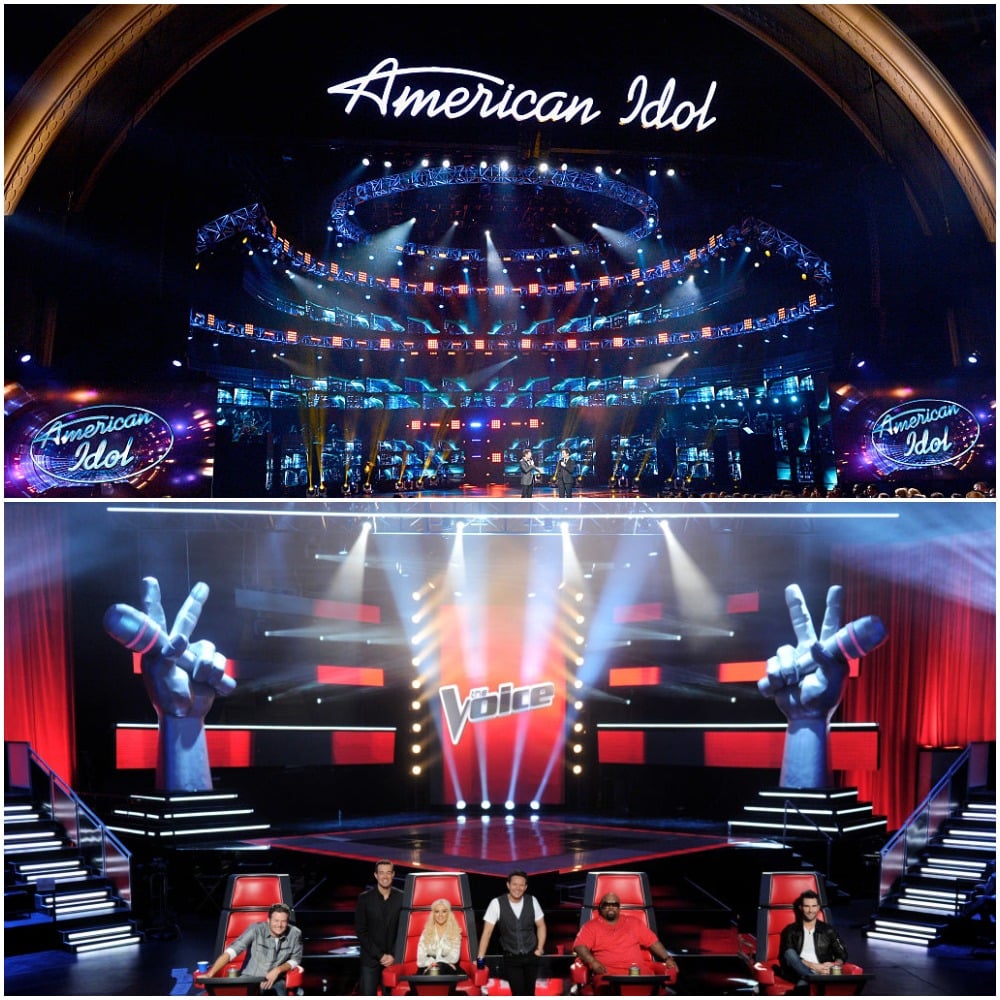 You can say that since American Idol is designed to find America's next star, while The Voice is (supposedly) on a mission to discover the next great vocalist — when it's not too busy focusing on its coaches — this argument feels weak. Not to mention, such a theory doesn't adequately account for the other, uncontrollable discrepancies between the two shows. 
American Idol beat The Voice to the punch; Idol was the trend-setter, the mover and shaker of reality competition shows. Idol paved the way for The Voice and The X Factor, among others; meaning, it capitalized on a concept with a high likelihood for success prior to oversaturation. 
'American Idol' found undiscovered talent before it was easy to do it for yourself
When you try to think of famous American Idol winners and/or contestants, who comes to mind? How many true A-listers have come from Idol? Let's count the major successes. 1. Kelly Clarkson. 2. Carrie Underwood. 3. Jennifer Hudson. 
Arguably, we have just listed the most famous contestants from Idol. If we want to include a few more who have made a name for themselves but are not quite as huge, we would add Adam Lambert and Katherine McPhee. So, what's so fascinating about this list? Most of these contestants were on the show in its early years. 
Kelly Clarkson won season one of Idol, Carrie Underwood won season four, and Jennifer Hudson appeared on the show in season three. Katharine McPhee appeared on the show in season five, and Adam Lambert, the latest of them all, was the season eight runner-up. So, why does this matter?
In American Idol's early days, talent was not so immediately accessible. You couldn't hop on YouTube or Spotify, do a little clicking, and stumble upon a talented artist who had yet to make it big. 
Now, you can find multiple artists — with all the bells and whistles of a full-on recording studio — doing covers of famous hits on Youtube. There's a new post everyday. Meaning, the idea of finding undiscovered talent was exciting when Idol entered the scene because there weren't many other outlets for the same fix.
Oversaturation destroyed the appeal, and 'Idol' was left with its early triumphs
Fans searched for American Idol artists after they won, and followed them because they felt a part of their success. Viewers helped choose America's next star and helped make sure they would become one. Then, when other networks caught on, and other producers saw the hype, they hopped on the bandwagon.
The Voice, Idol, The X-Factor, Dancing with the Stars, and America's Got Talent, all now compete for viewers. And, truthfully, now that the landscape is oversaturated, it's less unique and has lost a great deal of its appeal.
Why watch The Voice? Why watch American Idol? They're all the same and no one ever makes it, right? This is now the mentality, but when Idol first started, it was not. Idol is not a stronger show, it was just the first; it had the advantage of being new, and out came Clarkson, Underwood, and Jennifer Hudson…all within the first four seasons.