Why Andy Griffith Received the Presidential Medal of Freedom
Andy Griffith starred in one of America's favorite TV shows — and earned America's highest civilian honor. in 2005, President George W. Bush gave Griffith the Presidential Medal of Freedom for some very specific reasons. Years afterward, President Barack Obama mourned his death with a touching tribute.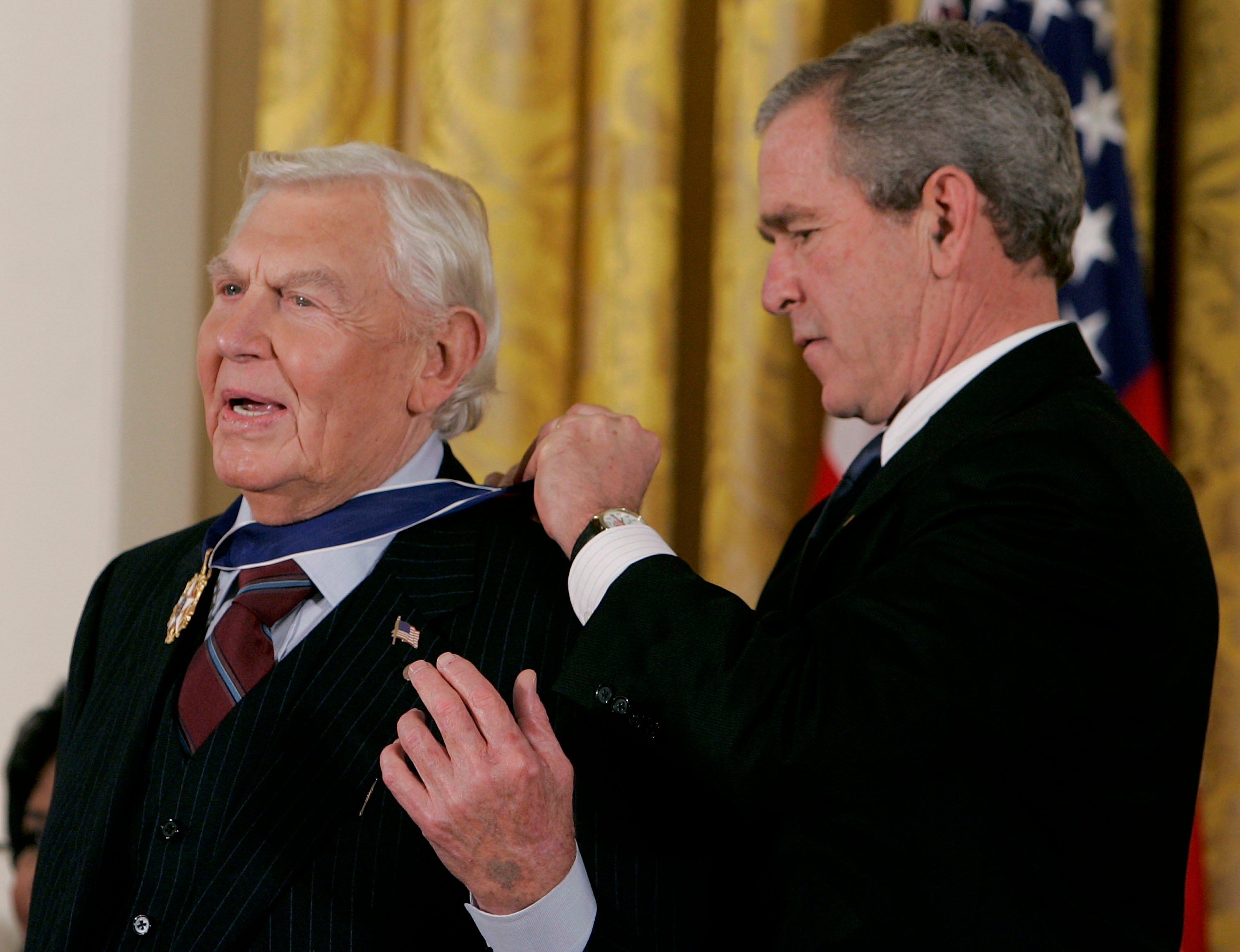 Why President George W. Bush gave Andy Griffith the Presidential Medal of Freedom
Firstly, a little background. The Presidential Medal of Freedom is currently America's highest civilian honor. It can be given to anyone for any reason, alive or dead. Over the years, a number of entertainers have earned the award, including Walt Disney, Oprah Winfrey, Ellen DeGeneres, and Stevie Wonder.
According to the White House's website, Griffith received his Presidential Medal of Freedom from President George W. Bush in 2005. Other honorees at the ceremony included Aretha Franklin, Muhammad Ali, Jack Nicklaus, and Carol Burnett. The White House's official statement about the event explained why Griffith received the award.
"Andy Griffith is one of America's best-known and most beloved entertainers," the statement read. "After his introduction to a national audience as a stand-up comedian on The Ed Sullivan Show in the 1950s, he went on to star in such celebrated television shows as The Andy Griffith Show and Matlock. As a legend of the stage, cinema, and television, [he] has built an enduring career and set a standard of excellence in entertainment. He is a man of humor, integrity, and compassion. The United States honors [him] for demonstrating the finest qualities of our country and for a lifetime of memorable performances that have brought joy to millions of Americans of all ages."
President George W. Bush's tribute to Andy Griffith
According to CBS, Bush had some glowing words for Griffith when he gave Griffith the medal. "TV shows come and go, but there's only one Andy Griffith. And we thank him for being such a friendly and beloved presence in our American life." In addition, Bush quoted Griffith explaining The Andy Griffith Show's appeal. "It was about love. Barney would set himself up for a fall, and Andy would be there to catch him."
How President Barrack Obama mourned Andy Griffith's death
Griffith didn't just cross paths with President Bush. According to The Hollywood Reporter, Griffith had strong ties to President Barrack Obama. For example, he once appeared in an Andy Griffith Show-themed Funny or Die sketch in support of Obama's 2008 campaign. In addition, in 2010, he recorded a publicity spot for Obama's healthcare reforms.
Griffith passed away during 2012 at the age of 86. President Obama and First Lady Michelle Obama sent their condolences. The president praised Griifith's talent and his ability to play memorable characters like Sheriff Andy Taylor and Ben Matlock. In addition, he offered his "thoughts and prayers" to Griffith family. The fact that not one, but two consecutive presidents paid tribute to Griffith speaks to the incredible impact he had on generations of fans.