Why Brad Pitt Chose to Star in 'Babel' Over This Blockbuster With Leonardo DiCaprio
Oscar winner Brad Pitt struck up quite a bromance with fellow Academy Award recipient Leonardo DiCaprio last year. Both starring in Quentin Tarantino's Once Upon A Time in Hollywood, the two A-list actors clearly enjoyed working together and formed a close bond.
Pitt had the opportunity to take the lead in a high-profile movie alongside DiCaprio prior to the Tarantino film but passed up the offer to take on a different role.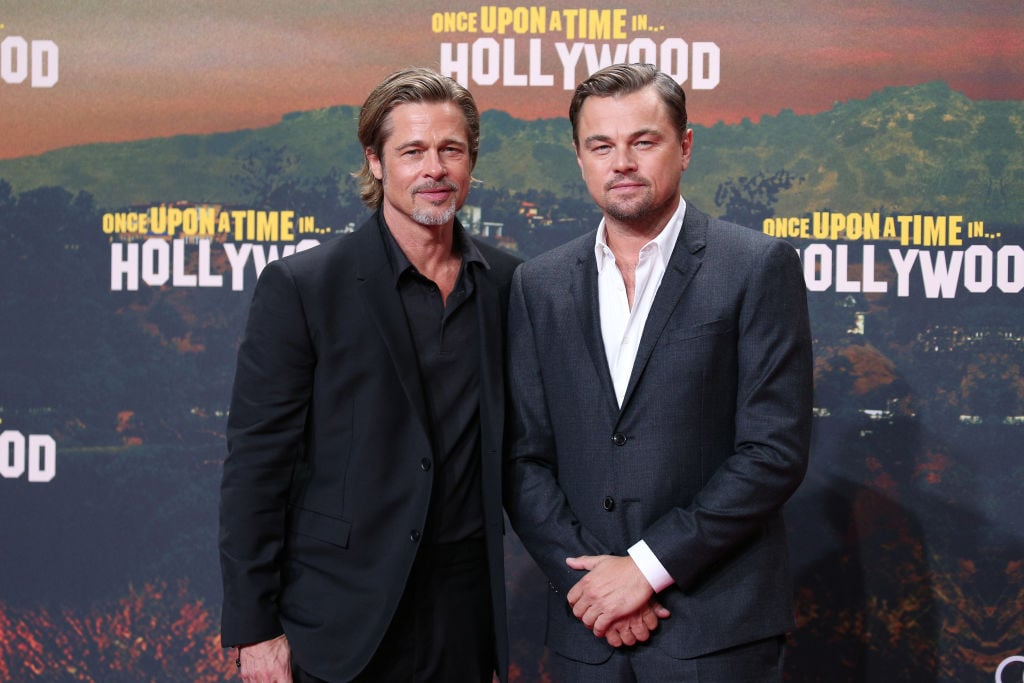 Other roles where Brad Pitt said 'no'
Turns out there are a plethora of films Pitt could have headed. According to Variety, the Oscar winner was already committed to Spy Game with Robert Redford when he was offered the gig as Jason Bourne for The Bourne Identity. The role went to Matt Damon, who turned the film into a successful franchise.
Pitt also passed on starring in The Matrix and Cameron Crowe's Almost Famous. The actor has The Shawshank Redemption on the list of films he rejected as the part of prisoner Tommy Williams, this time due to his role in Interview with the Vampire alongside mega star Tom Cruise.
Though Shawshank became one of Hollywood's most iconic films, Pitt doesn't regret missing out on the blockbuster. "It would have been kind of cool to be in, but I'm not a regret guy in that way," Pitt told USA Today in September. "I just believe in the way things work out, and that was someone else's role. Even the feeling of, 'Ooh, that would've been nice' would redirect a choice later down the road. So it all works in tandem in that way."
Worked with future Leonardo DiCaprio director
In 2006, Pitt starred with Cate Blanchett in the global thriller Babel. Directed by Alejandro González Iñárritu – who would later go on to head The Revenant which earned DiCaprio an Oscar – Pitt was drawn to the director's unique presentation of the project.
"It's kind of a global idea of the world that I agreed with and that I thought was really bold," Pitt told Interview in 2012. "I liked how [Iñárritu's] ideas had really coalesced into this piece. I liked what it said."
Iñárritu featured Pitt as a more mature character in the film, where four separate storylines became intertwined.
"He wanted to age me a bit, take off the shine," Pitt recalled. "I didn't realize that it was going to be so tough to shoot, to maintain that kind of frantic energy over every day. … The amazing thing is that he was trying to talk about communication and jumping to conclusions and misunderstandings without really seeing others' points of view. That's the undercurrent of the film. I think it's an extraordinary achievement."
Passed on working with Martin Scorsese?
In the 2006 crime drama The Departed, Brad Pitt and Tom Cruise were reportedly signed on to portray Colin Sullivan and Billy Costigan in the Martin Scorsese film as reported by Cinemablend. Cruise apparently dropped out with DiCaprio picking up the part. Pitt chose to go with Babel since he felt he may be too old for the role in the Scorsese project.
"Once Scorsese became involved, I thought it would be better if they were younger guys that were just starting their lives, guys coming out of the academy, guys who were hungry," Pitt told Interview. "I thought I was too old for it."
Once again, the role originally intended for Pitt went to Matt Damon, who starred alongside DiCaprio, Mark Wahlberg, and Jack Nicholson. Scorsese won his first Best Director Oscar for the film. Iñárritu picked up his Academy Award for Best Director in 2015 for Birdman, and the following year for The Revenant which starred DiCaprio.