Why BTS Fans Nicknamed RM the 'God of Destruction'
He can't always be cool and collected. Here's what fans are saying about the leader of BTS, Kim Namjoon, who goes by the stage name RM.
He's smart and he's talented. RM is also sometimes clumsy, earning a special nickname from BTS fans and the other members of this K-pop group. 
Here's what we know about this rapper, dancer, and songwriter, who's known as BTS' resident "God of Destruction."
RM is the leader of BTS
There are seven members in BTS, but there's only one RM. This rapper is the leader of the group and one of the masterminds behind some of the K-pop group's award-winning songs. His real name is Kim Namjoon, but when BTS first debuted, this performer went by the name Rap Monster. 
He's since changed his stage name to just be RM, which can represent a few different things for fans and the idol. When it comes to what fans call this rapper, though, he earned the nickname "God of Destruction."
Some fans gave RM the nickname, the 'God of Destruction'
He's a dancer, rapper, and songwriter. Still, RM has a tendency to be a little clumsy. Over the years, fans gave him the nickname "God of Destruction" because of his tendencies to break things. (It's all with love, though, with some fans saying this is RM "failing to control his power.")
"RM has broken so many things unintentionally so the members like to tease him and he was given that nickname," one fan on Quora wrote of RM's nickname.
Some other nicknames of this idol, according to Stylecaster, include "Joon, Joonie, Namjoonie." There's also the nickname "Brain Monster," awarded to this idol because of his impressive IQ and test scores.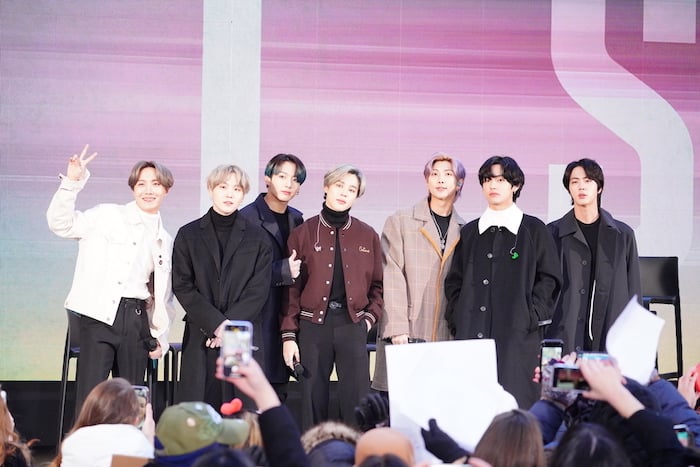 There's been plenty of 'God of Destruction' moments that appeared throughout the years
Of course, he doesn't break things on purpose, but fans are sure to take notice of RM's heartwarming and dorky "God of Destruction" moments.
During one RUN BTS episode where the members teamed up to cook something, Jimin told RM to use a small spoon. He reached into the container of utensils only to have the whole thing fall over.
When RM was talking to fans on a live stream, one said that she lost her AirPods and RM clapped. He shared that he's lost over 30 pairs of AirPods was now using his 34th pair. That was in 2019 and he hasn't updated fans since on his AirPod count.
For one sleepover edition of RUN BTS, the BTS members had to try their hand at ASMR. When it was RM's moment to shine, he spilled some water. When he picked up the foam sponge material, it broke in half. The rest of the members tries not to laugh while standing on the sides.
The "Dynamite" music video is now available on YouTube. Music by BTS, including their recently released album, Map of the Soul: 7, is available for streaming on Spotify, Apple Music, and most major platforms.