Why Casting Rashida Jones in 'Parks and Recreation' Altered Spinoff Plans for 'The Office'
When producers of 'The Office' were considering a spinoff, a casting choice put the kibosh on some plans.
Fans of The Office still hold the idyllic romance of Jim Halpert (played by John Krasinski) and Pam Beesly (portrayed by Jenna Fischer) close to their hearts. The two lovebirds finally made it to the altar, though their road to wedded bliss wasn't bump-free. One obstacle materialized in season three when Jim started dating Karen Filippelli, played by Rashida Jones.
True love prevailed with Jim and Karen inevitably breaking up and the Dunder Mifflin salesman marrying his true love. Jones was then free to take on another role just around the time producers were considering a spin-off.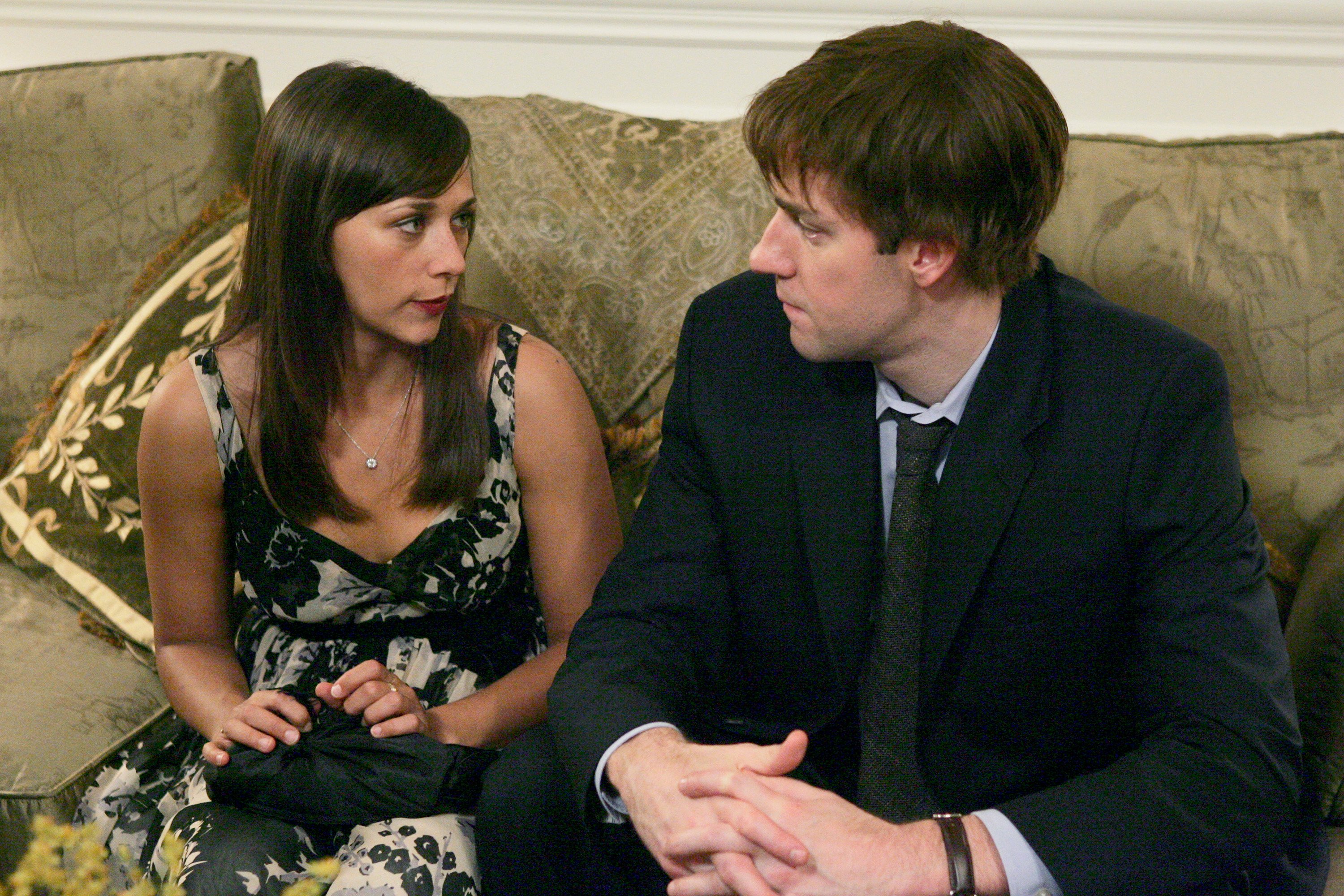 Rashida Jones worried about backlash as 'the other woman'
Jones was ecstatic to land a role on the iconic sitcom. Yet she knew playing the part of the woman getting in the middle of the Jim-and-Pam romance could be problematic.
"The Office was definitely what they refer to as 'my big break.' I had anxiety and insomnia for the three weeks before my season aired," she told the Hollywood Reporter in 2013. "I was sure people would come and egg my house for getting in between Pam and Jim."
Though she knew viewers were routing for Jim and Pam to finally get together, she sympathized with her character's unenviable position.
"I mean, Karen really is smitten by Jim — she has no other design, she's not trying to break them up," Jones said in 2007, according to Entertainment Weekly. "She didn't even know about Pam!"
'The Office' producers want a spinoff
The Office was killing it in the ratings and producers knew they could possibly have another hit by creating a spinoff. Brainstorming on a premise, the idea for for Parks and Recreation started to come together.
"One of [writer] Michael Schur's favorite books was The Power Broker [about] Robert Moses," writer Justin Spitzer told Andy Greene in his book The Office: The Untold Story of the Greatest Sitcom of the 2000s. "He was essentially head of the parks department in New York in the early twentieth century. I think some of Parks and Recreation came from that."
With network exec Ben Silverman getting Amy Poehler to star, Schur and showrunner Greg Daniels began planning the new sitcom with a role for Jones.
"We made the decision to create a whole new world around Amy," producer Teri Weinberg said in Greene's book. "Take the relationships that we had with Rashida and Amy and the cast that we'd built around that show, to create something new and let that be its own organism."
'Parks and Rec' went solo
With plans getting solidified on Parks and Recreation, the casting of Jones seemed to torpedo the idea of it being considered a spinoff. Her role on The Office was causing a road block.
"I think in the casting Rashida Jones as a different character on Parks and Recreation, that was them saying, 'This is definitely not a spin-off. We have the same actor playing two different parts,'" Spitzer recalled. "'These two shows can't even exist in the same world."
Wanting Parks and Recreation to be an official spinoff of The Office from the beginning, Silverman wasn't happy with the outcome.
"When I took over as the chairman of NBC [in 2007] I was like, 'We should be doing a spin-off for The Office,'" he told Greene. "And Parks and Recreation should have been one… I wanted it developed as a spin-off and I'm annoyed that my voice wasn't heard… It would have been better for both shows."
Regardless, both shows were considered hits and remain fan favorites.