Why Chris Evans Thinks He Is a 'Constant Letdown' to Marvel Fans
Chris Evans is just one of three Chris's in the Marvel Cinematic Universe. There is a constant debate among fans about who is the best Chris – Evans, Chris Hemsworth, or Chris Pratt. Some people even get Chris Pine involved in the conversation, even though he's not in the MCU. The "best Chris" fan debate isn't lost on the actors, as they regularly joke about it in interviews. However, Evans thinks that when Marvel fans see him in person, he's constantly letting them down.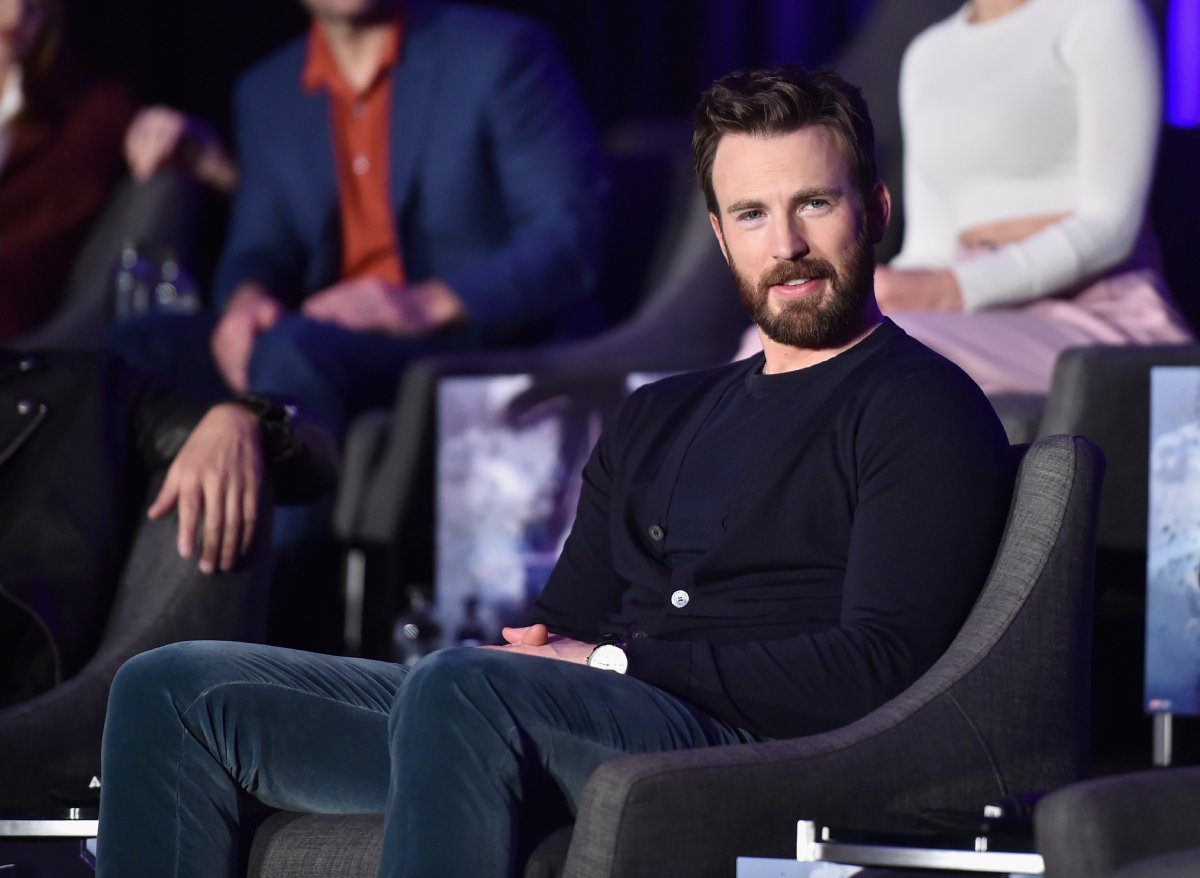 Chris Evans still has his Captain America body three years after filming 'Avengers: Endgame'
It's been three years since Evans filmed his final turn as Captain America Steve Rogers in Avengers: Endgame. Even though he is no longer playing a superhero, he still has his superhero physique.
Back in October, Cinema Blend noticed a video that Evans posted on his Instagram Stories. In the clip, Evans is standing poolside in black swim trunks and preparing to do a backflip into freezing cold water.  After he successfully backflips into the pool, his dog Dodger comes running.
In the caption he wrote, "Last swim before the pool hibernates… it was freezing, I wonder what it's like to be tan 😂"
Evans doesn't usually post shirtless pics and videos. To the delight of fans, the video proves he still has "America's Ass." Even throughout quarantine — when he had no obligation to stay in shape for an upcoming superhero role — Evans is still looking as fit as ever.
All three Marvel Chris's enjoy joking around with each other during interviews
Evans and Hemsworth have been co-stars for nearly a decade and have sat down for numerous interviews together. Ahead of the release of Avengers: Age of Ultron, Evans and Hemsworth played a fun game of "Chris vs. Chris" with Entertainment Tonight's Nancy O'Dell.
When she asked which one was more romantic, Hemsworth said he couldn't answer the question because Evans has never taken him out on a date. Evans clapped back saying that he does take him out, he just doesn't call the next day.
They couldn't agree about who was most sensitive. Evans says he cries during Kodak commercials, while Hemsworth claims his mother thinks he's "the biggest wuss" she's ever met.
In another interview with Hemsworth and Pratt, the Guardians of the Galaxy star was answering a question when the Thor star finished his sentence. Pratt started by saying," it's a great time to be," and Hemsworth jumped in to say "a Chris."
When they both started laughing, Pratt looked at Hemsworth and said, "Oh great. That's what they're gonna use."
Chris Evans thinks he is a 'constant letdown' to Marvel fans
When it comes to the question of which Chris is in better shape, Evans joked his Captain America does not always impress fans in real life.
"I feel like I'm a constant letdown," Evans said. "I meet a lot of people on the street who say, 'Hey, I thought you were bigger!'"
Hemsworth agreed, saying that fans are always expecting him to be much larger after watching him on a 30-foot theater screen.
"They're like, 'Are you unwell at the moment?'" Hemsworth revealed.
While both Hemsworth and Pratt are continuing their runs in the MCU with Thor: Love and Thunder and Guardians of the Galaxy Vol. 3, Evans has said goodbye to Captain America. He's already starred in Knives Out and Defending Jacob.
Up next, Evans will star as sadistic dentist Orin Scrivello in Little Shop of Horrors. His Avengers co-star Scarlett Johansson will play the role of his girlfriend, Audrey. Evans is also reportedly teaming up with Endgame directors Anthony and Joe Russo for The Grey Man, he is expected to play a CIA operative alongside co-star Ryan Gosling.