Why Da Brat Turned Down a Chance to Participate in a Reality Show Produced by Kandi Burruss
Da Brat is openly in love with her girlfriend Jesseca Dupart and admits she suppressed her sexuality for much of her rap career out of fear. So much so that she turned down the chance to appear in a reality show about lesbians years ago. The show was to be produced by Brat's former label mate and RHOA star, Kandi Burruss.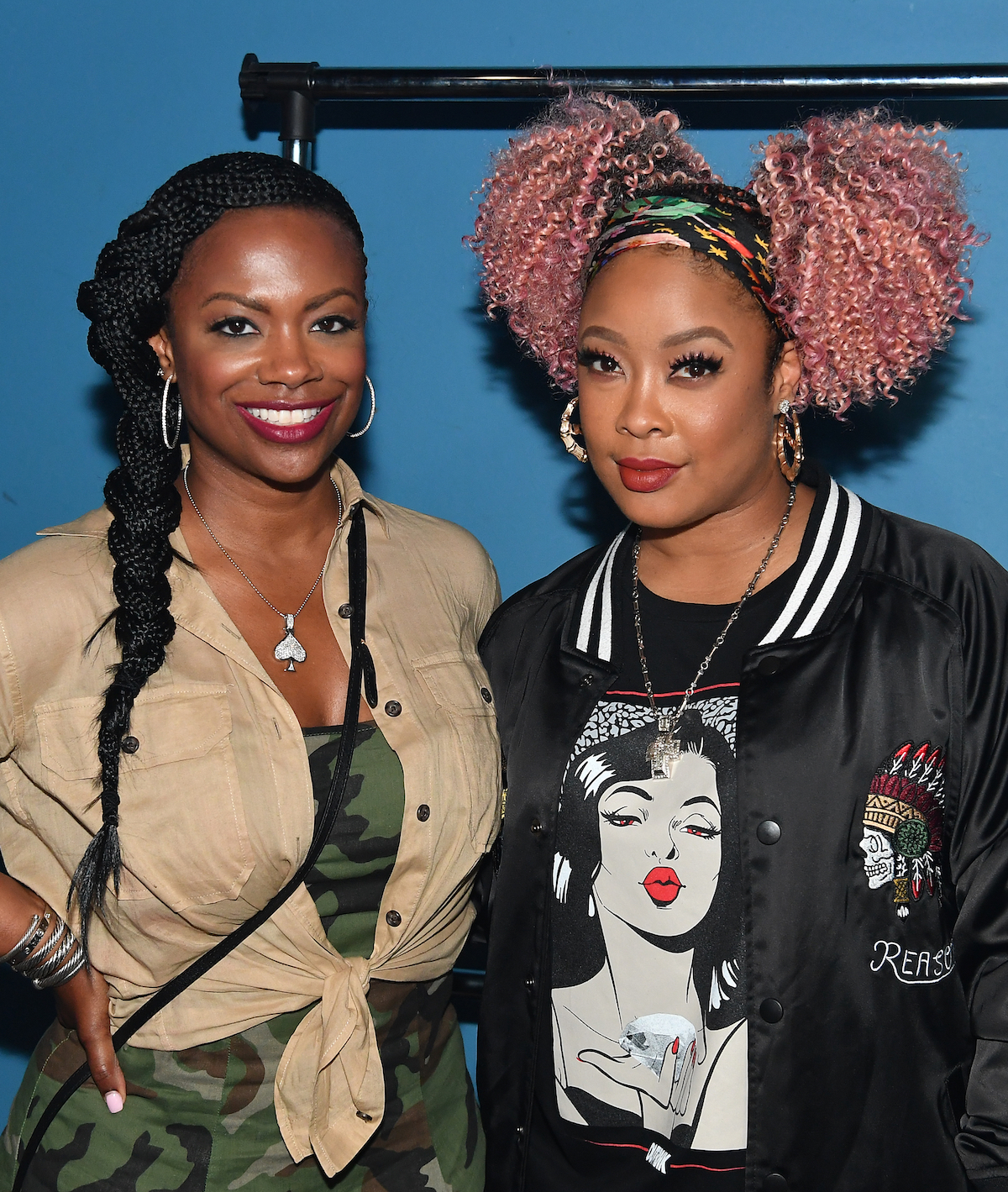 Kandi Burruss pitched a reality television show about women who identified as LGBTQ but Da Brat wasn't ready to come out
Brat says she began questioning her sexuality shortly after she was signed to So So Def Records in 1992. She admits that throughout her life, she's dated both men and women, including NBA star Allen Iverson. But, she chose to keep her romantic life private, specifically out of fear that if people discovered she was attracted to women, she'd lose her career.
Brat says Burruss was one of the first to encourage her to live her life out loud and proud. She wanted to do so in the form of a reality television show. At the time, Brat admits she was not ready.
"When I got out of jail, prison, you met me at my manager's house when I was still on the ankle monitor and you was wanting me to do a TV show about lesbians," Brat revealed during a visit to Buruss' YouTube show Speak On It. "I was like, 'Girl, I ain't doing that s—t girl.' I thought about it but I just wasn't ready. I was still scared. I was like, 'I'm not about to get on here with all of these gay b—-hes and be looking all crazy. How can I pull it off and participate and not look gay?'"
Da Brat's initially kept her relationship with Jesseca "Judy" Dupart a secret
Brat began following Judy on Instagram years before meeting her in person. The rapper says she was attracted to Judy because of her lively spirit. 
Judy eventually went on a tour to promote her haircare line and had a stop in Atlanta where Brat lives. The Growing Up Hip Hop star took it as an opportunity to see Judy in person. 
"​​I met her and we exchanged numbers…It was such a crowded place that I had to wait for about 30 minutes for her to get to me because she was taking pictures and signing autographs," Brat recalls in a recent interview with Shadow and Act.
Their love blossomed quickly, but Brat kept things on the hush, something Judy had to grow accustomed to.
"If we go out, we're going out with her team and when we're sitting down having dinner, we can't sit right next to each other," Judy explains. "And I was fine with it because I love her."
Judy inspired Da Brat to love out loud
Brat grew tired of keeping her love for Judy a secret. She says it made things even more difficult because Judy is also a public figure who doesn't shy away from exposing her personal life. The moment Brat solidified their union publicly was during an appearance at Essence Music Festival. 
She grabbed Judy's hand, to the surprise of both Judy and her management team. Her management team all joined hands as a way to cover things up, but Brat didn't care about perception anymore.
"She's been transparent about everything," Brat says of Judy. "And it made me feel like I want this freedom as well. Like I want the weight lifted. I want to be able to hold my baby's hand in public. I want to show the world I'm happy and in love."
The couple's love story is now being chronicled on the We TV reality series Brat Loves Judy every Thursday at 9 pm EST.