Why Desi Arnaz's Daughter Spent 'Many Sleepless Nights Crying' About Her Dad
Desi Arnaz and Lucille Ball catapulted to fame playing Lucy and Ricky Ricardo on the hit comedy I Love Lucy. Divorcing in 1960 after 20 years of marriage, the couple continued to co-parent their two kids, Lucie and Desi Jr.
Arnaz's alcoholism was no secret in Hollywood. Lucie previously shared how his drinking affected their family and his career.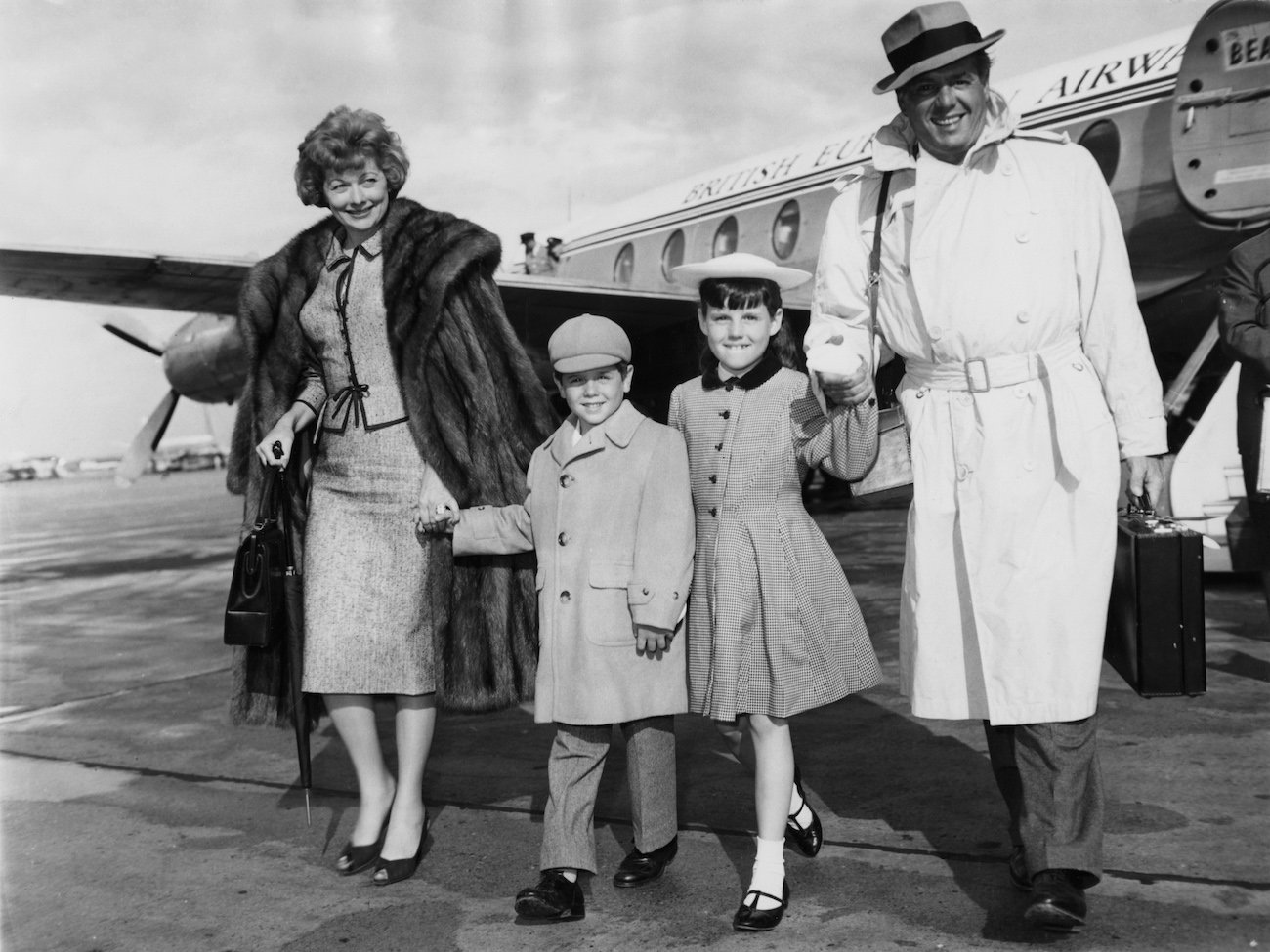 Desi Arnaz's alcoholism impacted his marriage to Lucille Ball
The famous couple had a tumultuous relationship from the start. After fame hit and constant rumors of Arnaz's infidelities swirled in Hollywood, their marriage began to fall apart under pressure, which only increased with his drinking.
"He always drank," Lucie remarked in the book Desilu: The Story of Lucille Ball and Desi Arnaz by Coyne Steven Sanders and Tom Gilbert. "But like any disease, it takes a while to take its toll with your body, to where your tolerance is less and less."
RELATED: How Desi Arnaz' Old Behaviors Affected His Working Relationship with Ex-Wife Lucille Ball
"Under pressure, he drank more, obviously," Lucie revealed. "And the worse their relationship was, the more he would drink, just to show her. 'You're going to tell me I can't get drunk? Well, I'll show you. I'll get drunker than you've ever seen.' It was just awful."
'I Love Lucy' star further tarnished his image
Despite their divorce, Arnaz and Ball maintained an amicable friendship and professional relationship. Yet even his connection with his famous ex-wife couldn't preserve his career from his declining behavior and lack of accountability.
"Desi was an alcoholic, although he wouldn't admit it," Desilu Productions executive Bob Weitzman remarked. "No matter how much you loved him, there was the problem that he did not represent the best qualities for his image, the company's image, Lucy's image, and the kids' image. She'd call him on it. He just wouldn't change his ways."
Arnaz often didn't receive the credit he deserved for building the Desilu empire, where Ball received the accolades. With his continued alcoholism, the former bandleader's career spiraled.
"He was depressed and disappointed in later years that that was all there was, I Love Lucy," Lucie recalled of her dad. "When it was over, the industry didn't trust him the way they used to. … When you're drinking and making bad decisions, people lose their trust. Until he could acknowledge that he had a problem, he could never rejuvenate his career. It was such a tragedy."
Lucie Arnaz mourned for what her father could have been
As Arnaz's reputation and image grew more tarnished, many in the industry attributed his failures to his alcoholism and explosive temperament. While Lucie could attest to the negatives of his nature, she felt that his brightest qualities were often overlooked due to his issues.
"That's why I've spent many sleepless nights crying about the things that can very well be said about his drinking and his temper," Lucie explained. "It's such a shame, as is the case with most alcoholics. This gentle bear was just the dearest man. And such a genius, such a good business person. I hear all the stories, and the more I hear them, the more I want to scream, 'Why, why?"
With more details of Arnaz's accomplishments in Hollywood coming to light over the years, Lucie found comfort in her father's achievements finally receiving some notoriety.
RELATED: Desi Arnaz Was 'Extraordinarily Jealous' of Lucille Ball's New Husband
"He did a lot, and I think people now do know about it, because it's been written about," she told Closer Weekly in February 2020. "I don't know if it was written about enough during his lifetime, but it is now and it's lovely that people acknowledge that."
How to get help: In the U.S., contact the Substance Abuse and Mental Health Services Administration helpline at 1-800-662-4357.