Why Did Beyoncé and Jay-Z Break Up for a Year Back in 2005?
Beyoncé and Jay-Z have it all: three adorable children, successful careers, a mega music empire, and a loving marriage. Though they've been together for nearly two decades, the pair's love for each other hasn't run out as they are still happily married and head over heels for one another.
While it seems like they've always had an ideal relationship, it turns out that the couple has experienced trouble in paradise more times than once throughout their relationship. One example of this took place back in 2005 when Bey and Jay split up for a year.
So, what was the reason behind their short-lived breakup? Read on below to find out.
Beyoncé and Jay-Z started dating in the early 2000s
When she was only 18-years-old, Beyoncé first crossed paths with a then 30-year-old Jay-Z while attending the 2000 MTV Spring Break festival with Destiny's Child.
In the song "713" off the couple's 2018 joint album, Everything Is Love, the rapper reveals he developed feelings for the singer at the event, where they both performed.
However, Jay didn't act on his feelings for the singer because she was in a relationship with her high school sweetheart at the time.
But the following year, Bey and Jay had their first face-to-face conversation at the post-9/11 "Concert for New York City" benefit at Madison Square Garden, where they instantly connected.
RELATED: Beyoncé Wasn't Interested in Dating Jay-Z Until Her Mom Convinced Her to Give Him a Chance
Jay-Z then asked Beyoncé for her phone number, and as the saying goes, the rest is history.
While it's unclear when exactly the pair started dating, it safe to say that they made their relationship official sometime in 2001 or 2002.  
From there, the couple started to appear in each other's music videos and officially went public with their relationship during the 2004 BET Awards.
Beyoncé and Jay-Z's year-long breakup
After going public with their romance, Beyoncé and Jay-Z appeared to be hot and heavy even though they mainly kept their romance out of the public eye.
While it seemed as though their relationship was going smoothly in the beginning, the couple's romance reportedly hit a snag in 2005 when they secretly broke up for a brief period of time.
Though the reason for their split was never confirmed, Cosmopolitan reports that the couple's break up was due to rumors of Jay-Z allegedly hooking up with his young protégé, Rihanna, behind Beyoncé's back.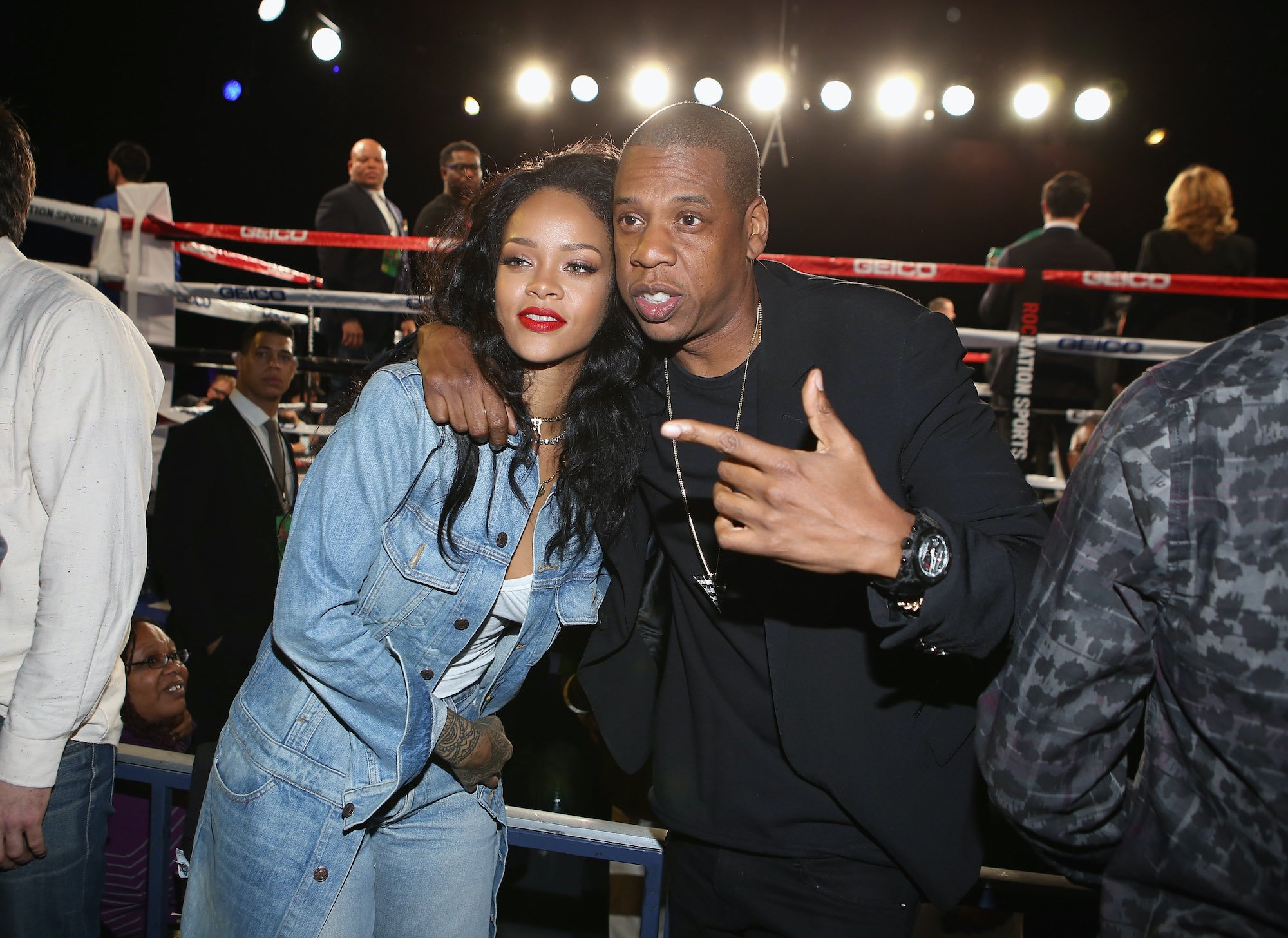 RELATED: Beyoncé Spent Her Year-Long Breakup from Jay-Z Building Out Her Solo Career
It's also been speculated that Beyoncé and Jay-Z went their separate ways because the singer was too focused on her career.
Whether these reasons actually contributed to the couple's split or not, Beyoncé and Jay-Z ultimately found their way back to each other less than a year later and haven't been apart since.
Beyoncé and Jay-Z have been happily married since 2008
Two years after getting back together, Beyoncé and Jay-Z tied the knot in a glamorous, private wedding ceremony held inside the rapper's New York City penthouse.
In 2012, they welcomed their daughter Blue Ivy. And in 2016, the couple had their twins, Sir and Rumi Carter.
These days, Bey and Jay is still happily married and share a lavish life together as one of the most success — and wealthy — celebrity couples in the world. 
Though they've gone through many ups and downs in their marriage over the years, Beyoncé and Jay-Z managed to put up a united front and continue to work together to maintain the happy and loving relationship they have today.