Why Did Emma Stone and Andrew Garfield Break Up?
Actors Andrew Garfield and Emma Stone began a relationship after filming 2010's The Amazing Spider-Man. Though they broke up a few years later, the Peter Parker and Gwen Stacy portrayers remained friendly. Years later, Garfield even kept his Spider-Man: No Way Home appearance a secret from his ex.
Like many famous couples, Garfield and Stone's relationship didn't last long past the time they worked together. Apparently, busy schedules got in the way. Learn how they evolved from dynamic co-stars, to Hollywood lovebirds, to good friends.
Andrew Garfield and Emma Stone started dating after meeting on set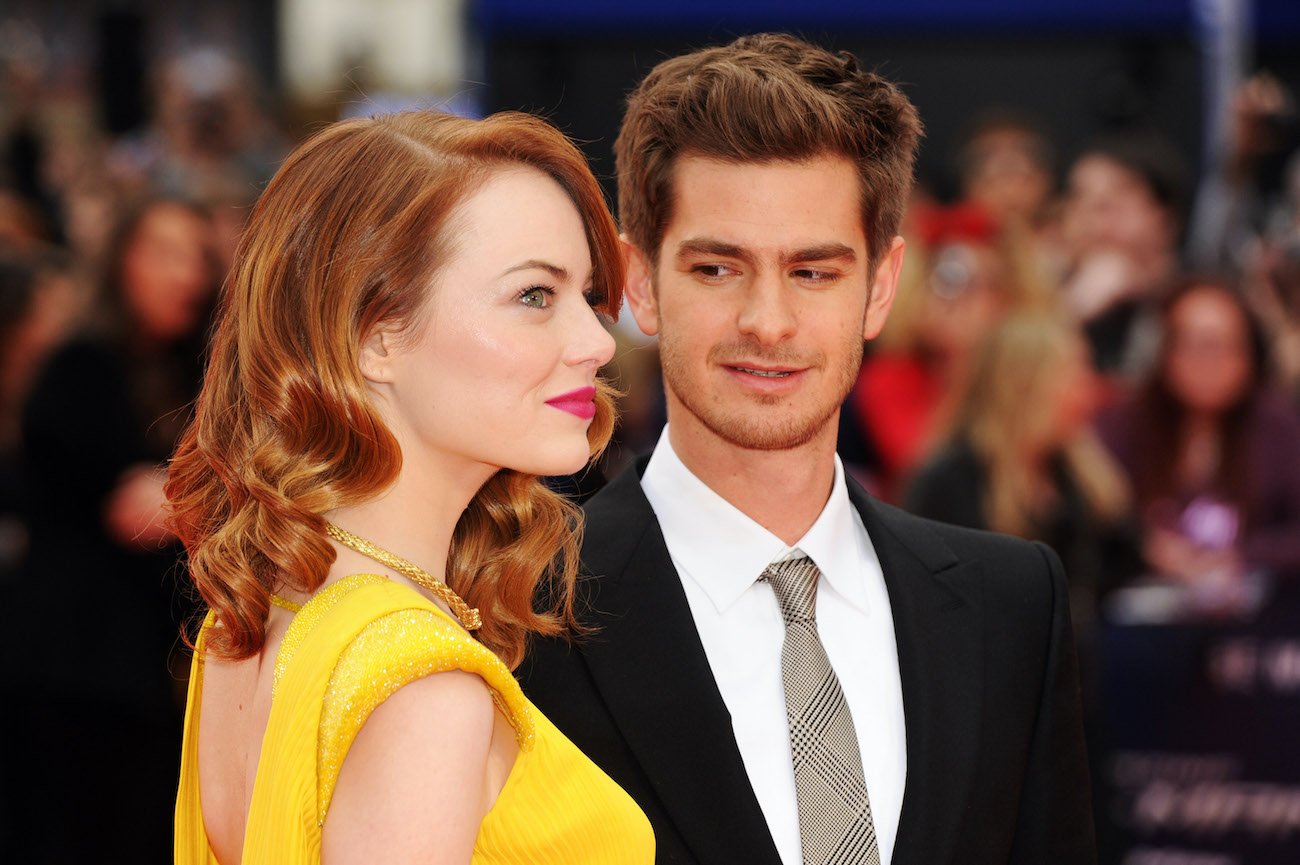 Garfield and Stone (whose real first name is Emily) began dating following The Amazing Spider-Man's debut after both parties split from their then-significant others. The celebrity couple made their red carpet debut at the 2012 Nickelodeon Choice Awards and starred together in The Amazing Spider-Man 2, with Stone reprising her role as Peter Parker's love interest, Gwen Stacy.
Before they made their relationship public, the actors played it coy. On her talk show, Ellen DeGeneres tried to get Stone and Garfield to open up about their chemistry. However, the two didn't give in, urging her to change the subject back to the film. But when they wanted to talk about each other in their own words, they did.
In 2012, Stone called meeting the Tick, Tick…Boom! star "one of the greatest experiences I've ever had." Garfield expressed similar sentiments in their Teen Vogue interview. "It was wild and exciting," he explained. "I couldn't help but try to stay with her, keep pace with her, and not let her get away."
Why did Stone and Garfield's relationship end?
People reported the couple "took a break" in early 2015. This led to an official breakup later that year. "There was no drama, they've been apart while working," a source told the publication. "They still care about each other." It turns out distance and busy movie schedules came between Emma Stone and Andrew Garfield's relationship.
After they broke up in 2015, UsWeekly claimed that sources told them Garfield had been in a "dark place" for months before the two eventually split. Other reports suggest Garfield wanted to start a family and have kids, yet the Cruella star wasn't interested in the same life trajectory. 
Evidence suggests their friendship and mutual admiration continued on past their romance. Stone went on to date Dave McCary, who she married in 2020 in a very under-the-radar celebrity wedding. Meanwhile, Garfield's subsequent girlfriends include Rita Ora, Aisling Bea, and Alyssa Miller.
Garfield didn't tell Stone about 'Spider-Man: No Way Home'
Even though they both moved on, Stone and Garfield remained friendly. In fact, they have one another's phone numbers. Following filming his role in Spider-Man: No Way Home, Garfield lied to Stone when questioned about his return to the character.
"Emma kept on texting me like 'Are you in this new Spider-Man film?' and I was like 'I don't know what you're talking about,'" he said on the Happy Sad Confused podcast. After Stone saw the movie, she had some choice words for her ex. "She was like, 'You're a jerk!'" Garfield laughed. But it's all in good fun — the two clearly have maintained a healthy friendship all these years post-split.