Why Did Nicki Minaj and Meek Mill Break Up?
When it announced that Nicki Minaj and Meek Mill had split, many questioned why a couple who seemed like they could survive anything life threw their way called it quits.
Though their relationship was filled with a ton of drama, Minaj and Meek always appeared to get through those obstacles together, convincing everyone that their relationship was solid. However, the couple had their share of issues, which eventually led to them putting an end to their budding romance.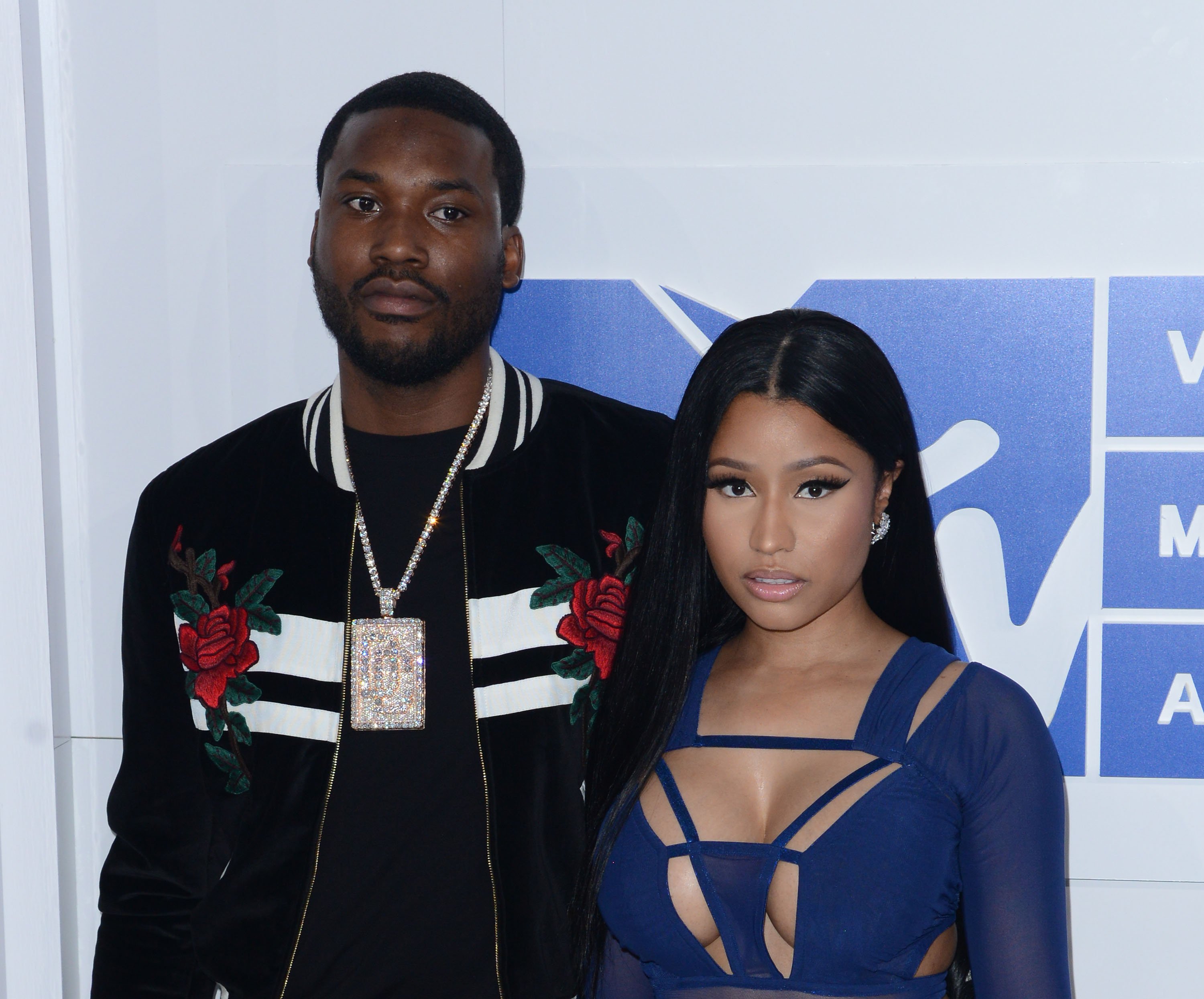 Nicki Minaj and Meek Mill dated for two years
Minaj and Mill began dating in early 2015 following her split from Love & Hip-Hop's Safaree Samuels, whom she dated for over a decade.
As fans can recall, the couple went through a lot during their relationship, from unexpected house arrests to drama with their exes. However, they continued to put up a united front even when faced with ongoing breakup rumors.
In December 2015, fans were convinced that Minaj and Mill were engaged after the "Starships" rapper posted a photo of herself wearing a massive diamond ring on ~that~ finger.
Minaj later revealed that she and the Philadelphia native weren't betrothed, even though he gave her two diamond rings.
"I'm not engaged yet… We're just taking it one step at a time. And, you know, if that happens, if I get married, then I'll have a child, and that'll be fun, because I can't wait to hold my baby," she said in a March 2016 cover story interview with Nylon. "I'm always trying to stop him, like, 'Nope! I ain't got that third ring yet!'"
Though they weren't rushing to take that next step in their relationship, the pair were still head over heels for each other. Meek even gushed about Minaj and their romance during an interview with Noisey Raps (via Complex) in October 2016.
"I always seen it like this. I always seen it like me having one of the top hustling, prettiest girls in the game," he said. "I wake up in my bed, and I just look at Nicki like, 'Man, this sh*t has gotta be a dream because we used to dream all this sh*t and it's just going on right now.'"
Communication issues reportedly led to the couple's split
After dating for about two years, Minaj announced in January 2017 that she and Mill had decided to call it quits.
The rapper revealed the news with a simple tweet, writing, "To confirm, yes I am single. Focusing on my work & looking forward to sharing it with you guys really soon. Have a blessed New Year. Love u."
RELATED: Nicki Minaj Gets Dragged Into Feud Between Ex Meek Mill and Tekashi 6ix9ine
The same day Minaj announced her split from Meek, E! News gave some insight into what led to their separation.
"They were fighting on and off for a little while about a few topics that upset Nicki. They had a bigger fight and then called it quits," an insider told the outlet at the time.
Though Minaj was reportedly the one who ended things, insiders claimed that two artists remained on good terms. But over time, their amicable friendship began to tarnish after the two began shading one another on social media.
Since then, the exes have continued taking jabs at each other online. Their latest social media beef happened just a few months back in February when they exchanged blows on Twitter, with Minaj accusing Meek of beating women and Meek accusing Minaj of defending her brother amid child rape accusations.
Both Minaj and Mill have since moved on with other people
Shortly after going their separate ways in 2017, both Minaj and Mill found themselves moving on with other people.
Not long after Nicki announced their split, romance rumors surrounding Meek and fashion designer, Milan "Milano" Harris, began to swirl.
Though the pair were spotted together several times and would posted photos from the same places, Harris later claimed that she and Meek were just friends who supported one another.
"Meek supports Milano and I support Meek. That's my friend. To be honest, Meek was the first celebrity to ever wear my stuff. In 2012 he wore one of my hoodies," she explained during an interview with BOOM 103.9 in August 2019. "And it was an $80 hoodie at the time. And that's literally when I started… people think I shouldn't have an $80 hoodie either. But he wore one of my hoodies."
Four months later, Harris announced that she was pregnant, but kept the identity of her child's father under wraps.
RELATED: Fans Believe Meek Mill and His Ex-Girlfriend, Milan "Milano" Harris, Split Because of Nicki Minaj
Then in January 2020, Meek confirmed that he and Harris were an item on Twitter. A few months later, he announced that he's the father of the fashion designer's child.
However, the couple recently called it quits with Meek sharing the news of their breakup on social media.
"Me and Milano decided to remain friends and build our child as separate parents … we still have mad love for each other but we both came to a understanding," read the post, which has since been deleted. "no fall out either just moving forward! Still love! This for protection so social media won't think we moving wrong."
As for Minaj, she went public with her relationship with childhood sweetheart Kenneth "Zoo" Petty — a registered sex offender — in December 2018.
Since then, the couple, who tied the knot in October 2019, has been unfazed by the backlash surrounding their whirlwind romance and continue to flaunt their love with PDA-filled photos and videos posted to Minaj's Instagram.
On July 27, the rapper announced on Instagram that she and Petty are expecting their first child together by debuting her baby bump in a series of snapshots.