Why does Myrtle Snow Yell 'Balenciaga' When She Died In 'American Horror Story: Coven'?
There are many, many eccentric characters on American Horror Story. That's partly because there are so many roles within the mythology of AHS thanks to a new cast of characters being added each year. But it's also partly because AHS has such wild storylines, the two go hand in hand. One of those eccentric characters is Myrtle Snow.
Myrtle was introduced in the very first episode of American Horror Story: Coven when Zoe has to head to Miss Robichaux's Academy after killing her boyfriend on accident. From the get-go, Myrtle is a fashion icon, and shows her interest by commenting on the Tartan curtains in Zoe's house. But when Myrtle is executed, she yells the name of a famous fashion designer; why?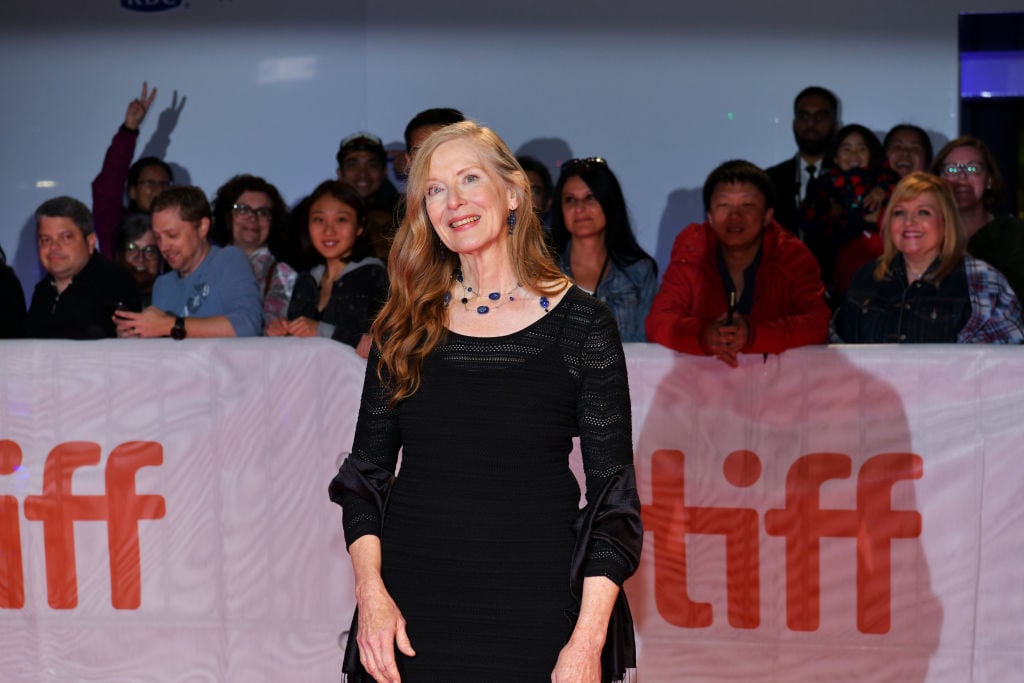 Myrtle Snow was a key member of the Coven
Coven premiered in 2013 and is still a favorite season among fans. It focuses on witches and all the obstacles and evil they have to endure, some even caused by them. Myrtle (Frances Conroy) is an older witch, on the Witches' Council as the head. She is a rival to Fiona Goode and a mother figure to Cordelia. 
However, despite having (mostly) good intentions, Myrtle kills the two other witches on her council to help Cordelia. Because of this, Fiona has to execute Myrtle despite not wanting to. It's a very dramatic scene in the finale: the three remaining witches (Cordelia, Queenie, and Zoe) walking out in the dry quarry to set Myrtle on fire. 
Myrtle had to die in high-fashion 
Just as she's going to burst into flames, her last words are: "Balenciaga!" It would make a little more sense if Myrtle was wearing the designer, but she's not. So what's up with that?
The show's costume designer, Lou Eyrich, told Popsugar that an actual Balenciaga dress would have been too expensive but Myrtle deserved to die in high-fashion. It was the only option. "That was a big deal, because in the script she comes out in a red dress and says 'Balenciaga!' so we all thought it had to [actually] be Balenciaga," Eyrich said. "We started researching, and we realized we couldn't afford a Balenciaga dress, because we have a small budget."
Eyrich also talked to Entertainment Weekly and said Ryan Murphy had a specific look in mind. "Ryan Murphy wanted Myrtle to go out in style and asked that she be in a red gown," she said. "We wanted a dramatic dress that would really stand out in the quarry."
"Balenciaga" was never about the dress she wore
The reason behind Myrtle yelling out that the designer's name is because it's a very Myrtle thing to do. "Ryan said, 'It's not literal; she's just saying it as a crazy Myrtle thing, a Myrtle-ism,'" Eyrich told Popsugar. The costume department ended up choosing a Carolina Herrera that was just eccentric enough for Myrtle.
She told Entertainment Weekly that her final word, "Balenciaga!" was a final "tribute to all things couture."
Even though Myrtle was killed, she rose from the ashes later on and was seen again in American Horror Story: Apocalypse. Even though Mallory's mission to the past probably stopped Myrtle from actually coming back, she'll always be remembered as the queen of couture and a perfect rival for Fiona Goode.