'The Umbrella Academy': Here's Why Number Five Doesn't Have a Name
Fans of The Umbrella Academy have a lot of burning questions about the Netflix series and the comic book source material. But one mystery that seems to eat away at a lot of fans is "Why doesn't Number Five have a name?"
Find out why "The Boy" — played by Aidan Gallagher in the series — doesn't have an actual first name like the rest of his siblings do within The Umbrella Academy.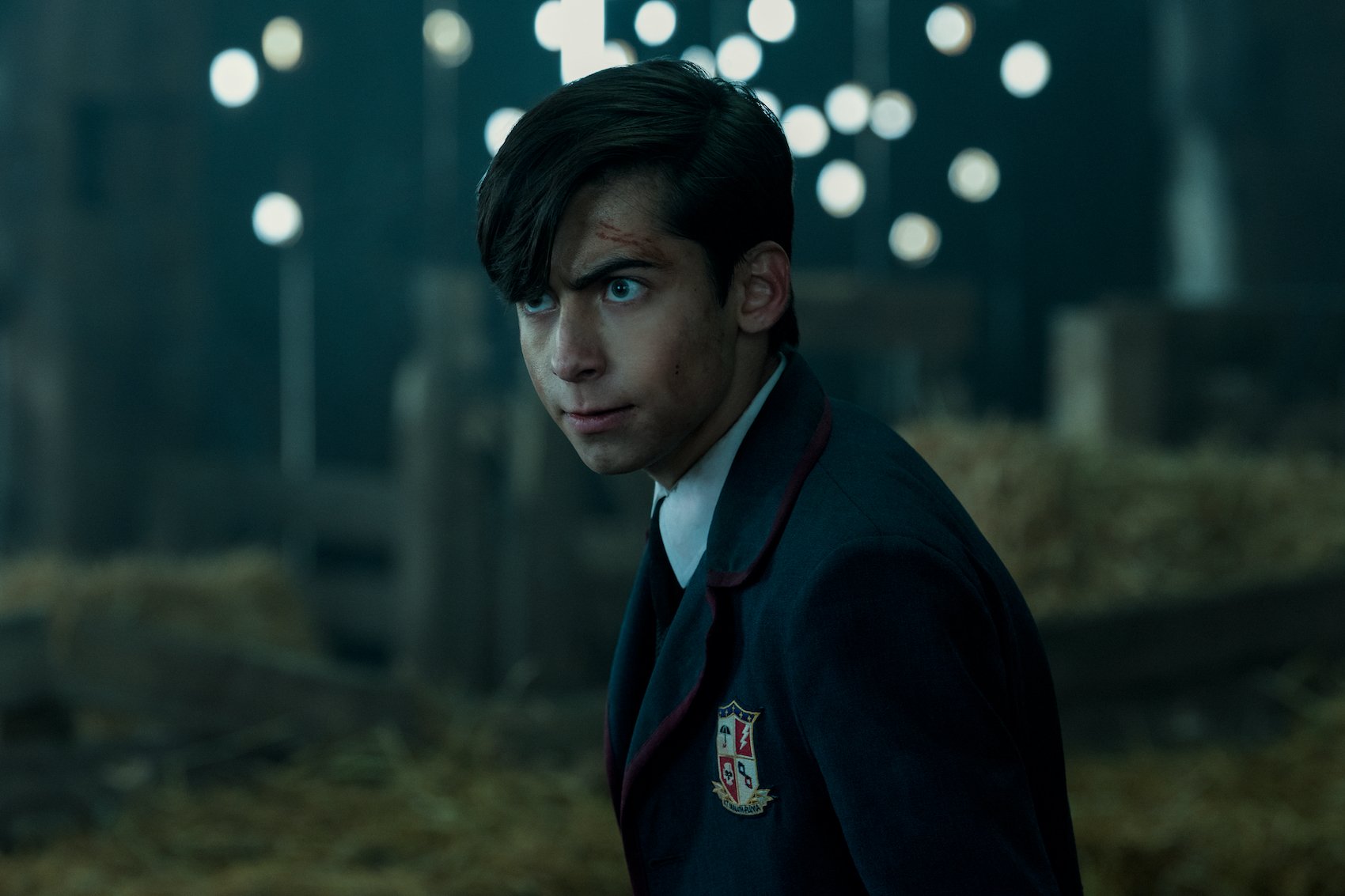 The rest of the Hargreeves siblings chose their first names 
Netflix's The Umbrella Academy is based on the Dark Horse Comics written by Gerard Way and Gabriel Bá. Number Five is the only sibling without a given first name in both the series and the source material.
Sir Reginald Hargreeves (Colm Feore) may have referred to his children by number, but they each chose a name when they were old enough. Plus, each sibling has an alias based on their superpower. 
Number One is Luther (Tom Hopper), also known as "Spaceboy."
Number Two is Diego (David Castañeda), also known as "The Kraken."
Number Three is Allison (Emmy Raver-Lampman), also known as "The Rumor."
Number Four is Klaus (Robert Sheehan), also known as "The Seance."
Number Six is Ben (Justin H. Min), also known as "The Horror."
Number Seven is Vanya (Ellen Page), also known as the "White Violin."
Number Five is, well — Five. Thanks to his physical appearance, his alias is "The Boy."
Gerard Way addressed Five not having a name 
In March 2019, Way spoke with Alternative Press Magazine about Five not having an actual name.
All of the Hargreeves siblings struggle with being numbered, mostly because it reminds them of their childhood traumas. In an attempt to escape those memories and, ultimately, rankings, Diego left The Umbrella Academy for a while, as highlighted in season 1.
"Diego is on a journey of his own," Way said. "Diego had to leave the house so he could be Diego and not just 'Number 2.'"
Eventually, the rest of the siblings realized that the ranking their adopted father put them in meant nothing at all. "The only place being Number One got Luther at the end of the day was living alone on the moon," Way pointed out.
According to Way, Five is already lightyears ahead of his siblings, who have yet to learn "the numbers don't matter."
"[That's] why I feel [Five] embraced his number as a name instead of a rank, and rejected an actual name," Way explained. Still, he is hopeful Five will one day get a name in the comic books or Netflix series.
Steve Blackman explained why Number Five goes by 'Five' instead of a name
Show creator Steve Blackman hosted an Ask-Me-Anything forum on Reddit. "Why wasn't Five given a name?" one fan asked. According to Blackman, giving the children names was Grace's doing. 
RELATED: 'The Umbrella Academy': Number Five Abandoning JFK's Assassination Could Have a Big Impact on Season 2
"Grace helped the kids choose names that were popular from their birth places," Blackman explained. "However, Five couldn't decide on one before getting lost in the apocalypse." At the time he went missing, Five was 10-years-old in the comic books — 13-years-old in the Netflix adaptation.
As seen in the series, the rest of the Hargreeves siblings and other characters address their brother as Five. Blackman says, "now, he just likes the name," and that's why he chooses to go by it.
Many fans were curious about whether or not Five will ever choose a name for himself. At this point, only time will tell! After all, Five has much bigger concerns than picking out a name.